MOZART'S MUZE
Book and Lyrics by Jendi Tarde
Music by Wolfgang Amadeus Mozart
Part of the 2014 Out of the Loop Fringe Festival
Collins Classical
WaterTower Theatre
Directed by Dr. Louis Campbell
Costume Design/Construction – Arianna Reaves

CAST
Jendi Tarde – Aloysia
Suzanne Solomon – Birdie, the Dresser
Mark Graham – Pianist
---
Reviewed Performance: 3/11/2014
Reviewed by Charlie Bowles, Associate Critic for John Garcia's THE COLUMN
Mozart's Muse is a simple story. One of the greatest musicians and composers in history found his motivation in the love of a woman. Maria Aloysia Antonia Weber, herself one of the greatest soprano opera singers of the time, was probably the great love of Wolfgang Amadeus Mozart's life. The only problem was she was his wife's sister. And the historical story went awry from there.

Mozart's Muse tells an even simpler story about Aloysia as she struggles with the apparent love by Amadeus and what she might do about it. Created by Jendi Tarde, who also plays Aloysia, Muse becomes a study of Tarde's own life as an opera diva, struggling with aging, six childbirths, and trying to stay on top of the heap. It questions whether she can remain a strong woman while being subjected to abuses by her husband, famous actor Joseph Lange. However, Tarde's story is not tragic but more a comedic social commentary fostering education and awareness of sexual and domestic violence.

Tarde is a trained opera singer. Not an aficionado, I do listen to operas and popular opera singers occasionally, which gives me confidence to say I can recognize beautiful talent when I hear it. With a wide vocal range and an ability to hit the highest notes and sing intricate sequences of Mozart's most difficult arias, Tarde well deserves the words of a critical reviewer who heard the great Weber, "…her high range and her delicacy, her execution, taste and theoretical knowledge cannot fail to be admired by any impartial critic...."

Tarde's Muse follows form and provides part of the storyline and most of the emotional content through song. Not the songs of famous opera stories, Tarde wrote lyrics against the strains of Mozart's music, inserting common English vernacular and humorous lyrics to fill out her own story. This is a unique presentation but also creates my only critical comment. Most American ears are attuned to hearing lyrical meaning in the slow, pause-laden American musical form. Tarde pushes lyrical content into very complex high-speed runs and sequences so that some word content gets jumbled. Slower areas and held notes are easier to understand but important meaning is lost in those rapid word sequences.

Pianist Mark Graham accompanies Tarde but doesn't speak and has no connection to the audience until we see his face during bows. His strength comes in providing backing with Mozart's music to not only support Tarde's singing but push her to excel. Graham's musical sequences of generally familiar Mozart themes are outstanding, with technical phrasing and a real understanding of Mozart's form. Merely hearing him play would have been a fine evening of entertainment. Perfectly in tune with Tarde's timing, the two create a fine duet. Graham becomes part of the story as muse Weber forces him to wear a powdered wig, one of the more humorous bits.

Suzanne Solomon plays Birdie, the Dresser, getting Weber ready for a performance. She also never says a word as Weber's diatribes override anything Birdie tries to say. Solomon, however, reacts to every word and song with a clear and understandable subtext in her facial reactions. She plays the frustration of keeping up with the diva's demands and emotional outbursts for all it is worth, providing important clues as to what we should think about Weber's actions.

Mozart's Muse's simple set is an apparent dressing room behind a stage. Even as the soaring strains of Mozart are playing, the focus remains on the story.

Muse is built around the long, slow dressing of Aloysia in her performance dress for the night. Arianna Reaves' costumes are obviously important to the story and almost become one of the characters. This dressing action becomes a fabulous dance between the dresser and Weber. From the opening moments, as Weber gets undressed, and then as she adds layer upon layer of elaborate undergarments, gown and waistcoat, Solomon and Tarde's partnership keep our attention and fill our understanding of this important personal relationship.

In the end, Weber discovers an important reality about Mozart's feelings for her, even after she spurned him, and no doubt a new understanding of the man. At one point, Weber laments the question that haunts her, "Why does marriage include love, passion, hostility and humor, but not friendship?"

Mozart's Muse is a nice addition to the Out of the Loop Fringe Festival and a nice introduction into the art of opera. My hope is that more audiences will have the opportunity to see it in a full-run.
---
MOZART'S MUZE
Collins Classical
Final performances on Saturday, March 15th at 8:00 pm, and Sunday, March 16th
at 2:00 pm
Part of the 2014 Out of the Loop Fringe Festival
Other reviews from the festival:
An Evening with DNCB
Antarctica
Beware of Plastics
Butcher Holler Here We Come
Express From 59th
Falling Man
Honky
(K) New Order
Mozart's Muze
No Show: A One Woman Show
One Raelette's Journey
Passport to Womanhood
Don't Miss These Latest Reviews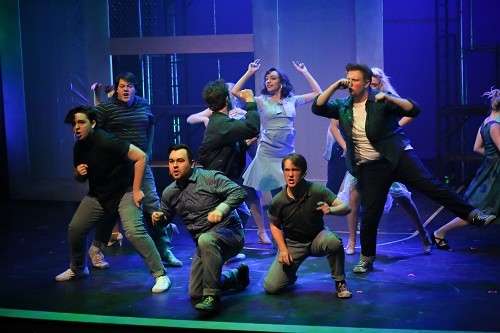 Closes on
7/10/2022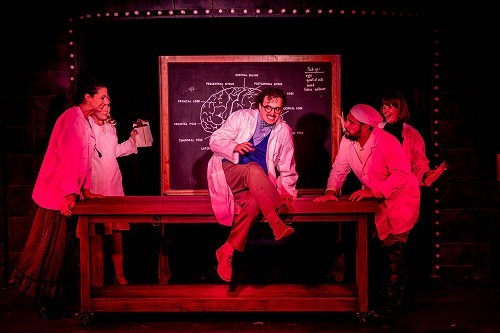 Closes on
7/23/2022