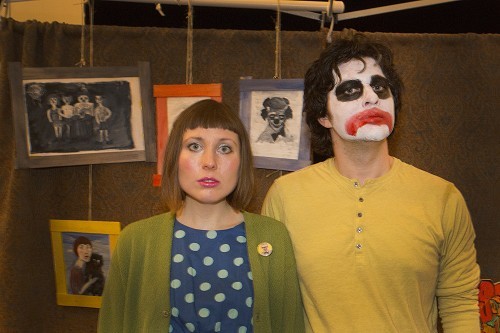 TONIGHT A CLOWN WILL TRAVEL TIME
Written by Murphi Cook and Zach Dorn
Part of the 2014 Out of the Loop Fringe Festival
Miniature Curiosa
WaterTower Theatre
Actors/Puppeteers
Murphi Cook and Zach Dorn
---
Reviewed Performance: 3/21/2014
Reviewed by Mary L. Clark, Associate Critic for John Garcia's THE COLUMN
Can hi-tech blend with ancient artistry to form a cohesive and comprehensible story? Or does the act of presenting the story get in the way of the telling?

Tonight a Clown Will Travel Time concerns a certain clown, now incognito, who has spent the last ten years working on a time machine to take him back to 1916 and the imminent hanging of a circus elephant after it killed an assistant trainer. Not knowing this tale is based on true events had I not heard it from an audience member afterward, Mary the Elephant was a trained animal with the Sparks World Famous Shows circus. Her execution began the cautionary tale of animal abuse in the early 20th century and I wish some of that caution had been woven into this clown's journey back in time to save Mary.

Presented by Miniature Curiosa, Zach Dorn and Murphi Cook, the writers and puppeteers of Tonight a Clown Will Travel Time, creatively blend live action, puppetry, childlike miniature dioramas, projections, shadow play and video as Clown slowly lets the audience in on his time-travel intentions. Both use every flat surface of the Stone Cottage space to tell the tale. Some of the visions are extraordinary, at one point using an overhead projector and transparencies reminiscent of Indonesian shadow play characters. Wielding a palm-size, handheld video camera across the stage to several miniature, story scenarios, the audience follows along while watching the "action" on a portable screen. Lighting comes on and off with the click of a tiny remote control, many times placing Clown and scenes in the dark, and puppets come and go as sidelines to Clown's journey. During a portion of the play, Dorn has the audience get out cellphones to answer a music question, which it seems also serves as an intermission while the actors "change scenery".

While Cook plays several characters, with or without puppet, Dorn remains as Clown, his smeared, disheveled grease paint much like Heath Ledger's Joker in The Dark Knight. Rumpled T-shirt and pants make up this clown's costume, and I'm reminded of one of his lines: "A clown is 5% humor, 20% - - -, and 75% costume". Being incognito all these years, apparently this clown's 75% got left at the cleaners !

Between the live action, the video, the cutouts and the shadows, both Clown and Mary the Elephant's story gets lost in space and time. So much of what we watch are two people running around a crowded set, turning on computers, clicking lights, changing things on the floor or setting up all the miniatures. I truly applaud the creativity, the talent and the concept, but if what Dorn and Cook are hoping to convey is swallowed up in the overwhelming visual presentation, than their mighty efforts are for naught.

Still, I can recommend Tonight a Clown Will Travel Time for sheer theatrical spectacle and for imaginatively melding elements of ancient puppet artistry with modern technology. While a bit rough around the edges, the play does has an important message, but also takes the audience along on its visually appealing time trip.
---