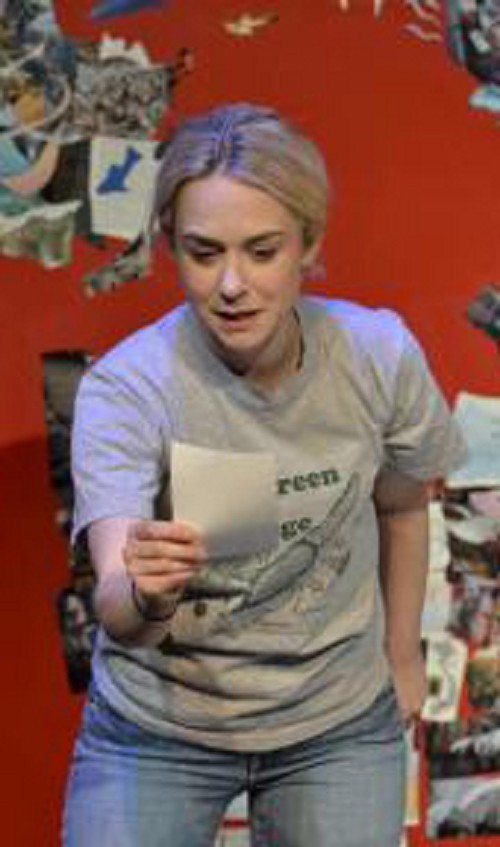 MY NAME IS RACHEL CORRIE
Taken from the Writings of Rachel Corrie
Adapted by Alan Rickman and Katherine Viner
Second Thought Theatre
Director/Sound Designer - Clay Wheeler
Producer - Alex Organ
Stage Manager - Christopher Eastland
Production Manager/Technical Director/Scenic Designer - Drew Wall
Lighting Design - Ken Farnsworth
Decoupage - Amanda Capshaw


CAST:

Rachel Corrie - Barrett Nash
---
Reviewed Performance: 3/16/2013
Reviewed by Danny Macchietto, Associate Critic for John Garcia's THE COLUMN
Second Thought Theatre's production of My Name is Rachel Corrie captivated me in a way that I was not expecting. A one-woman show edited from the diaries and emails of a 23-year-old college woman from Olympia Washington, 'Rachel Corrie presents the inner-workings of one woman's mind, leading up to the day that she was tragically killed by a bulldozer in Rafah, Egypt of the southern Gaza Strip while acting as a human shield, protesting against the demolition of Palestinian homes.

I expected the play to be politically charged, but Rachel Corrie's knowledge of world politics are not necessarily the forefront of this electric think piece, but instead the politics of the soul. Through the steady direction of Clay Wheeler, the thoughtful editing by Alan Rickman and Katherine Viner's selections from Ms. Corrie's writing, and a powerhouse performance from Barret Nash, My Name is Rachel Corrie is a mature-minded glimpse of how a focused, compassionate and daring individual came to be.

I admit that I was nervous during the first minute of Nash's delivery- thinking that I potentially walked into an ingratiating, no-holds barred Dadaist manifesto of a bright, young political mind as she yelled and bounced around a lot, talking about her wallpaper. By sheer coincidence, Corrie's writing would later tease about the Dadaist movement, perhaps inadvertently acknowledging the offbeat rhythm of her own vivid prose.

I was quickly put to ease by Nash's delivery as the cold open was deliberately "scattered", just the way Corrie's mother liked her. Corrie was so scattered, in fact, that in the 5th grade, the two occupations she dreamed of becoming were a wandering poet and the 1st woman President of the United States.

The irony of that last statement is that as Corrie's narration of her own life continued you could see how those two former aspirations combined loosely to foreshadow her eventual work as an American peace activist.

Ms. Nash had a smoky, raspish allure to her voice that was always in control. In the hands of a lesser actress, many of the long political rants could have easily bored but Nash was dynamic and fluid in handling Rachel Corrie's intense thought process. To say that her performance was fearless would be an understatement as her commanding delivery dared you to disengage.

Drew Wall's set design was brilliant in its simple construction. The first half of the ninety minute show was presented with a red wall, decorated by Amanda Capshaw, and a dorm bed with scattered books, CD's, and clothes.

The wall doubled as an enlarged triptych presentation board. This was an effective motif because the experience was at times like the coolest college lecture course that everyone wanted to be a part of. In the second half the pseudo presentation board opened up to reveal the rock pile of earth that would represent Rachel Corrie's final moments.

Director Clay Wheeler also was the show's Sound Designer. I was particularly struck by the hypnotic rhythm of the minimalist three chord progression underscoring Corrie's final journal entry. It sustained the moment so deftly that I was disappointed he chose to close the production with John Lennon's musical protest change, "Give Peace a Chance". It was as if Mr. Wheeler wished to leave the audience with that one simple thought. That was a tall order, considering that My Name is Rachel Corrie was about so much more.

My Name is Rachel Corrie was a polarizing viewing experience. It was easy to be inspired by her dogged sincerity to teach the principles of self-determination to the oppressed Palestinian citizens and just as haunting to know that she was fully self-aware that her own determination could get her killed. Leaving the theatre I wondered to myself what causes on this earth I would be willing to die for, and in the end - feeling very humbled when I admitted that I didn't know the answer. My Name is Rachel Corrie was one of the best bites of humble pie I've ever been served.
---
MY NAME IS RACHEL CORRIE
Second Thought Theater
Bryant Hall on the Kalita Humphreys campus
3636 Turtle Creek Blvd., Dallas, TX 75219
Runs through March 30th

Thursdays and Sundays at 7:30pm, Fridays & Saturdays at 8:00pm.
All Tickets are $10.00.

SPECIAL "PAY WHAT YOU CAN?" PERFORMANCE on Monday, March 25th at 7:30 p.m. - Tickets are subject to availability

Tix can be purchased online at www.secondthoughttheatre.com or by calling (866)-811-4111