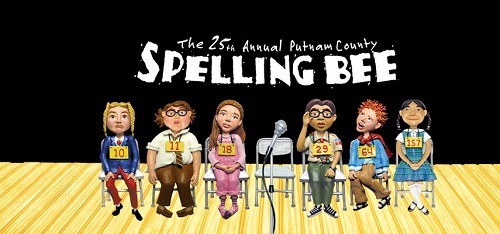 THE 25TH ANNUAL PUTNAM COUNTY SPELLING BEE
Music & Lyrics by William Finn
Book by Rachel Sheinkin
Conceived by Rebecca Feldman
Grand Prairie Arts Council
Director – Nathan Erwin
Music Director – Kristin Spires
Stage Manager –Kate McGehee
Costumer – Eric Criner
Lighting and Sound – Studio 147
Set DesignBuild – Matt Betz

Vice Principal Douglas Panch – Lon Barrera
Rona Lisa Perretti - Stephanie Felton
Mitch Mahoney – James Worley
Olive Ostrovsky – Erin Flippo
Marcy Park – Haley Landers
Logainne Schwartzandgrubenniere – Emma Bruce
Chip Tolentino – Trey Cardona
Leaf Coneybear – Dakota James
William Barfee – Joshua Sherman
---
Reviewed Performance: 3/17/2018
Reviewed by Mark-Brian Sonna, Associate Critic for John Garcia's THE COLUMN
Can you spell Fun? If you can then you must go see "The 25th Annual Putnam County Spelling Bee" currently being presented by the Grand Prairie Arts Council & Uptown Theater.

The premise of this Broadway musical is simple: The audience witnesses a spelling bee in a fictitious town. By the end of the evening there is a winner. That's it. That's the plot.

What makes the show so remarkable is the kooky characters, the delicious script full of one liners, and the constant interaction with the audience which brings much hilarity. While you may not leave the theatre humming the musical score, you will leave the theater with a smile plastered on your face. This musical is joyous.

The show commences with Rona Lisa Perretti, played with spot on perfection by Stephanie Felton, as the moderator of the spelling bee and past winner greeting the audience. The best way to describe her is to use the word Nice. She is non-threatening, cordial, ducky, friendly, winsome, etc., in the most banal way. Felton is able to find the perfect balance in the perky character so that her pleasant demeanor never becomes cloying. Her generic character becomes memorable. After greeting the audience and having a flashback of her winning spelling moment she guides the rest of the show.

Felton's character introduces the rest of the characters and every one of them is memorable. Vice Principal Douglas Panch is played by Lon Barrera with much sardonic wit. He, like Felton's character, is trying to be as pleasant as he can be, but we sense a level of insecurity as he tries to do the best he can. His character is the one that must give the definition, word origin and the usage of the word in a sentence. Every time a definition or word usage is given it serves as a punch line. Barrera lands his punch line every time. To experience his brilliant comedic timing is thrilling

James Worley pays Mitch Mahoney, an ex-convict turned comfort counselor who is present as part of his community service. He also doubles up as a father to Logainne who is one of the spelling bee contestants. He sinks his teeth into both roles and delivers a winning performance. As Mitch, as the speller's loose he gives them a box of juice and a hug. To see this thug having to act all sweet, nice, and caring, when it is obvious that he'd rather be somewhere else- committing a crime most likely-, ads another level of amusement. Worley has fun playing these roles, and we too have fun watching him.

Haley Landers plays Marcy Lark, the good Christian Girl that is under pressure by her parents to excel. Landers at one point has a vision of Jesus Christ giving her permission to lead her own life. To see Landers transform from practically militant in her drive for perfection to giving a FU to the world as she intentionally misspells a words is genius. Up to that point I wasn't sure of what to make of her performance, but she completely bowled me over with her on stage "conversion". As I write this review I'm still giggling, her performance was well played.

Olive Ostrovsky is the character with the most heart in the show. Her parents aren't present, with her father continually mentioning that he should be arriving at any minute, but never does, and there is clear disappointment in their absence. While all the characters in this musical are one dimensional, hers is the only one that is given any depth. While Erin Filippo's performance is good, I wished she'd imbued her character with more energy. The show is chock full of over the top moments, and her subtle portrayal sometimes got lost in the well staged chaos. This said, she does manage to tug at the heartstrings quite effectively.

Emma Bruce plays Logainne Schwartzandgrubenniere and, like Flippo she too at times plays her character with too much subtlety in her group scenes. When she converses one on one with the audience, or it is her turn to spell, her comedic chops come out in full force. I just wished the energy she projected in these alone moments was consistent throughout.

Trey Cardona as Chip Tolentino gets the two funniest moments in the musical. As a pubescent teen Chip has a "problem" only males at his age can have with his raging hormones. The anguish of having to stand in front of an audience to spell while trying to hide his "problem" requires a bit of physical comedy. Cardona delivers. Act two opens with what is the funniest song in the show, "Chip's Lament", where he sings about what had just transpired as he tosses out candies and munchies to the audience. To create pandemonium of laughter is not an easy thing to do and Cardona succeeds.

William Barfee is played by Joshua Sherman. Sherman has become one of the best musical theatre actors in the DFW area, and once again he proves why in this portrayal. William's constant annoyance of everyone mispronouncing his last name could become a stale running joke. Under Sherman's command, each complaint is funny, fresh and new. One of the characters many quirks is his need to spell out the words with his foot. When his foot gets stuck on some soda that was spilled on stage to trip him up he manages to still spell the word correctly, much to his surprise. Sherman makes his reaction and discovery of his independence from his foot one of the highlights of the show.

If there is one actor that stands out from this sensational cast is Dakota James as Leaf Coneybear. What a performance! It's hard to keep up with seasoned stage veterans such as Barrera, Felton and Sherman. He succeeds beautifully. His character is intentionally written to be annoying. The trick for any performer is to make us care for an annoying character. His charm exudes from every pore. When he plays one of Logainne' s gay fathers, his on the spot transformation is so complete that it would be easy to forget that it is the same actor if it weren't for the fact he is still wearing Leaf's costume. His ability to switch characters so quickly makes his performance uproarious. They way he spells is also sensational. I won't ruin the surprise in this review, but suffice to say he has a tremendous control of his voice to much comedic effect.

All these wonderful performances fell under the direction of Nathan Erwin. It is obvious he has a passion for this material. His direction is marvelous. His staging explodes with movement when needed, and becomes intimate when the situation demands it. This show requires heavy interaction with the audience (four audience members are brought on stage and they also become contestants). Because audiences are unpredictable, it requires a director to prepare his cast for the unexpected. It almost seemed as the audience members were plants because they too get involved in the musical numbers. Obviously the performers would coach the audience members as to what would happen next, but Erwin made sure it was done on the sly, so as not to disrupt the flow of the show. To pull this off the director along with the performers need to be on top of their game. Erwin's direction succeeded in incorporating the unpredictable variable of audience members with the strong staging. Bravo.

Technically the show was almost perfect. The lighting by Studio 147 was fantastic. At one point the entire proscenium pulsed with lighting to the beat of the music. Thrilling. When Leaf Coneybear spells there's also a funny and severe drastic light change. Genius. Sound-wise there were a couple of minor hiccups. The volume of the small band that played slightly overpowered the singing voices at the top of act 1. The top of act 2 the problem re-appeared though midway through the song the volumes leveled out.

Matt Betz built a flawless school gymnasium set that does double duty as the auditorium. It was instantly recognizable and very well constructed. The same can be said about Eric Criner's splendid costumes. Though he is costuming grown-ups to look like kids, Criner found the correct balance between caricature and realness.

Kristin Spires' musical direction was top notch. The quality of the singing voices varied in this production. While none of the songs are particularly memorable for their melodies, the lyrics are what matter. She made sure that every performer maximized their musical moment to their full extent while remaining on pitch and to tempo. She also insured that the four piece band was well rehearsed.

It's a shame this musical is only running till March 25th. People need to experience this exuberant piece of musical theatre. It is truly a stand out show. This production deservedly got a standing ovation. So drop what you are doing and go attend this spelling bee.
---
THE 25TH ANNUAL PUTNAM COUNTY SPELLING BEE
Grand Prairie Arts Council & Uptown Theater
120 East Main Street, Grand Prairie, 75050
Performances are Thursdays, Fridays, Saturdays at 8 PM, and Sunday 2 PM through March 25th, 2018.
Tickets $15 - $25. For information and tickets visit www.artsgp.org or call 972-237-8786