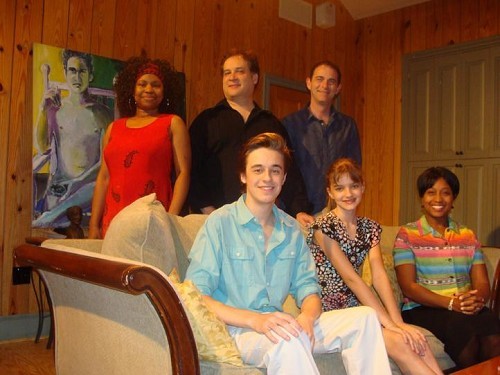 THE FUTILITY OF HOPE
By Mark-Brian Sonna
MBS Productions
Directed by Charles Ballinger
Set and Properties - Alejandro de la Costa
Costumes and Sound - Mark-Brian Sonna
Lighting - Richard S. Blake
Stage Manager - Penny Johnson
Box Office Manager - Kim and Corey Wickware

---
Reviewed Performance: 3/22/2013
Reviewed by Mary L. Clark, Associate Critic for John Garcia's THE COLUMN
Relationships - having them, wanting them, losing them; plain old human relationships - are the catalyst of most every work of literature that I can think of. It's the common thread that weaves, in some form or fashion, through every story told, written, or performed. The emotional output in having relationships, casual or intense, is the very essence of our daily lives, and the hope always lies that they will be good ones, that they will be pleasant or loving or meaningful in some way. But, true to human nature, not all relationships are meant to be "storybook" perfect, but instead are difficult, confusing, and possibly futile.

The Futility of Hope, written by MBS Productions' founder, Mark-Brian Sonna, is a new work dealing with the dilemma of relationships. The title has a double meaning: the realization that what you want from someone else may not be achievable, and the character Hope, a young teen-ager whose deep-rooted beliefs are turned upside down by a cruel twist of fate. Sonna wrote about the way we live our lives, the relationships we attempt to fit into our lifestyle, and the realizations and adjustments that must occur in order to keep hope alive.

The play has a simple premise. Without warning, Mike's daughter has come to live with him in his small, yet adequate home. Then the story twists a bit. She was raised by her mother with strict religious conviction and set rules of what is sinful and who the sinner is.

Being young, she only spouts what she is taught. The rest of the play deals with Mike's inability to alter his life to fit hers into it. Friends and others intervene and try to help, but it's only within Mike to make this very sudden, very new relationship work.

In the playbill, Sonna wrote that he struggled to find the right version with which to tell this story. He did not want the play "to be so entrenched" by having discussions about our country's current issues on the subject. He did not want it as "a political piece of theatre that would date very quickly". But why not have it be current to speak about exactly the issues and challenges we encounter today? To keep its relevance at arm's length and not face it head on is the probable cause why The Futility of Hope did not speak to the audience as effectively as it should have.

The set and properties by Alejandro de la Costa appropriately revealed a single man's well-lived in home, with lovely, deep-cushioned couch, small coffee table and hook rug. The mantel held a sculptured candle holder, art books and statue, and the proverbial male nude painting and lounge chair were in place.

The well-placed Dallas Voice magazine was visible on the table with other papers, as the play's location is Oak Lawn, Dallas. A small kitchenette table and chairs were placed against the far wall. The production used the actual doors and fireplace of the Stone Cottage for Mike's home, and was effective in allowing the audience into his world.

Lighting by Richard S. Blake was strictly minimal but enough to never have dark spots or too much shadow overlapping onto actors or walls. The costumes worn by all the actors probably came from their own closets, which made it all the more current.

The play begins with a loud knock on the front door, and Mike and his "weekend" lover Steve are woken on an early Sunday morning by a Child Protective Service worker with the news of his daughter's mother and the child's imminent arrival. And here the playwright did a disservice. There was no emotional realization in the dialogue, other than some befuddlement on Mike's part. An immediate game changer, there was no switch, no reaction to the news. This is a major flip right from the start and should set up the emotional nature of the remainder of the play. The child has had a major trauma inflicted on her, then is forced to move in with a man she does not know or love, and does not care to because of his s*xual orientation. The powerfulness of that moment simply was not there, as written.

After the opening scene, the play has great moments of both relational and religious conflict that, in the hands of Director Charles Ballinger, were underplayed and underutilized. It was as if no decision was definitively made as to what genre of play this was, comedy or drama. The subject matter is of great importance but was played as a light comedy, with only occasional glimpses of emotional depth or seriousness. Ballinger had the actors blocked all over the place with too much unnecessary movement, as if staying in one place too long was letting it get all too serious. So many times the character's dialogue was flittered away when simply sitting on that big couch and talking to each other would have been more meaningful and real.

The plot was too forced, the story too pushed, so as to make the actors overact or go into emotional diatribes from nowhere. This too came from confusion as to what style of play The Futility of Hope is. And because of the director's indecision, not one actor was able to fully commit to their character and their place within the story. Lines were fumbled, mainly by speaking too fast and not reacting in the moment, or by the character's intent. Hope's church friend Travis, played by James E. Gladdon, had good stage presence and voice but seemed completely lost as to his immediate intent and action once onstage. Rasheedah Hamilton, playing Clarice, Hope's CPS counselor, was too distant and business-like for such an important person in Hope's life. Too many times, Hamilton was staged to stand and deliver information to Mike, making her dialogue stilted and remote instead of caring and concerned. The few times when the script allowed Clarice to help Mike with his frustrations came out glib and thrown away.

Charli Armstrong was the comic relief in this play. Storming through the door, vodka and orange juice in hand for their weekly Sunday brunch gathering, she lit up the space quickly as Mike and Steve's friend, Suz. A long-time relationship with Mike allows Suz to tell him to his face when he's wrong and when he's gone too far. That part of Armstrong's character was realistic, and her motherly instincts for Hope were appropriate. However, I kept wishing her role had been less of that stereotypical woman who hangs with gay men - the derogative name I shall not repeat here - but you know it.

The character of Steve, as performed by Richard S. Blake, was confusing. Because he was not clearly defined by the script, Steve remained the odd man, completely out of place, even in his long-term "off and on again" lover's home. And with that, Blake overacted his role, his speech pattern forced and unnatural, as if pushing to find where his character fit in. His eyes rarely focused on another actor's face and I never truly believed that Steve and Mike were a couple. They did not touch each other naturally or very much. Unless it was the director's intent to make them distant, it was jarring and inappropriate, especially in the way their relationship progresses through the play.

Mark-Brian Sonna played Mike, and it is with this choice that I wondered about the decision to have the playwright also perform this role. Sonna and/or the director's interpretation were to have Mike be a stereotype characterization of a gay queen. And if that is the character's true personality, then it is also true that under all flamboyance lies realism. After all the preposterous behavior is a person with deep emotions, just like everyone else. Unfortunately, that person never surfaced. Except for two short monologues, when the frustration and hurt of a relationship he never asked for erupt out of nowhere, did the audience ever see the reality of the person beneath. His role was made to be farcical at times, a character who dealt with his situation by flittering around or being overly dramatic. Sonna moved from acting area to acting area, sitting, standing, and then moving again. Suz, in a moment of anger, tells Mike to "grow up", and it was there I wondered if that was the complete direction of this character who should have been the hub around which all the other characters revolved.

I believe the saying goes, "And a child shall lead them". For me, this was exactly when The Futility of Hope worked. While having a small role, verbally, Sofia Villamil had the most important role as the new relationship and course changer in Mike's life. Hers became the "new hub", causing adjustment on everyone's part. And in this role, Villamil held the most realistic characterization. Young in acting experience, she could have gone even further emotionally with Hope's in-grained beliefs, her deep sadness, and her hatred. However, she played Hope with all the attitude, and dismissal of her father's words, of a typical teen, and she stayed completely in the moment with her dialogue and reactions. The subject matter and Hope's right wing religious fervor might be a bit over Villamil's experience, but she handled the part admirably.

There were many times, watching the play, that I questioned why Ballinger led it in such a direction. But two stuck out that reinforced my confusion with his decision. Near the end of the play, Mike is at the end of his rope and spews out that he and Steve f*ck. He says the f-word, over and over, and the others are aghast. But why should they be? Aren't Steve and Mike a s*exual couple, isn't that what they do, and don't the adult characters know that? Why did they overreact, or over act, with this announcement? It was more of that -keeping the subject at arm's length- direction, and was simply out of place. The other scene that, for me, was the climatic revelation of the entire play is when Travis reveals something about his mother to Hope that will begin to cause her to doubt her past beliefs. That is the crux of the entire play, but was lost by its light utterance, and without much reaction on either of the character's parts.

The Futility of Hope has just that - hope. While being about relationships, it's also about today's definition of family and what's makes up a good one. Once the actors settle into their roles more and get to understand the importance of their characters within the play, there is every hope their performances will enrich and have the depth needed to present such a relevant topic that is worthy of being explored now and twenty years hence.
---
THE FUTILITY OF HOPE
MBS Productions
Stone Cottage Theatre, Addison Theatre Centre
15650 Addison Road, Addison, TX 75001

Performances run through April 20th

Thursday-Saturday at 8:0 pm. Additional performance on Saturday, March 30th, at 2:00 pm

***The performance is rated PG-13 due to language.

Tickets are $18.00-$23.00. KERA members receive two tickets for the price of one, limit four, with you member number.

For tickets and information, call 214-477-4942, go online to www