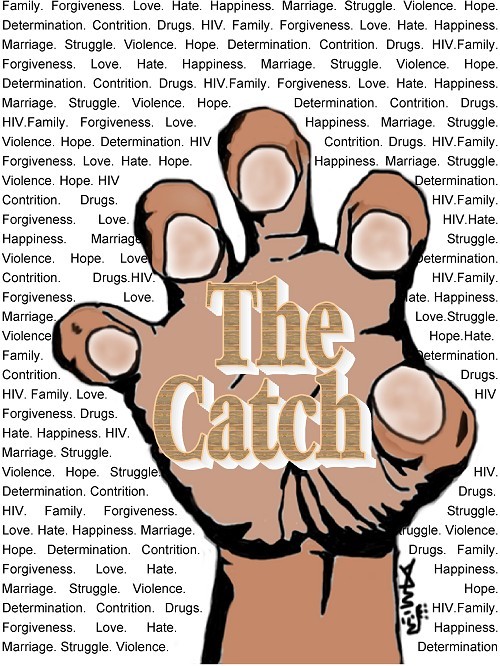 THE CATCH
by Jordan E. Cooper
DVA Productions, Inc.
Directed by Ernestine Rose
Stage Manager - Jennifer Kennard
Set Design - David Ruffin
Lighting Design - Nikki Deshea
Sound Design - Sheran Keyton
Costume Design - Sheran Keyton


CAST:

Mark - Kendrick Mays
Kathy - Shanidrea Evans
Trey - Jordan E. Cooper
Marcus - Aaron Petite
---
Reviewed Performance: 3/23/2013
Reviewed by Charlie Bowles, Associate Critic for John Garcia's THE COLUMN
Every play begins with questions. Sometimes they're answered by the end of the play but sometimes they're just explored and answers are left up to the audience. Such is the case for a remarkable play being presented by DVA Productions, Inc. The Catch was written by Jordan E. Cooper at the age of 15 years old. Today a junior at L. D. Bell High School in Hurst, Texas, Cooper received the "Best Student-Directed Play 2011-2012" for The Catch when he directed and starred in its premier last year. Now it's being presented to the community where it needs to be seen. Cooper plays Trey in this production also and we see his equally talented acting abilities at 18 years old. He can also be seen in a new film, Wolf, by Ya'Ke Smith. Catch a few minutes of young Cooper on YouTube playing a young man molested by his pastor and you see his outstanding film acting potential.

The Catch is the story of a normal family living in the Southside of Chicago in 1994. Both parents are HIV+ and they're trying to live normal lives for their healthy son, Trey. The questions I felt from the opening scene were: How much tragedy can one family endure and continue to live a normal life? How do you forgive someone for an unforgivable sin they've committed against you? That the themes of The Catch are so adult and so poignant made the fact that this story came from the mind of a teenager even more interesting. The Catch has a play structure that is seldom seen in teen projects for drama class.

Rather, it shows the maturity of a much older writer. The ending might be claimed as a little schmaltzy with its quick acceptance and unwavering forgiveness by the actors, but I'd suggest it is Cooper's own answer to those questions. "Life will throw so many curves at you, but they'll only hurt you if you catch them." Families can find their way through tragedy and forgiveness is possible for every sin.

Trey sees how his parents get HIV and how they live with it. He watches his father struggling with joblessness and his mother overworking to make up for the lack. Yet he's a normal teen with hormones and friends who live on the street in worse conditions then he endures. He's aware of the costs of HIV, yet like most teens he's invincible against his own infection. Cooper showed all of this ambiguity and anguish in Trey's character believably. He didn't play act a role - he lived the part like he was there. As he played with Trey's adoration for his mother and rage against his father, we saw Trey's struggle between the good in his mom and the evil he believes comes from his dad.

Mark is Trey's father, jobless because of his HIV and past legal problems, who tries desperately to fix the mistakes of his life. Kendrick Mays played Mark with a wide range of emotional challenges, disturbances about the plight of his family, shame that he hurt them so badly, and rage against the God he blames on his problems. Mays is an experienced actor with many credits, including Larry Brown on the popular TV show, Meet the Browns. His character Mark has some of the widest swings of emotions we see in a stage character, from his deep love for his wife to his deeper frustration with his worsening illness and despair over how he brought disease into his family. The character of Mark is well written so Mays had the opportunity to really display a full range of levels in this character and he really nailed it. While we were able to see the horror of Mark's past actions, we also saw his pain and overwhelming need to set things right. Mays really tapped the depths of this character. I kept seeing strains of Lear and Hamlet in this performance.

Kathy is played by Shanidrea Evans who put herself into her character so fully that her anguish seemed real and the audience easily caught her perspective on her life and her family's struggle. The Catch takes Kathy on a large journey from a mother trying to keep her family normal to a woman afraid of dying; from a woman protecting her son like a cornered lioness to a wife who must forgive to live with her situation. Evans rode her character's rollercoaster, continually pushing her family to stay positive, constantly being knocked down by bad outcomes. But it's Kathy who shows us the positive outlook in this story. "Being positive (HIV+) is a virus, not a handicap." Evans explored these different layers in the most extreme ways and I'm guessing she embodies her character's strong sense of positivity.

Marcus arrives on the scene to complicate the family dynamics; however, identifying him would give away a surprise in The Catch. Aaron Petite played Marcus as someone who has deep abandonment issues, who gets caught up in the ravages of the disease outside the core family. He's not infected and yet he is affected and Petite seemed to explore being on the outside while feeling part of the inside. Petite only joined the cast a few weeks before opening, so it's admirable how he knew his lines well and easily slipped into the ensemble and was still able to explore the depths of Marcus' character. An actor like this is invaluable to any theater.

The Catch is directed by Ernestine Rose. If the key to good direction is to make the ensemble fit together with a unified vision for the play, then Rose did a marvelous job. Her production is simple with few moving pieces, allowing the text to breathe and the actors to explore their emotional ranges. If direction is responsible for getting character arcs to fit with the story arc then Rose was outstanding. I was mesmerized with the story and though I began to see how it had to unfold, like a great movie I've seen often, I wanted to watch them play it out.

The set was a simple one-room apartment with combined living/kitchen area. It was designed by David Ruffin and lit by Nikki Deshea.

Sound was designed by Sheran Keyton to include a collection of vintage to modern musical interludes, such as sweet versions of "Long Time Coming" and the unforgettable "Unforgettable" by Nat King Cole, a kind of love theme for Mark and Kathy. Keyton also designed costumes.

Actors went through many costume changes through the 6-month duration of the story and each seemed natural for a poor family trying to live a normal life in a modern world. The long scene changes in darkness with nothing being moved on stage were a little distracting and while the music was wonderful in the interlude, it seemed to drag the pace a little.

A persistent theme in this play is time. Tick-tick-tick. What is time? Cooper's script and Rose's direction kept reminding me of this question. We all live on borrowed time and must make the best of whatever we have. Tick-tick-tick. It drives the show forward and pressures the actors and the audience to an inevitable urgency. The metaphor revealed what living with HIV must be like.

On the night of this review the Fort Worth Community Arts Center was celebrating an anniversary in the lobby and the rooms surrounding the small theater space. Many people were milling around the doors and hallways outside the small black box and they were loud! There were loud walkie-talkie conversations through the back wall. There was a music stage on the lawn outside the Center where loud rock bands played. And behind one wall next to the audience it sounded like someone tearing down steel scaffolding.

All of these created continual distractions from this amazing play. It made me think, "I'd love to see this show in a place where people actually understand how important this story is and how hard it must have been for these actors to carry on." Kudos to the cast and production staff for pushing through the noise and hisses to putting these two events together.

This is an outstanding play. The production, acting and the writing touch our lives in a way that reveals truths without the sermon. I hope future shows will have a more conducive environment for this run in Fort Worth, and I hope more that this play can be produced across the nation. It's important to be reminded often that there are currently over 1 Million people living with HIV, and 50,000 being infected every year. It crosses genders and ages and it's estimated that by 2015 half the people with HIV in America will be over 50 years old, but many will be under three. HIV and AIDS have slipped below the media buzz so we think it's gone, but many families are still affected. Perhaps this story can humanize the struggles by families dealing with this disease and remind us that struggling families are still loving families.
---
THE CATCH
DVA Productions, Inc.
Ft Worth Community Arts Center
1300 Gendy Street, Ft Worth, TX 76107

Runs through March 30th

NO PERFORMANCE ON EASTER SUNDAY MARCH 31. Friday-Saturday, March 29th & 30th at 8:00pm; Saturday, March 30th at 3:00pm

Tickets are $20.00 evenings, $15.00 matinees
For info and tickets, go to www.dvaproductions.org or call them at 817-313-3052