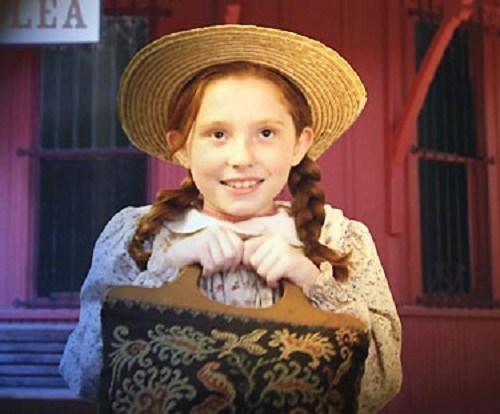 ANNE OF GREEN GABLES
By L. M. Montgomery
Adapted for the Stage by R. N. Sandberg
Dallas Children's Theater
Directed by Robyn Flatt
Scenery Designed by Randel Wright
Costumes Designed by Barbara Cox
Lighting Designed by Linda Blas-
Sound Designed by Marco Salinas
Stage Managed by Dwight Sandell
Properties Designed by Abram Rankin


CAST

Anne Shirley - Zoe Kerr
Marilla Cuthbert - Emily Gray
Matthew Cuthbert - Brad M. Jackson
Diana Barry - Atheena Frizzell
Gilbert Blythe - David Allen Norton
Mrs. Barry/Mrs. Blewett - Jane Willingham
Mrs. Lynde - Gina Waits
Stationmaster/Doctor - Karl Schaeffer
Mr. Phillips - Andrew Milbourn
---
Reviewed Performance: 3/24/2012
Reviewed by Jeremy William Osborne, Associate Critic for John Garcia's THE COLUMN
Anne of Green Gables at Dallas Children's Theater is a good production for families to see together. The timeless tale of an imaginative, fun loving girl being adopted by a couple quiet, conservative Canadian farmers is well presented on the stage.

Scenery, music, and performances all combine to make a nice theatrical experience.

The set, designed by Randel Wright does a good job representing the Prince Edward Island countryside off the eastern coast of New Brunswick. The use of wood slats to give the impression of tall grass is an interesting and effective technique. Wagons on tracks as well as minimalist drops make scene changes quick and simple. Also, the simple furnishings of the home are well placed and help set forth the idea of the simple life led by the Cuthberts.

The best feature of Anne of Green Gables is the music chosen to play between scenes. Marco Salinas makes some excellent choices in folk music. Some have more instruments present than others, but none are overly complex. The music keeps the mood of the play steady.

Emily Gray and Brad M. Jackson turn in very nice performances as Marilla and Matthew Cuthbert. Jackson plays the simple farmer, who is quickly enchanted by the orphan Anne, with a touching sincerity that endears the audience to him quickly. Gray is given a greater challenge with Marilla, who seems a staunch pragmatist bent on forcing Anne to conform to her own ideals but slowly accepts the girl for who she is. With great care Gray travels Marilla's character arc guiding the audience on the wonderful journey.

A lot can be said for the quality of the directors who work at Dallas Children's Theater as this is the second production I have reviewed featuring children with impressive performances from young performers, most notably Zoe Kerr, Atheena Frizzell, and David Allen Norton. All three show great talent, taking on roles that call for more maturity than today's standard youth-oriented productions.

Zoe Kerr in particular shows great heart, stepping into a full-time position as Anne. The youth roles in Anne of Green Gables are all double cast to give more opportunities for youth actors as well as preventing the actors from losing interest in their performances. However, Cate Stuart, who is also cast as Anne and scheduled to perform in the reviewed performance, suffered a medical emergency and was unable to perform. Luckily, Dallas Children's Theater had Zoe Kerr ready to step in.

Anne of Green Gables unfortunately suffers from a slow pace that does not hold the attention of its intended audience. My six year old niece accompanied me to this performance, and in the second scene she leaned over and whispered to me, "Is it time to go home yet?" She eventually got into the character of Anne who is as precocious as herself and enjoyed the show. However, she still fidgeted and squirmed in her seat throughout the second act.

Overall, Anne of Green Gables at Dallas Children's Theater is an enjoyable show appropriate for children of all ages. Zoe Kerr deserves to be commended for her perseverance. All of the youth actors give wonderful performances under the direction of Robyn Flatt.

I recommend seeing this show for a family outing instead of a trip to the movie theater.
---
ANNE OF GREEN GABLES
Dallas Children's Theater, 5938 Skillman, Dallas, TX 75231
Runs through April 1st

Saturday - March 31 - 1:30 pm
Sundays - April 1 - 1:30 pm and 4:30 pm

Ticket Prices:
$24 Adult/$22 youth Section A; $18 Adult/$16 Youth Section B

For information, go to www.dct.org.
To purchase tickets, call their box office at 214-740-0051.