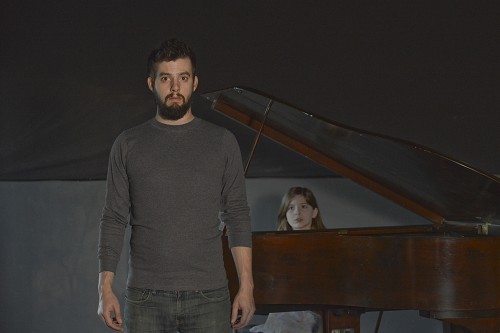 NOCTURNE
by Adam Rapp
Second Thought Theatre
Directed by Miranda Parham
Set Design – Miranda Parham and Seth Magill
Lighting Design – Aaron Johansen
Sound Design and Original Music – Shawn Magill
Costume Design – Miranda Parham
Properties Design –Samantha Rios
Stage Manager – Maddie Morris

CAST
Drew Wall – The Son
Tara Magill – The Sister

Photo Credit: Karen Almond
---
Reviewed Performance: 4/4/2014
Reviewed by Charlie Bowles, Associate Critic for John Garcia's THE COLUMN
Bryant Hall was a dim, undecorated black box theater looking a bit like a modern art museum. Interesting pieces lay on the floor around and behind the seating risers, each spotlighted as if an art piece on display. A clawfoot tub stood in the entry to seating. A small table with photos and memories of a family lay against a bare wall. A garden tray filled with books and an old typewriter on top of a pile of books occupied open spaces on the floor. An old grand piano sat in the corner of the sparse stage area, the only real set piece, while a recorded piano piece played quietly, evoking an air of melancholy. It seemed most patrons ignored the art pieces in the entryway, talked through the evocative music, and missed the presence of a young girl playing amongst the museum pieces behind the seating. I viewed these things as art and part of the mise en scene, posing questions to me and preparing me for a powerful, disturbing experience. It set the tone for how I watched Nocturne and told me Director Miranda Parham and her production team had a deep message to share.

The young girl was Tara Magill, a young actor with training at Dallas Children's Theater and an already impressive resume. She played The Sister in this play by Adam Rapp, an American novelist, playwright, screenwriter, musician and film director. In Nocturne, Rapp explores the effects of a devastating tragedy on the lives of a Joliet, Illinois family. The Son in the play is the young girl's brother and the only other visible character. Drew Wall played the 34-year-old man sorting through his broken life and the lives of his mother and father after perhaps the worst tragedy a family can endure.

Nocturne is essentially a long monologue by Wall, voicing the thoughts of The Son. Wall's monologue was intriguing, funny, shocking, gripping, anguished, factual and irreverent by pushing against what might be acceptable when talking about the death of a child. The Sister, Magill, played around the set area and also interacted with Wall to tell the story, playing amongst the museum pieces behind the seats, bringing them onstage, laying underneath the grand piano, and even playing the piano during some monologue. She showed no particular emotion, no harsh judgment, just child-like qualities we associate with innocence, as if her innocence had been frozen in time at her death. Her continual presence was at times a counterpoint to Wall's monologue, at times an adoring little sister, and often a mirrored animation of Wall's words.

The preshow piano strains continued throughout the play, sometimes even played by young Tara herself on the grand piano. Music was written by Shawn Magill who also served as Sound Designer. It had a slight eerie quality, maybe a bit unearthly, spectral, but certainly mysterious. It was not music as much as variations on a theme that might emanate from a disturbed mind. I kept thinking of Eric Satie's variations. It was a powerful force, a running theme behind the storytelling. Part of the story also included a Steely Dan song that was playing the night of the accident, so we heard that recorded song during the long reenactment of that fateful event, accompanied by Wall's singing and sometimes by Magill's as well.

I was impressed with how professional Tara Magill, still in grade school, portrayed this child who in death became an angelic support for her brother as he fought his way through his story. She said little, only a line or two. She sang a bit with him and played the piano to accompany and punctuate some lines. She glided in and out of the scene comfortably, at all times focused on his story, listening intently as if to assure him she had no animosity. In her innocent childishness, her understanding acceptance that usually comes from age and wisdom, and her intent focus on him, we could see how she felt about her brother. This was an important work of artistic expression for Magill and she fully stood up to the task.

Imagine reading a novel and then reciting it verbatim while acting out some characters. Drew Wall told this story in narrative form from Rapp's novel. He spoke the words of the story but also explored deeply complex emotional feelings of someone dealing with fifteen-year-old guilt. Every emotion a human could have was displayed as we watched Wall portray the complete disintegration of The Son's family and his life.

Wall's acting moments were myriad, but a few resonated strongly with me. He reenacted the accident, describing the horror factually, commenting on its often-ludicrous meanings, while exploding emotions across the stage. He acted out his first meeting with his dad after 15-years and the conversation that often happens between fathers and sons. In this moment Wall acted out both men with all the pathos one could imagine from a meeting between deeply scarred son and a father dealing with his own guilt. The Son also relates his descent into reading to escape from a painful life and named the great authors he admired. Wall delivered this long passage like a sensual all-encompassing rap song that expressed admiration and love for each of the authors. It was one of the delicious high points of the story. For an hour forty minutes Wall mesmerized the audience and his work was amazing!

There is a message in Nocturne. To paraphrase a bit, even the lowliest seed can wake up after a long sleep. Through even the worst of horror and decades of anguish and guilt, one can awaken and rediscover life. That goes double for societies, communities and nations. And in that there is always hope.

---
NOCTURNE
Second Thought Theatre
Bryant Hall at Kalita Humphries Theater, 3636 Turtle Creek Blvd, Dallas, TX. 75219
Plays through April 26th

Mondays and Thursdays at 7:30 pm; Fridays and Saturdays at 8:00 pm. General Admission tickets are $25.00. Pay-What-You-Can - The PWYC performances of Nocturne will continue on Monday April 7th, April 14thand April 21st. PWYC tickets are available at box office on day of performance only and subject to availability. Get tickets and information at http://www.2tt.coor/ by calling 866-811-4111.