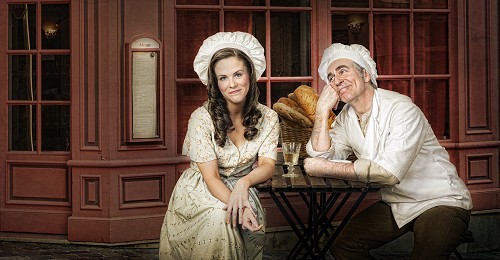 THE BAKER'S WIFE
Book by Joseph Stein, Music and Lyrics by Stephen Schwartz
Based on the film La Femme de Boulanger By Marcel Pagnol and Jean Giono
PFAMILY ARTS
Directed by William R. Park
Music Director Mark Mullino
Lighting Designer Pavel Perabillo
Costume Designer Kristin Moore
Stage Manager Elise McClure

CAST in alphabetical order
Suzanna Fox- Hortense
Emily Haynes- Inez
Francis Henry- Claude
Preston Isham- Martine
Bill Jenkins- Aimable
Vanessa Kenney- Nicole
Hunter Lewis- Le Marquis
Katie Moyes-Williams- Genevieve
Abigail Palmgren- Simone
Dominic Pecikonis- Philippe Colin
Phillips Antoine- Ben Phillips
Zak Reynolds- Dominique
Shane Strawbridge- Barnaby
Juliette Talley- Therese
Lucia A. Welch- Denise

MUSICIANS
Mark Mullino Piano
Lane Harder Percussion
---
Reviewed Performance: 4/5/2014
Reviewed by Mary L. Clark, Associate Critic for John Garcia's THE COLUMN
Joseph Stein and Stephen Schwartz's musical, The Baker's Wife has had a black cloud over its little head since it was first produced in 1976. The word around my own theatre group in college and beyond was that the songs were wonderful but the book was weak. After obtaining an
"original cast album, I quickly recognize the musical's charm but could never find a production to see it live. Still, the musical obtains an almost cult-like following, and I can't tell you how many bakeries I found online using the title or A Baker's Wife.

The sorted history of this musical is truly astounding and makes one wonder how any show ever makes it to Broadway. And the troubles with The Baker's Wife are so legendary they deserve a little background, so bear with me here.

The problems started as far back as 1952 when the musical rights to the film, La Femme du Boulanger, Marcel Pagnol and Jean Giono's 1938 film, were optioned to composer Frank Loesser and librettist Abe Burrows of Guys and Dolls fame. A story about an older village baker, his new, young wife, and her sudden relationship with the mayor's handyman, the musical was to star Bert Lahr but never came to fruition. Nine years later, it was offered to Zero Mostel, who declined.

Not until 1976 were the rights bequeathed to award-winning producer David Merrick. Fiddler on the Roof's Topol was cast as the baker, and even before opening in Los Angeles, the first stop of a six-month tour on its way to Broadway, the baker's wife had been replaced by Patti LuPone. During the last two weeks in LA, Topol was replaced by Paul Sorvino. This all might sound typical of a theatrical production working its way to New York, but the hellacious journey of this doomed production can only be fully understood by someone who was deep in the middle of it. In Defying Gravity: The Creative Career of Stephen Schwartz, from Godspell to Wicked, he and Joseph Stein concluded on the ups and downs of the pre-Broadway try out experience. However, if you are an actor who has had a terrible experience working with or in a musical, read Patti LuPone's A Memoir she devoted an entire chapter solely on her time with this musical and I guarantee you will never complain about your experience again.
After six months of what LuPone called "Hitler's Road Tour", it mercifully closed two days before opening at the Martin Beck Theatre in New York, having been pulled out of production by the authors themselves . . . with advertising out, posters up and LuPone's name in lights on the marquee . . . ouch!

The best thing to come from that production was the "cast album produced in 1976. There are several bootleg recordings but no full cast album by the original actors. A new, very small record label, devoted to preserving musical scores that might never be recorded, offered its services to
Schwartz. Recorded in a Greenwich Village apartment studio, it was too small to hold the entire ensemble so only the six solos and five duets of the three protagonists are on the LP (I have this album and it's no wonder I could never fully understand the story, which led to my eternal curiosity with the musical). Unbelievably, it garnered a Grammy nomination.

Jump forward another thirteen years to 1989 and director Trevor Nunn persuaded Stein and Schwartz to resurrect their little musical for a London production. The Baker's Wife had a short run of only 56 performances in the West End but its augmented score was made into a lavish, two-disc, full cast recording. Reviews were strong, audiences reactions were positive Nunn stating that every performance had a standing ovation, not normal for the British –, so what happened? Schwartz himself said, "The major thing was that it was just too long". Even after closing prematurely, it won the Laurence Olivier Award for Musical of the Year . . . go figure.

The final reunions of the creative team came with a 1997 production, a 2002 production at the Goodspeed Opera House, and finally with an acclaimed 2005 production at The Paper Mill Playhouse in New Jersey. This version included reworking of wife Geneviève and lover Dominique's relationship, and cast Max Von Essen as the handyman/lover, one of The Column Awards past co-hosts. Receiving more rave reviews, even from The New York Times which exclaimed "after 30 years…the whole thing…should be moved to Broadway…", the musical had further major productions in 2007 and 2011, and a staged concert, but has yet to make it to The Great White Way.

That left community theatres to pick up the slack producing The Baker's Wife and I've wanted to see it since I heard the album all those years ago. So when I saw it was coming to PFAMILY ARTS, I practically fell over my laptop to grab the review. I was equally curious to see how well they could incorporate a small, French village into what was, at my last visit there, a cavernous, warehouse space.

My amazement began the moment I entered the theatre space. Either they moved the walls inward or used a ton of blacking to reduce it to an intimate, much more inviting place. Scattering area rugs on the concrete floor, patrons were invited to purchase comfy armchair or sofa seating near the stage or tiered seating behind. The staging area was also now more inviting, being lower so the actors were more accessible to the audience.

Most of the set design was nice but safe, with store fronts having painted-on or painted over windows. The coral-pink wall color for all buildings was fine, though more Tuscan than French. Two, tiny functional balconies with French doors were used above the café and bakery. I enjoyed the large window for both the café and bakery as it lent a peek inside, and the items of wine bottles, glasses, flour sacks and bowls, etc. nicely expanded the ambiance. Café tables and chairs were placed on the small plaza far downstage, and while a wonderful place for the villagers to meet and talk, any audience member stage left lost most of the action from center stage to the left and most everything upstage. Exiting the village street straight into back curtains lost location continuity and became a tad jarring. I was most impressed with the ingenuity of the front bakery wall and door. In order to have scenes within the bakery, the front counter was attached to its side wall so that, when pushed, opened the front wall to one side, and left an open door frame for the actors to stand still and "walk" through sometimes to startling results. Small votives flickered on the tables during scene fades, wine flowed all around, as did coffee in white cups and saucers, and bread and pastries abounded. It was a shame there was no credit given for all the effort.

Pavel Perabillo's lighting plot was also safe, using blue and white LEDs for filler and backlighting and small, gold-gelled instruments for general daytime wash. There were some nice, moonlight visuals using the LEDs. No one was left in shadow or in the dark, and the only difficulty came when the bakery wall was fully open and an LED reflected into the glass blinded anyone in its path.

Costumes by Kristin Moore were hit and miss. Everyone looked fine but the period reflected was more 1950's than 30's and some, especially the women, were continually overdressed as if wearing their Sunday best. Being a small village filled with working people, their daily dress would not be nice hats, dresses and jewelry. Even Le Marquis supposed "nieces wouldn't be in such finery all the time. The butcher and his wife, the teacher, the café owner and his wife were better attired in clothes appropriate for their profession and status. Le Marquis' white, striped suit worked for the pompous leader of the town. Genevieve's dresses were simple, flowery, but again, maybe too nice for a poor baker's wife, though she probably brought them from her former life. The baker's shoes were distracting and looked more like dance shoes, and Dominique's chauffer hat was silly-looking, being much too small. My personal favorites were the dresses worn by the café owner's wife. Petite, well-fitting, and showing only a hint of sexiness, they were nice choices for this character.

The main plot of The Baker's Wife is on the lack of bread in the village after the former baker died. After seven weeks with no baguettes or croissants, the villagers are behaving like addicts without a fix. Maybe, as some reviewers suggested, the fact that we do not fully appreciate the French obsession for fresh bread is why the story does not work. I would like to believe it's more than that. Joseph Stein's book is rather simplistic and, not surprisingly, spotlights more on the feuding villagers than the baker, his wife and the man who seduces her away. Even after reworking, their chemistry simply cannot work when they leave the stage near the end of the first act and don't return until the climatic song. That leaves the villagers, none of which have a standout scene, and the baker who's holed himself in the bakery. Kind of hard to root for anyone we never get to know or care about.

Schwartz's music comes to save the day, however, and his score blends catchy chorus tunes with hints of Jacque Brel, Tin Pan Alley and his earlier, also under appreciated musical, Pippin, amongst ballads reminiscent of Sondheim's most moving. One of the big numbers, "Breadwas a daily rehearsal and performance nightmare according to LuPone, but I found this group's rendition upbeat and funny, waving baguettes as batons and caressing them suggestively. As a bulky butcher with long, dirty apron, Shane Strawbridge's use of a round loaf as A Chorus Line top hat was hilarious. "Chanson is a simple yet plaintive song on how the daily things in life can suddenly change, making them different and new.
I couldn't find orchestration for the original productions but the final UK version used only piano and cello. Here, Music Director Mark Mullino played piano while Lane Harder picked up the other half on percussion, though I could have sworn I heard a guitar in there somewhere. They sat behind a dark scrim above the village stores but I could easily see Mullino's piano light and moving shadow throughout the performance. For only two instruments, their sound was more than enough to provide solid accompaniment for the singers. Once again, there was no playbill credit for either musician.

Next to a weak storyline, a bad sound design is one of my theatre peeves, and there were major issues with the sound in this production. The space is now more intimate, the actors often times within touching position, and the chorus and some supporting actors were never miked, so why were the rest? By Act Two, several supporting actors had removed their body mikes, so distracting anyway at such close range, leaving only the baker and his wife using them. The imbalance of sound between those who were heard on two drop microphones or who could simply project versus two actors with mike volume turned up high was so distorted as to be annoying. Dominique climbs a trellis to reach Genevieve on her balcony, as in Romeo and Juliet, and as he leaned toward her, he was heard in her mike on a different speaker. A paper bag crumpled loudly and the actors' backstage steps were easily heard. At one point I thought Bill Jenkins, as the baker, was lip-syncing his lines and songs, it was so badly balanced, and at times you could hear his projected voice and miked voice at the same time coming from a speaker opposite from where he was onstage. And again, why the microphones if everyone else could easily be heard in such a small space?

William R. Park's direction is as simplistic as the storyline and his staging has no unnecessary complexity; even the choreography for "Breadwas simple leg crossovers and side stepping, as in A Chorus Line, noted above. The village women had a wonderful time enacting their fantasies in "Romance", a cute song about the kind of men they'd rather have, and the men get their chance to fantasize about not having to deal with women in "The World's Luckiest Man".

However, I was perplexed with the speed or lack of vibrancy in several of the songs. Mark Mullino had the actors practically singing death knells with the duet, "Merci Madameand even "Bread". On the opposite end, the lovely ballads such as Dominique's seducing "Serenade", Genevieve's famous "Meadowlark" and her climatic "Where is the Warmth" were sped through as though there was a fire somewhere. All the intimacy, the passion, and the only chance at chemistry between baker Aimable and Genevieve or she and Dominique onstage were washed away in a flurry of music and words, adding to the audience not being given the opportunity to care.

Of the supporting cast, there were several standouts. The trio of Le Marquis nieces", Emily Haynes, Vanessa Kenney and Abigail Palmgren, comically played on the flirtative/sexual aspects of these women who want to keep in good standing with the mayor. Hunter Lewis, as Le Marquis,
played his slight buffoonery well, pompous fake moustache and all, but also hinted at the character's soft heart and caring nature in regard to the two stowaway lovers.

Veteran musical theatre actors, Ben Phillips and Shane Strawbridge, did all they could with their characters of the priest Le Cure and the butcher Barnaby, but both were underutilized in these minor roles. Still, every time onstage, my eyes went to them more than the leads, and not in a steal focus way; they were simply fun and engaging to watch. And I didn't recognize Strawbridge in his new, minimalistic hairstyle (bald).
In an equally small but important role, Suzanna Fox gave real emotional angst to the butcher's verbally abused wife Hortense. Her facial expressions and body language spoke more than if we were to see what was going on behind their closed door. I love Fox's voice and wish I could have heard more solo bars during the chorus numbers.

Lucia A. Welch is another veteran musical theatre actress whose role as Denise, the café owner's wife, is a connecting pin and the one to bring the story full circle. Opening both acts with "Chanson", a simple, slightly melancholy tune, set the mood for the rest to follow. Her feisty behavior with her husband, played by Francis Henry, and her flirtations with the male customers added that little coquette, French comedy film attitude.

As young love interest Dominique, Zak Reynolds held none of the necessary bravado onstage to steal away such a passive woman. He could hardly stand still in one place, shifting his weight back and forth, even as he plaintively sang "Serenedeto her from below her balcony (R&J again). His stage presence was of one inexperienced, even with an impressive resume. Reynolds vocal quality in "Proud Lady was clear, pure and held attention. He played a bit young for this role even though he is supposed to be youthful, and more maturity in presence was needed to make his seduction realistic.

Baker Aimable is a pleasant sort of character who clearly loves two things, baking bread and pastries for people and being married to his young bride, Genevieve. Though a simple man, he exudes passion for his work and his wife, sadness when she disappears, and empathy and forgiveness at her return. Bill Jenkins, as Aimable, possessed the demeanor of such a man but something in his characterization was so held back that Aimable's supposed emotional highs and lows were all one note. Jenkins stage presence was low key and he frequently stumbled around on unsteady feet, which after awhile became distracting. Nowhere did I fully believe him to be this confident master baker, proud of his work, nor the devoted husband to such a demure wife. Jenkins singing was also constrained and unexciting, especially when singing of his love for Genevieve in "Merci Madame and "Gifts of Love". I was completely surprised by his performance and his underwhelming portrayal of the baker.

The character Genevieve is a reluctant new bride, unsure if she made the right decision to marry Aimable, and also unsure of her position in their business or with the villagers. While there is definite uncertainty in this character, the actress portraying her needs to have enough stage presence and well-defined arcs to show the vulnerabilities. Katie Moyes-Williams underplayed Genevieve and the audience never saw the character beyond the actress. Reluctant and quiet, her stage presence garnered no understanding or empathy of Genevieve's plight. Possibly the two best songs in the production are "Meadowlark", before she takes flight with Dominique, and "Where is the Warmth" when she realizes her mistake. Both were sung rapid-fire and without any emotion as if she could not wait to finish the songs and get off the stage. Moyes-Williams facial expression never changed; not from her arrival in the village and her determination to make the best of things, to being seduced by Dominique and her return home to the forgiving arms of Aimable. Here it was not the storyline at fault; she simply did not possess the varying emotions necessary to play the role.

So, does the black cloud continue to hang over The Baker's Wife with PFAMILY ARTS production? Not really. The ensemble as a whole is a delight to watch in their individual and group interplay and exchanges. Some nice work is done by supporting actors and actresses, the singing is generally good to wonderful, the set fun, and the story is pleasant. No one left not smiling and enjoying the experience, and so for that alone, I'd include the musical in my things-to-go-see list for this last week. The armchairs and sofas are certainly comfortable.
---
THE BAKER'S WIFE
PFAMILY ARTS
Wingspan Advisors Theatre, LakeSide Market, 4017 Preston Road #544, Plano, TX 75093

Plays through April 12th

Thursday at 7:30 pm, Friday Saturday at 8:00 pm, and Saturday at 2:30 pm. Tickets are $35.00, $25.00 for seniors/students, and $40.00 for reserved lounge seating. To reserve tickets, call their box office at 972-378-1234 or email at info@pfamilyarts.org