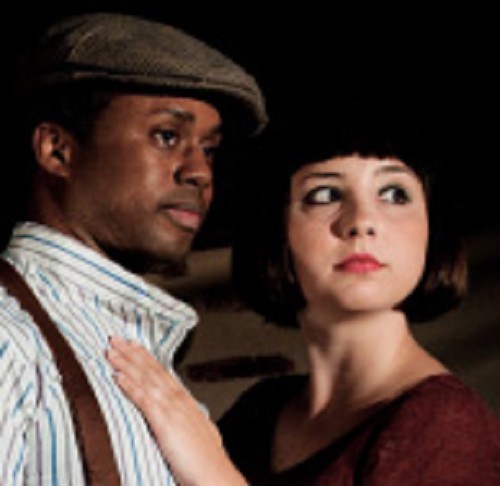 DIAMOND DICK: THE TULSA RACE RIOTS OF 1921
by Erik Ehn
Project X: Theatre
Directed by Raphael Perry
Associate Director/Associate Producer - Korey Kent
Costume Design - Giva Taylor
Set/Properties Design /Construction - Jeffrey Schmidt
Lighting Design - Robert G. McVay
Original Compostion/Co-Sound Design - Newton Pittman
Co-Sound Design - Andrea Allmond
Film Design - Julia Dyer
Choreography - Karen Bower Robinson

CAST

Dennis Raveneau - Andrew Smitherman/Ensemble
Jamal Sterling - Willie/John/Ensemble
Rhonda Boutte - Eufala/Loula/Ensemble
Stormi Demerson - Mary/Ensemble
Dick Rowland/Ensemble - Walter White
Henry Snowden/Ensemble - Jeffrey Schmidt
Sarah Paige/Ensemble - Jenni Pittman
Sandman - Newton Pittman
---
Reviewed Performance: 4/12/2012
Reviewed by Mary L. Clark, Associate Critic for John Garcia's THE COLUMN
If I was to say the title "Black Wall Street", would you know to what it referred? Maybe a financial district in Johannesburg, South Africa or. . . . .

And if I casually mentioned the phrase "race riots", your mind might easily think of the civil rights movement, African American protests, and those riots of the mid to late 1960's.

It might surprise or shock you to know that practically at our doorsteps was the first recorded bombing on U.S. soil, rioting and subsequent burning of a neighborhood in Tulsa, Oklahoma nicknamed Black Wall Street. A prosperous middle class area of homes, businesses and churches, over a square mile of land was laid waste with over 300 African Americans killed. The entire incident started with an accusation and false arrest of a young black man, and ended with genocide of people and the almost thorough eradication of it from city records and our history. My mother moved to Tulsa as a young woman only fifteen years later, in 1936, and though she says she knew of the "events", she says no one spoke of it or made much acknowledgement of the atrocities.

Playwright/social activist Erik Ehn has written and linked together a series of seventeen plays, detailing "a spiritual history of the United States in the 20th Century from the perspective of its genocides, in which it was directly involved or in which it abetted".

Under the title, Soulographie: Our Genocides, his plays focus on different world points - Rwanda and Uganda, Guatemala and El Salvador and Tulsa, Oklahoma, United States. Throughout 2011-2012, these plays have been or will be presented by theatre groups and actors in ten cities around the world.

One of the theatres is Project X: Theatre under the direction of Raphael Perry, a long-time collaborator with Erik Ehn. Their Dallas production of Diamond Dick: The Tulsa Race Riots of 1921 documents the accounts of the days before and during the riots merging, acting, live music and film with the recounting of events some have never heard of and others might painfully wish to forget.

Ehn's writing is most often fantastical and dream-like in his prose, leaving each theatre group to decipher his intentions in physical form. Diamond Dick: The Tulsa Race Riots of 1921 is certainly no different and Project X: Theatre bravely and miraculously presents what can only be described as a "witnessing" of history as the play unfolds chronologically over the days of the riots. Their production is both visually astonishing and emotionally gut-wrenching

Every bit as fantastical and dream-like as the play is the set design by Jeffrey Schmidt. Overhead pulleys and ropes criss-cross the stage, and two tightly-spiraled staircases, office desk and moving set pieces reflect the many locations of the play - homes, churches, movie theatre, and newspaper office. A pulled-across canvas screen plays double duty as a shadow scrim, silhouetting some the many characters, and a screen for Julia Dyer's film that both chronicle witnesses to the events and support the story onstage with images of flying embers and raging fire, even a silent film from the movie house.

In fact, much of Julia's work is silent film in nature with each scene's title projected in keeping with the time-line. With so much going on onstage - live action, film, live music, projections - Robert McVay's lighting design has to filter more than illuminate so as to not overpower the film images or spotlight one area over another and he does that masterfully in such a small black box space.

There are seven actors which represent and recreate the main people of this dark period in our history. I usually dislike lumping actors into the category of ensemble, but here, I feel it's important to keep them as such. The play is such a tightly-woven amalgamation of thoughts, visuals, opinions, and sound that to separate the actors' performances individually would weaken the fabric that so darkly yet richly envelopes our minds and hearts. Each portrays one or more individual characters, and so much of their work is in mime, silence or spoken poetically. Much of the play is like an intricate dance, and with choreography by Karen Bower Robinson, represents Erik Ehn's vision beautifully.

And if the actors' work is the heart of the play, Newton Pittman's original musical compositions and onstage playing is its soul.

From pre-show through the entire performance, his music gets to your very core with its deep-down steel/slide guitar blues. As the narrator/storyteller, his words practically ooze into the old-fashioned microphone, much like Leon Redbone. When I called him that, I hope Pittman took it as a true compliment.

If my commentary sounds a bit vague it's because The Tulsa Race Riots of 1921 cannot be accurately described in words - it must be seen and felt to obtain its full effect on you.

And people are affected by this play - in comments and discussions afterwards with actors, director and audience members, each had a deep reaction to the subject matter and the performance. Hopefully it will also produce a "passing on" of sorts, for that is what good storytelling does.

On her website, New York Theatre Review, Jody Christopherson says "Theatre is a medium of witnessing. Though something audiences have been doing for centuries, (it) is a new way of exploring theater's intrinsic possibilities." She asks if playwrights, by having the difficult task of sharing what they see, become less narrative and more journalistic. Erik Ehn has witnessed what he writes of in the Soulographie cycle plays - he spent fifteen years visiting the locations of genocides, collecting and sharing testimonies, and unlike the sometimes cold nature of journalism, his words and visions are visceral reflections of the essence of what it is to be human - our souls.

Director Perry, in his curtain speech, spoke of the realities of human against human. Hoping to quote Ehn, he said that "hate wants us to look away" and that Ehn's purpose in gathering these stories, these truths, together is "not to accuse but educate". In the realm of education, the culmination of the Soulographie: Our Genocides project will be a two week production of the entire cycle of plays this November at La Mama E.T.C. in New York City. Independent companies and artists from around the world will join to perform their part of the spiritual history. And in an obviously once-in-a-lifetime opportunity, all seventeen plays will be performed back to back in a 24 hour period.

Being the largest cast play in the cycle and also being a non-profit company, Project X: Theatre must find a way to journey to NY, house and feed the company and perform during the two week festival. As of yesterday, they have formed a fundraising opportunity to assist them in their most worthy efforts.

I believe it is vitally important to go see Diamond Dick: The Tulsa Race Riots of 1921, if only to be witness to what occurred. Then if the story, this documentary work, moves you and stays in your mind and heart as it has for many of their audiences, then go to the website or email address I have below to see how you can help. Besides breaking the "conspiracy of silence", as one of the actors spoke of, by passing on the story and making sure Project X: Theatre has the opportunity to expand the awareness is, in my opinion, the best way to not look away, to call out Hatred by its name. . . .and weaken its power over the human condition.
---
DIAMOND DICK: THE TULSA RACE RIOTS OF 1921
Project X: Theatre
The Green Zone, 161 Riveredge, Dallas, TX 75207
(at Oak Lawn and Irving Blvd.)

Very limited run through April 21st

Plays Thursday, Friday and Saturday at 8:00 pm with talk back to follow

Admission $10.00 at the door only. Box office opens at The Green Zone nightly at 7:15 pm.

For information on the play, the fundraising efforts and Project X, go to www.projectxtheatre.com or you can email them at info@Projectxtheatre.com