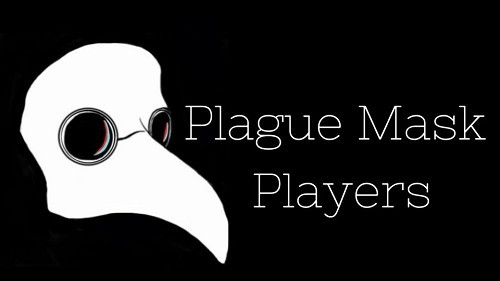 ROMEO & JULIET
By William Shakespeare
Adapted by Michael McMillan
Plague Mask Players
PRODUCTION TEAM
Director - Michael McMillan
Ast. Director - Shea McMillan
Producer - Savannah Lloyd
Stage Manager - Alexandria Skowron
Costume Designer/Marketing - Samantha Calatozzo Cobb
Set Designer - Aidan Wright
Lighting Designer/Board Op - Andres Vasquez
Prop Master - Alida Liberman
Music Composer - Jared Cobb
Fight Choreography - Modus Martial Arts- Bobby Garcia & Jeff Colangelo
Outreach Coordinator - Erin Everywhere
Front of House - Samantha Johnson
Casting Director - Courtney Mentzel
Wardrobe/Dressing Head – Tori Dez

CAST
Romeo - Steven Young
Juliet – Sara Weeks
Friar Laurence – E.A. Castillo
Nurse – KT McGinn
Mercutio – Cody Magouirk
Benvolio – Alexander De La Cruz
Capulet – Eduardo Vélez III
Lady Capulet – Samantha Calatozzo Cobb
Tybalt – Trey Smith
Montague – Jake Geary
Prince – Carissa J. Olsen
Paris – Anthony Magee
Abraham/Friar John/ 1st Watchman – De'Aveyon Murphy
Balthaser/Petra – Jasmine Mesre
Gregory/Paris' Page/Mercutio's Page/Apothecary – Cameron Wisener
Sampson/2nd Watchman – Sinan Beskok
---
Reviewed Performance: 4/9/2023
Reviewed by Ann Saucer, Associate Critic for John Garcia's THE COLUMN
The Plague Mask Players sprung up during the pandemic, providing virtual theater during our humanity-deprived quarantine. Happily, the players have transitioned to live performances, the second of which is Shakespeare's Romeo & Juliet, which runs at the comfortable Bath House Cultural Center through February 18. The production does a superb job of blocking a full cast of characters, prone to rapier dueling and other mayhem, in the intimate space. The adaptation by director Michael McMillan also features a major twist.

The titular characters are the most iconic star-crossed lovers in the English language. Romeo & Juliet is one of Shakespeare's earlier works. It was popular in his lifetime and remains so today. McMillan's adaptation of this archetypal tragedy takes a unique turn by casting the paramours as the senior citizen parents of feuding adult children, rather than as the teenage children in two powerful families.

How does this work without raging adolescent hormones? At the play's commencement, the stage is set for the funeral of Romeo's wife and is then quickly replaced with Juliet being consoled for the loss of her husband. These are two people adrift in their unexpected singleness. Romeo drinks from a flask, and Juliet flutters with notes of fragility.

Steven Young never misses a beat as an aging Romeo, drunk and despondent from the loss of his wife. He's a horny teenager grown up. You can picture him in a Corvette, but you like him anyway. Young easily commands the stage in scene after scene, as Romeo careens between lust and anger, settling into a fierce love for his Juliet. His measured delivery of iconic lines is emotionally powerful, even fulfilling. Some of Romeo's poignant prose is surely more potent coming from a senior rather than a teen: "teach me how I should forget to think," "let's talk, it is not day," and "I am fortune's fool."

Sara Weeks as Juliet is also well cast. She retains the stamp of beauty, and her diminutive stature works well with the original intent of Juliet's scenes. Weeks commands sympathy, and quickly has the audience eating out of her hand. Weeks does a great job with Juliet's Fortune send him back speech and her anguished acceptance of Tybalt's murder. Her flirting with Romeo is both funny and sweet, and Weeks convinces us that Juliet talking to herself at the start of the iconic balcony scene is consistent with the ramblings of a lonely widow.

The character of Mercutio makes or breaks the first act of Romeo & Juliet. It's a go big or go home role. Romeo and Juliet have each other, but Shakespeare gives Mercutio to the audience. There is a razor's edge to making Mercutio's rage simultaneously charming, and Cody Magouirk hits it out of the park. It is a joy to experience his Queen Mab speech, particularly because at the Bath House you are close enough to relish every eyebrow twitch and twist of the lips. Whether prancing, dueling, drunkenly carousing, or cursing both houses, Magouirk delightfully makes it look easy. In fact, I want to see Magouirk in everything. Just give him a spot downstage and someone to call "the prince of cats."

Not only does Magouirk shine with a rapier, but they all do. The duels and slapstick fist fights are first rate, and all the more exciting to experience close up. Anyone interested in stage fighting should not miss this opportunity to see experienced Shakespearean actors show us how it's done. Young's final two thrusts in Romeo's kill scene in the First Act are searing.

Replacing two randy teens with two senior citizens adds humor. It also opens up space for the love triangle at the heart of the tragedy to be more interesting, and this adaptation does not cut the final rapier fight at Juliet's tomb. The calamity driving this tragedy starts with a sword fight instigated by the Montague-Capulet long-running feud, but then accelerates because the Capulets decide to immediately marry Juliet off to a rich aristocrat. In the other productions I have seen, Count Paris (here County Paris) is a rich creep acquiring a hot teenager for a bride. He and Lord Capulet are two peas in a gross pod transferring Juliet like a piece of meat. But in McMillan's transformation of the tale, Juliet is age appropriate, albeit still retaining her graceful natural beauty. County Paris comes across as (a presumed) widower, lonely and sweet. Anthony Magee is charming in the role.

In this unique adaptation, County Paris juxtaposes with Romeo's bad boy vibe. While Romeo is an aging, scruffy-bearded, long-haired hippie, County Paris by contrast is clean-cut and clean shaven in a crisp, well-tailored suit.

Another character benefiting from the parental relationship swap is Benvolio, played with earnestness by a talented Alexander De La Cruz. His comradery with Romeo has an undercurrent of protectiveness, and he is entirely convincing in grief.

E.A. Castillo is powerful as Friar Laurence, commanding attention with seeming ease. Castillo is a crowd-pleaser, and I found myself frequently looking for the Friar's reactions to the lovers' increasingly rash pronouncements. Castillo convincingly delivers the Friar's tortured confession to the rest of the cast in Juliet's crowded tomb at the end.

Carissa J. Olsen has instant gravitas and gorgeous diction as the outraged Prince. Typically, the Prince is given "costume" authority, meaning being bedecked with purple velvet and a lot of bling to denote societal power. Olsen does sport a gorgeous black velvet jacket but projects the Prince's power over Verona by her star power.

The character of Capulet (Eduardo Vélez III) works as Juliet's son-in-law rather than father. He wants to get rid of her and feels entitled to do so. The entire cast does a great job making Shakespearean English accessible, and Vélez in particular is perfectly in sync. His pacing, annunciation, and non-verbal cues make Capulet's every line easy for us. We like Capulet when he forbids Tybalt from starting a brawl at his party, but when he turns on Juliet, Vélez sells it as all part of Capulet's inherent self-serving nature.

Samantha Calatozzo Cobb does a great job swanning around as the elegant Lady Capulet. She navigates the rough terrain between the Lady's duty to her husband and (limited) sympathy for Juliet. A brooding Trey Smith hits the mark as Tybalt, a character with all of Mercutio's swagger but none of his charm. Sinon Beskok provides comic relief as the hapless Sampson, bedecked with a comically servile tie made of, and strung from, beads.

The unique costumes largely stick to the period, but with a visual feast of clever innovations. The frequent use of black and white asymmetry provides an interesting tableau that matches the overall mood. And, okay, I covet a pair of sandals (one black sole with white laces and one white sole with black laces; shazam). In addition to black and white, the costume pallet coordinates shades of brick to gorgeous effect, accentuated by the set. The costume designer also has a penchant for chains as not just jewelry but also as sashes and other clothing elements.

It is obvious this production is crawling with professionals because the numerous scene changes run like clockwork. There is no curtain, and the blackouts are seamless. The lighting changes are on cue and serve the cast and set well. The intricate blocking of a big cast on a cozy stage is impressive. From the opening funerary music throughout all the brawls, the sound is pleasantly consistent.

I recommend this fast-paced live theater experience. The Bath House Cultural Center is scenically situated on White Rock Lake and the tickets are a bargain. This production of Romeo & Juliet packs some powerhouse talent in classical theater, and its run ends on February 18.
---
ROMEO & JULIET
Plague Mask Players
February 9th – 11th, 16th – 18th
The Bath House Cultural Center
521 Lawther Dr., Dallas 75218
For information and Tickets go to https://www.plaguemaskplayers.org/shop-our-store/p/romeo-and-juliet-ticket