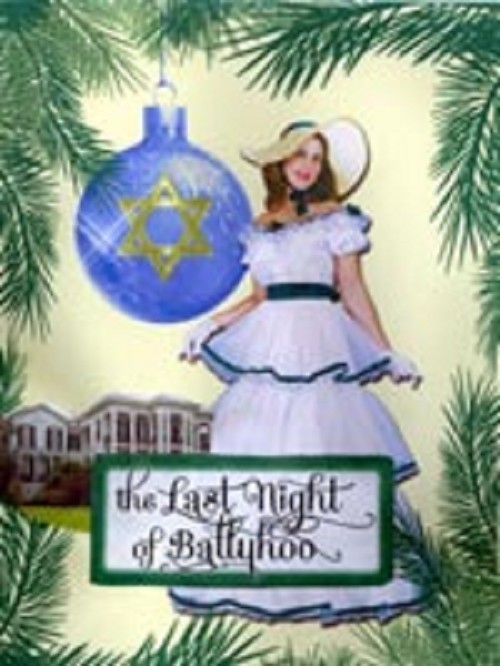 THE LAST NIGHT OF BALLYHOO
by Alfred Uhry
Garland Civic Theatre
Directed by Gregory Phillips
Set Design - Gregory Phillips
Sound Design - Gregory Phillips
Properties Design - Gregory Phillips
Lighting Design - Donna Covington
Costume Design - Ryan Matthieu Smith
Stage Manager - Chuck Moore


CAST

Boo Levy - Rose Anne Holman
Adolph Freitag - Richard Stephens
Reba Freitag - Janye Anderson
Lala Levy - Devon Rose
Sunny Freitag - Linh Nguyen
Joe Farkas - Matthew Stepanek
Peachy Weil - Robert Dullnig
---
Reviewed Performance: 4/14/2012
Reviewed by Charlie Bowles, Associate Critic for John Garcia's THE COLUMN
Prejudice is a concept often tossed around as an intellectual exercise today. We know it's there and wince when we see something that points to it but most of us move through life meeting and working with people of diverse backgrounds with little thought of how they are different. We think about prejudice in terms of groups rather than individuals we encounter. For our youngest generation the idea is academic, studied in school, sometimes felt, but not understood. They hear parents react but then go off to their diverse worlds wondering why. Prejudice exists, but not the way it did in 1939.

The Last Night of Ballyhoo focuses on elite southern Jews in '39. Written by Alfred Uhry, Ballyhoo is the second in his Atlanta Trilogy about early 20th century southern Jews. The first and most well-known is Driving Miss Daisy for which Uhry earned a Pulitzer and an Academy Award. The Last Night of Ballyhoo takes us into the Jewish family to explore inter-Jewish prejudice. This play won a Tony Award. The last of the trilogy, Parade, tells about the trial of a Jewish factory manager. This musical won Uhry a Tony for Best Book of a Musical.

Ballyhoo is a German-Jewish debutante ball. The Levy and Freitag families live in luxury, belong to an elite country club and their children attend prestigious universities. But this wealth and status doesn't change the truth. They are Jews in Christian society. Yet even the prejudice they experience personally doesn't stop them from discriminating against their own. German Jews look down on Eastern European Jews.

The Last Night of Ballyhoo at Garland Civic Theatre is directed by Gregory Phillips. As a first-time director he makes good choices on designs and casting. His 1939 living/dining room is well-appointed with colors and furniture that could adorn any high-class Atlanta house. The Christmas tree sets it apart as different from a normal Jewish household, but it fits well and is part of the story. Phillips' sound design fills the air with radio shows and music from the era, including news reports about events in Europe and reports from the premier of Gone With The Wind. Phillips decorates the set and uses props which are realistic, down to having real food for snacks and meals.

Ryan Matthieu Smith creates ritzy period costumes for all characters, especially when Ballyhoo dress selections are made. It seems costumes not only fit the actors but coordinate with the colors of the set. Donna Covington lights the set brightly with just the right amount of focus on important set pieces, like the vintage radio, and keeps the set bright enough to see faces and expressions clearly.

Scene changes are long and distracting. There are many of them for minor shifts in time and date to major shifts to a train station, but the set is all-inclusive so changes should be minimal. Yet each change is too long; we see actors ready to act while crew is still slowly crossing the stage to a distant door. It's a long show but could move faster.

Actors perform energetically with tight line delivery and comedic timing which makes scenes flow quickly. Rose Anne Holman, as Boo Levy, pushes the action forcefully from the first scene, which makes her the butt of many jokes. Janye Anderson plays the main jokester, Rheba Freitag, with a southern charm and wry humor. Richard Stephens, as Adolph Freitag, is the father-knows-best type, clearly out of place in a house full of females. Yet the story he tells to his niece about the love of his life is one of the tenderest moments we see. Together these elders represent a German-Jewish traditional view of the world, accepting their prejudice as the way life is supposed to be.

The younger generation shows a different perspective on prejudice. Lala Levy is oblivious to prejudice and more like a stereo-typical southern belle in love with Rhett and Scarlet. Devon Rose makes Lala a little bit of a caricature but lovable anyway. Her cousin, Sunny Freitag, is an intelligent college student, aware of prejudice and inequity in the world, struggling with her identity in the face of what she sees. Linh Nguyen shows Sunny's struggle with the search and makes her the impetus for a change in family attitude. Both actors are juniors at North Garland High School making their debut at GCT. There's room for development in both but they perform admirably and GCT has a couple of good actors for future shows.

Robert Dullnig's Peachy Weil is the obnoxious German-Jewish boy from Lake Charles who Lala's mother manipulates into taking Lala to Ballyhoo. Dullnig's a bit too loud in this small theater and takes his obnoxiousness to an extreme but he flaunts a continuation of traditional family prejudice and contrasts with Joe.

Joe Farkas is the outsider who shakes up the family order, the Eastern European Jew who challenges Sunny to examine her prejudice and presents her family a new perspective on their place in the world. Matthew Stepanek plays him with an enjoyable effortless comfort that makes his outrage against the family important and clear. As the catalyst for change he strongly delivers the theme of prejudice.

The Last Night of Ballyhoo is not the popular comedic drama of Uhry's Driving Miss Daisy, yet it deals with serious themes and issues in a comical and understandable way. Uhry seems to intuit that it's easier to handle touchy subjects with humor. Garland Civic Theatre and this cast meets the Uhry challenge and delivers the message.
---
THE LAST NIGHT OF BALLYHOO

Garland Civic Theatre (Granville Arts Center)
300 N. 5th St., Garland, TX 75040
Runs through May 5th

Thursday at 7:30pm, Friday and Saturday at 8:00pm and Sunday at 2:30pm. There is a matinee performance Saturday, May 5 at 2:30pm.

Tickets are $17.00 - $22.00
For info and tickets, go to www.garlandcivictheatre.org or call 972-205-2790