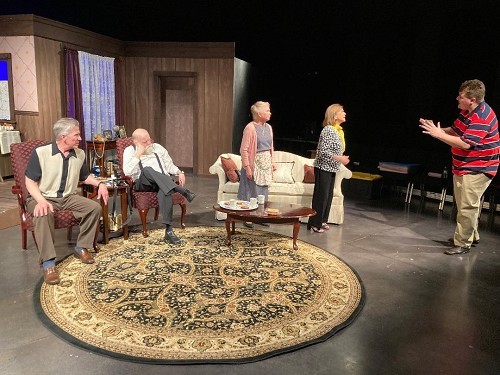 OVER THE RIVER AND THROUGH THE WOODS
By Joe DiPetro
Theatre Frisco
Director- Sherri Small
Set Designer – Rodney Dobbs
Lighting Designer – AJ Blessing
Costumes – Dallas Costume Shoppe
Props – Elise Knox
Sound Designer – Sherri Small
Technical Director – Alex Rain
Stage Manager – Samantha Masucci

CAST
Nick – Cody Tabor
Frank – Frank Niles
Aida – Nancy Lamb
Nunzio – David Noel
Emma – Lucia Welch
Caitlin – Samantha Calatozzo Cobb
---
Reviewed Performance: 4/16/2022
Reviewed by Carol M. Rice, Associate Critic for John Garcia's THE COLUMN
I have to admit that I love this play. I've seen it many times: good productions, bad productions, and everything in between. I can honestly say, however, that Theatre Frisco's production of Over the River and Through the Woods is one of the best I've ever seen of this show. I saw the cast list for Theatre Frisco's production several weeks ago and was excited just by the brilliant cast, but these amazing actors exceeded my expectations. Cody Tabor is just about perfect as Nick, a typical 20-something who's trying to find his way in life. Nick spends every Sunday dinner with his two sets of grandparents in Hoboken, NJ, but doesn't really learn about what "family" truly means until he gets a promotion at work that's going to send him to Seattle. Tabor easily captures the attention of the audience early on with his entertaining monologues and slips seamlessly into and out of the scenes involving his grandparents. He makes Nick extremely likable, and his growth throughout the play is a joy to watch. Nancy Lamb is simply wonderful as Aida, the grandmother who's always asking, "Who's hungry?" (I'm sure I'm not the only audience member who can relate!) Lamb easily fluctuates between sweet and sassy, but through it all, it's obvious that her Aida not only loves Nick but also her husband Frank, played by Paul Niles. His Frank is the closest thing to grumpy we get from the grandparents, but it's a loveable grumpy, and Niles makes him lots of fun to watch. As the other set of grandparents Emma and Nunzio, Lucia Welch and David Noel have amazing chemistry. They seem to be a little more modern than Aida and Frank, but that doesn't make them any less likable. Welch and Noel are obviously comfortable working together, and they create a fun, boisterous, loving couple that is a nice complement to the slightly more laid-back Aida and Frank. The only "outsider" to the family is Caitlin, played to the hilt by Samantha Calatozzo Cobb. Caitlin is the "secret weapon" in the grandparents' attempt to get Nick not to move to Seattle, a friend of Emma's who is thrust into the Sunday family dinner without Nick's knowledge. Cobb plays Caitlin as a smart, streetwise local girl who isn't afraid of falling in love, but it has to be on her terms: with Nick planning to leave, she isn't willing to take a chance on him. Cobb and Tabor, like the rest of this exceptional cast, have great chemistry, and it is to her credit that we are definitely rooting for them to get together. Director Sherri Small makes the very most of her excellent cast, highlighting their talents and making it all seem effortless and real. This is key in a show like Over the River and Through the Woods because it's easy for these characters to lean toward caricature, and it's due to Small's tight direction that this doesn't happen. Her role seems invisible, which is what a solid director does best. Rodney Dobbs' beautiful set suits the action and the space well, and I have to send extra kudos to Elise Knox for her flawless props, including all the FOOD! Small also served as sound designer, and her music choices are spot-on. AJ Blessing's lighting design is the only flaw in an otherwise perfect show, as there seemed to be a few dark places here and there. I will say, however, that lighting a thrust stage like the one at the Frisco Discovery Center is not an easy matter. Theatre Frisco's Over the River and Through the Woods is a completely charming, lovely show. It made me laugh out loud, it made me cry, and it made me hungry! There is just so much talk of amazing food! Most importantly, though, it made me think of my family and how blessed I am to have them. My friend who was with me planned to go home and call her grandmother. This is the mark of excellent theatre – it entertains you and makes you think. There's only one weekend left of this amazing show. If you can get tickets, I highly recommend that you go see it.
---
OVER THE RIVER AND THROUGH THE WOODS
Theatre Frisco
Frisco Discovery Center, 8004 Dallas North Tollway, Frisco, TX 75034

Runs through April 24
Friday at 8:00 pm, Saturday at 2:30 pm and 8:00 pm, Sunday at 2:30 pm
Tickets are $15-25
For information and to purchase tickets, go to https://www.theatrefrisco.com/ or call the box office at 972 370 2266.