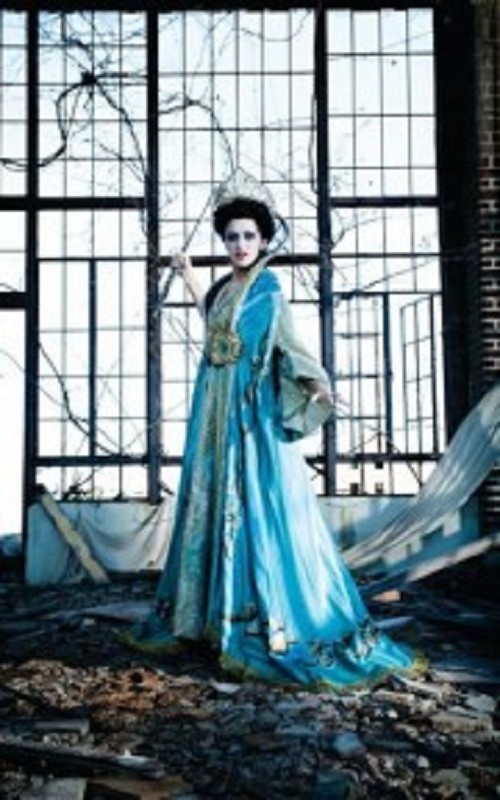 THE MAGIC FLUTE
An opera by Wolfgang Amadeus Mozart
Libretto by Emanuel Schikaneder
The Dallas Opera
Conductor: Matthew Lata
Stage Director: Matthew Lata
Productions Designer: August Everding
Scenic Design: Jorg Zimmerman
Costume Design: Renate Kalanke
Lighting Design: Duane Schuler
Wig and Make-up Design: David Zimmerman
Chorus Master: Alexander Rom
Children?s Chorus Master: Melinda Cotten
Assistant Director: Gillian Smith
Production Stage Manager: Bethany Ann Wright Morales


CAST
Tamino: Shawn Mathey
Three ladies in Attendance: Caitlin Lynch, Lauren McNeese, Maya Lahyani
Papageno: Patrick Carfizzi
The Queen of the Night: L'ubica Vargicova
Monostatos: David Cangelosi
Pamina: Ava Pine
Three Genii: Karen Wemhoener, Zoe Moorem, Mollie Meril
The speaker (First Priest): Kevin Langan
Sarastro: Raymond Aceto
Second Priest: Aaron Blake
Papagena: Angela Mannino
Two men in armor: Aaron Blake, Darren Stokes
---
Reviewed Performance: 4/20/2012
Reviewed by Mark-Brian Sonna, Associate Critic for John Garcia's THE COLUMN
The Magic Flute is a crowd pleaser. Mozart's silly opera is easily accessible to mass audiences. It is like a fairy tale on steroids. The plot is utterly absurd, illogical, yet enchanting. It is also one of the funniest opera's you'll ever run across, if done right. The Dallas Opera puts on a visually fun production, and while it has some great hits it also has its shares of misses.

The Opera overall is well sung, nicely staged, and competently performed. If you haven't seen this Opera, this production is worth catching. It is also a good opera to take someone to who is afraid of the art form because it will guarantee them a good time. This said, is it the best possible version? No.

This opera by Mozart is deceptively tricky. It is almost like a musical review. There is dialogue which segues into fabulous songs, arias, choral pieces and orchestral moments. The basic plot is simple: boy meets girl, boy loses girl, boy gets girl back. But in order to do so he must use magic, deal with witless, maybe-they-are-cannibals or maybe-they-are-noble-savages-painted-green, contend with the machinations of The Queen of the Night, all while being chased by three horny fairy/witches/assistants. The opera uses this absurd and comedic plotline to link together phenomenal musical moments. It's a kid's story imbued with sexual innuendo. It's a cheeky opera with tongue firmly placed in cheek. At times it is poking fun at the convention of opera, and then hits us with raw true emotion. When all design, performance, musical, and staging elements gel, the effect is sensational.

While there are were many positives, there are also some "OK's", and some misfires.

The best? Ava Pine. Nothing much else has to be said. Not only does she hit all the rights notes with her gorgeous voice, but her acting is spot on. She understands the character Pamina thoroughly. She's the sweet girl that is the typical damsel in distress at some points, a sweet ingenue in love who ends up surprising the audience for she's not as vacuous or as dumb as she might seem. She knows exactly how to balance comedy and slapstick without going overboard and becoming self-indulgent. Every time I see Pine perform I am fascinated by her chameleon abilities. There is no role she cannot play. If there is a Meryl Streep in the opera world it is her.

Another strong element is the scenic design by Jorg Zimmerman, the costume design of Renate Kalankeand, the overall conceptual design of August Everding. The story takes place in the "jungles" of Egypt. Yes, the jungles of Egypt. It is absurd and that is exactly correct. The over the top and at times surreal set is full of overgrown fauna and magically appearing flora that glides, evolves, pops out of rocks, and is full of whimsy. A Pyramid appears and disappears. A tikki hut rolls on stage. A pair of lions appears for no particular reason, as does a rhinoceros, a dancing bear, a monkey and even the Loch Ness Monster. It's as if the production were conceived after dropping a hit of acid and it works quite well.

Another great performance is given by Aaron Blake as the second priest. He also doubles up as one of the men in armor, but in that role he's under so much costuming one can only really hear his voice. His energetic performance as the second priest works quite well in this production. Besides his fantastic voice, he understood how far to go without over killing the comedy. His role may be smaller but he shines brightly in his role. He is stellar.

Papagena is played by Angela Mannino. She is a delight. As the love interest of Papageno she doesn't appear till near the end of the opera but when she does it is marvelous. Her joyous voice matches her joyous demeanor. Her smile is infectious. She too is in on the absurdity of this opera and plays it deliciously.

The three ladies in attendance - Caitlin Lynch, Lauren McNeese, and Maya Lahyani - amuse thoroughly every time they hit the stage. Their three voices blend beautifully. They are coquettish, lustful, silly and a blast to watch. They understand the surreal and absurd nature of the opera and play it just right.

So what is OK?

Papageno. Patrick Carfizzi is a sensational baritone singer and actor. But he doesn't play the role quite right. Papageno is a randy bird. His first aria "Der Vogelfenger bin ich ja" (The Birdcatcher I am Indeed) is a miss. He sings it beautifully but he never plays the double entendres. Yes he is a bird catcher out to catch birds but he's also out to catch the other kind of "birds" aka women. The song is a hoot if performed this way. He plays it straight and never once indicates his true intention of what he really wants to catch. The aria falls flat. He never properly plays the lusty nature that is part of the character. He does perform the slapstick requirements quite well. But his comedic timing throughout most of the opera is off during much of the first act. The audience likes him and he gets very welcoming applause but the role is meant to be a scene stealer every time he's on stage and unfortunately he doesn't succeed every time.

Tamino as played by Shawn Mathey is good. Not great, but good. There is no doubt he has the voice for the role. But he seems a little too focused on the singing and not so much on character development. I enjoyed every note he sang, but I never connected with his character, and he's the lead.

L'ubica Vargicova gets the show stopping number as the Queen of the Night. This is a role that all coloratura sopranos aim to perform at some point in their careers. The notes are unforgiving if you mess up. It must be done pitch perfect and in rapid crescendos and diminuendos. "Der Helle Rache kocht in meinem Herzen" (Hell's Vengance Boils in My Heart) is one of the most recognizable arias ever composed. It has been used many times in film, television, commercials as well as parodied ad infinitum. The good news is she hits all the notes within the 2 octave range of this aria. But it sounds like it takes a lot of effort because her timbre loses depth in her higher register. For the Queen of the Night to blow the audience away it must be performed as if it is effortless. It seems as if she doesn't have a high enough tessitura (comfortable power to hit all the notes). This said, she acts the heck out of her role.

The Three Genii - Karen Wemhoener, Zoe Moorem, and Mollie Meril - do a wonderful job and their voices are sparkling. This opera uses children throughout the production. And all the children do a wonderful job. They bring energy to the stage that explodes over the orchestra pit. That said, the trio could be a little louder. I've heard these roles sung before at other venues with questionable acoustics and I could hear the trio better. Hopefully, opening night jitters will subside and the three will use their gorgeous voices more fully.

Graeme Jenkins is one of my favorite conductors. But I keep feeling as if the orchestra needs a little bit more rehearsal. Jenkins works miracles with his baton but he never seems to be able to get the orchestra to zing. It is a competent performance on his and the orchestra's part, and to a first time attendee it probably sounds great, but I know the capacity of what this orchestra can do, and in this case they deliver the score well but it simply lacks brilliance.

So what misfired?

The direction. There isn't enough focus. There is an element of camp to this opera that makes it so enjoyable. Not here. There are moments that scream for visual comedy but are missed. The concept is there but the execution isn't. A perfect example of this continual misfire is the moment Tamino plays the magic flute. Out rush the two lions, the bear, the rhinoceros, the monkey, and the Loch Ness Monster to hear the flute before the first notes play. The visual joke is the Loch Ness Monster. The idea is that the flute will enchant and domestic all the wild beasts. Had they come out one by one as the flute is being played, the audience would have laughed as each creature appears and then roars upon seeing the Loch Ness monster appear last. Think about it: the flute is so magical it can be heard all the way to Scotland, and this creature travels across two seas and two continents to come hear a flute. That is the visual pay-off. As it is staged, the joke is given away at the beginning, leaving nothing for us to laugh at for the next several minutes as the instrument is played. My companion never picked up on the joke of Nessie showing up onstage because the creature is placed upstage behind some of the other creatures so even the sight gag is partially lost in the blocking.

Kevin Langan as the First Priest has a rich bass voice. But he seems to go flat on the lower notes. I never get a sense of his character, which is that of someone who is in command. He lacks any kind of energy; he simply stands and sings most of his role. Granted, he may have been following the blocking given him by the director but the few times he moves or crosses the stage the movements are completely unmotivated. He also comes across as if he is nervous.

No credits are given for the make-up, but it isn't good. Principal characters have on different amounts of make-up, creating an inconsistency. The Queen of the Night's make-up is supposed to be highly dramatic with, ideally, shades of blue and black and lavender over the eyes, but instead she looks like she is going to go out to a nice dinner with some friends. Papageno's make-up looks like he has a smudged face. I couldn't make out what his make-up effect was supposed to be. The worst is the native "savages" green paint. The make-up application is inconsistent and some forget to paint their hands. Perhaps there isn't one person supervising the make-up for this production? If not, they need to assign someone to set an even standard on what needs to go onstage. For what is supposed to be an opera full of fantasy, there is none to speak of in the make-up department.

The lighting design by Duane Schuler is bland. If ever there is an opera that begs for amazing lighting effects The Magic Flute is it. The stage needs to explode in colors at times, become mysteriously dark at others, and because so many "magic" tricks happen onstage, the lighting needs to have drama. As presented it is merely serviceable but serviceable isn't right for this opera.

So, the bottom line is should you go see The Magic Flute? Yes, if you've never seen it before. It is a solid production, and while it may have its flaws there is something so infectiously joyous to this opera that you will appreciate why it has been loved for centuries. You will leave with a smile.
---
THE MAGIC FLUTE
The Dallas Opera
Margot and Bill Winspear Opera House
2403 Flora Street, Dallas, TX 75201

Wednesday, April 25 at 7:30 pm
Saturday, April 28 at 7:30 pm
Friday, May 4 at 7:30 pm
Sunday, May 6 at 2:00 pm

Tickets start at $25.00

For tickets and information, call 214-443-1000 or go to www.dallasopera.org