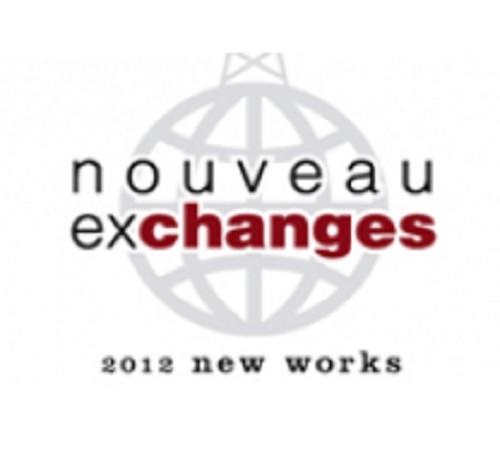 2012: NOUVEAU EXCHANGES NEW WORKS/NEW VOICES FESTIVAL
Nouveau 47 Theatre
2012: NOUVEAU EXCHANGES, NEW WORKS/NEW VOICES FESTIVAL
Nouveau 47
Magnolia Lounge, Fair Park, 1121 First Avenue, Dallas, TX 75210

Festival runs through this Sunday, May 6th

One evening only staged readings Thursday - Saturday at 8:00pm, Sunday at 5:00pm and the FTP Comedy Troupe Sunday at 7:00pm.

All tickets are PAY-WHAT YOU-CAN. Soft drinks, coffee, water and snacks are available. You can BYOB or wine.

Parking in the fairgrounds is free in front of the Magnolia or next to the Fair Park Administration Building next door. You can use the Parry Street entrance and tell the attendant "you're going to Nouveau". Drive on through until you reach the blocked intersection and you're there.

For information and a complete list of the festival events, go to www.nouveau47.com or call 214-810-3605.
---
Reviewed Performance:
Reviewed by Mary L. Clark, Associate Critic for John Garcia's THE COLUMN
A library stalker, a mother and daughter confronting each other, a wife and mother-pecked man in therapy, two complete opposites looking for love, a fisherman on acid and a couch potato getting his butt kicked by God. . . . . what in the world do these people have in common? They were all characters in An Evening of Shorts, the opening night of Nouveau 47's New Works/New Voices Festival that continues through this weekend.

Now in their second year, the festival was conceived "as a meeting place for development and production. . . . through a strong collaboration of critics, directors, writers, (and) artists. (They) aim to serve playwrights, wherever they are in the process - from first draft to pre-production".

Already, several plays from last year's festival have gone from readings to full production, including Kevin Kautzman's Coyote and Jonathan Kravetz's Prayer. This year's playwrights come from all over our country and Canada, some originally from as far away as Ethiopia and the Ukraine. Most of them have won multiple awards worldwide for their various works.

For theatre buffs, seeing works in either their infancy or revision being staged and read and then getting to comment on the piece for the attending playwright or via video makes one feel an essential part of the theatre process.

Besides the evening of short plays, 10 minutes or so in length, there have been evenings of full-length plays, with more coming this weekend as well as a one-man show and Dallas' FTP Comedy Troupe closing out the festival.

One of last week's staged readings was If You Start a Fire [Be Prepared to Burn] by Kevin Kautzman. It is a comedy that takes surviving the Recession to a new level. Two young people (married?) are struggling with either losing a job or being stuck in a demeaning one. As Lucy works on a new life via her dream business plan, Chris has a better plan that includes a website, lingerie and. . . .vegetables?!

This play speaks strongly of our world's obsession with the internet and the false belief that what we innocently, or not innocently, put out there will not have repercussions, that we are safe in our homes, hidden behind the screen, bathed in that blue light aura.

Next week's lineup includes The Hundredth Monkey Effect by Christina Cigala. Her play Flower to Flower was well-received at last year's festival and this new play concerns singing and storytelling mad scientists (why not?) who have developed "the most important scientific experiment of all time".

Messages from the Bottle is Jim Kuenzer's true tale of one man's journey from alcoholism through the perils of recovery to his dream of one day becoming a nice guy. And it's actually a comedy, told in the satiric style of David Sedaris or Spalding Gray. A natural low-key comedian and beautiful storyteller, Messages attempts to answers questions with even more questions in an endless loop of drama, crisis and hilarity.

Originally from Ethiopia and now residing in NYC, Bezachin Jifar has written Orphan Echoes, a play with a 127 Hours feel. A husband, stuck in a cave in Yosemite, speaks to his wife on his cell phone as pivotal conversations they've had over the phone back and forth in time bring up the when, why and where of their lives.

Freezing Point by Yuliya Tsukerman unites Barry Nash and his daughter Barrett in a play where Winnie finds a woman in the home of her estranged father, locked in a menagerie of domestic objects, with a secret hidden in the ashes of the family dog. The freezing point of tears is where it all collides. Playwright Tsukerman is originally from St. Petersburg, Russia and now "writes her plays by the light of a movie theater marquee" in Strollerville, NY. She says she "hopes to listen and give voice to what might otherwise be unnoticed by a non-reflective world".

Nouveau 47's staged readings are directed and performed script in hand with minimal to no props, some chairs and music stands and some music or sound effects to enhance the plays but also leaving so much to the audience's imagination. That, I would think, greatly assists the playwright to know if her/his words hold up to scrutiny all on their own.

In their press release, Festival Director Lacy Lynch and Festival Manager Melissa Hennessey state their aim with New Works/New Voices is "to serve playwrights, wherever they are in the process - from first draft to pre-production". All plays are unproduced and original.

Staged readings get to the very core of theatre, the words, without all the "icing" of set, costume, lighting, effects - and without the increasingly difficult expense producing and performing a play incurs. It is theatre in its embryo stage, still forming, still growing, but almost ready to come into the world as a fully developed production. It can be educational and a pleasure to be a part of the process and experience the birth of our "next generation of theatre".
---