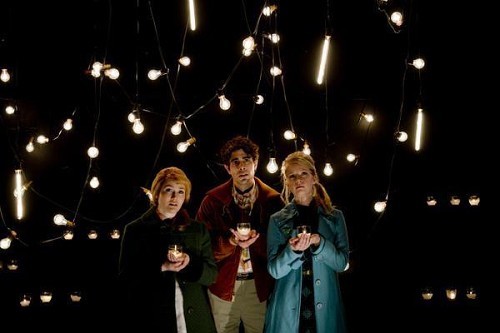 FLY BY NIGHT
(Regional Premiere)
Conceived by Kim Rosenstock
Written by Will Connolly, Michael Mitnick, and Kim Rosenstock
Dallas Theater Center
Directed by Bill Fennelly
Music Direction by Zak Sandler
Choreography by Joel Ferrell
Scenic Design by Dane Laffrey
Costume Design by Paloma H. Young
Lighting Design by Paul Toben
Sound Design by Zachary Williamson
Dramaturg-Meredith McDonough


CAST:

Asa Somers as Narrator
Damon Daunno as Harold McClam
Kristin Stokes as Miriam
David Coffee as Mr. McClam
Michael McCormick as Crabble
Whitney Bashor as Daphne
Alex Organ as Joey Storms


MUSICIANS:

Conductor / Keyboard – Zak Sandler
The Band - FOE DESTROYER
Guitar – Chris McQueen
Bass – Daniel Garcia
Drums – Cade Sadler
---
Reviewed Performance: 5/3/2013
Reviewed by John Garcia, Senior Chief Theater Critic/Editor/Founder, THE COLUMN. Member, AMERICAN THEATRE CRITICS ASSOCIATION for John Garcia's THE COLUMN
Since Artistic Director Kevin Moriarty took over the Dallas Theater Center he has brought never before seen, spanking new musicals, or they had been workshopped prior to the DFW theater scene.

In fact, in the last several years DTC has become the only theater company in the metroplex to bring new musicals that have yet reached Broadway for audiences to feast their eyes on. And when I mean new, I mean NEW, as in not long ago relics from Broadway that played once and is now brought back, and not regional premieres of musicals that trickled from Broadway to here. The result from this man's visionary goals in bringing untried, never before done musicals has greatly helped in putting the Dallas theatre community in the direct sight line of those in the worlds of Broadway and New York. No other theater company can wear that crown.

Moriarty first brought Give It Up, a phenomenal musical that did the unfathomable in regards to today's art of creating musical theater. It was a musical with a first rate book, an out of this world pop score, a sizzling cast, exquisite design elements, brilliant direction and choreography.

It also starred a then unknown Andrew Rannells. He would later earn a Tony nod for Book of Mormon and now stars on NBC's The New Normal. The musical also took one of Dallas's greatest stars, COLUMN AWARD winner Liz Mikel to Broadway. The majority of the local theater critics did not care for Give It Up, but I thought (and wrote in my review) that it was one of the best musicals I had seen in years. In my review I stated that this show needed to be viewed by New York producers and sent off to Broadway. The musical had another try out run Off-Broadway, changing its title to Lysistrata Jones, then moved in 2011 to Broadway at the Walter Kerr Theater where it received terrific reviews, including a rave from the New York Times. Sadly, it had a short run but many on Broadway felt it wasn't given a fair chance to gain an audience.

Then in 2012 Moriarty brought the musical version of the sweeping epic film, Giant. And like one of those oil wells, they struck the artistic gold with this powerful musical composed by Michael John LaChiusa (Tony Award nominee for The Wild Party and Marie Christine). In my review I again heaped critical praise on this lavish, emotionally driven, unique musical. I stated that once again DTC had another peerless musical that deserved New York's attention. And it got it. The musical moved to Off-Broadway where it was met with glowing reviews. Just this month Giant has been nominated for Best Musical by both the Drama Desks and an Outer Critics Circle Awards. Both Lysistrata Jones and Giant were given that rare gift of having original cast recordings so that it will live on for years to come.

Thus, we have had two regional premieres of musicals that the Dallas Theater Center mounted and had a loving, artistic hand in sending off to the great white way and New York.

This year Moriarty & DTC brings us an Indi-rock musical titled Fly By Night. This new musical had its debut at TheatreWorks, located in Palo Alto, CA in the Silicon Valley, in the summer of 2011. It will be here in Dallas this season and then will make its New York debut in Spring 2014 at Playwrights Horizons. So after back to back smash hits in the house that Kevin Moriarty rebuilt, how does this new musical measure up?

Right off the bat, I must admit, especially as a critic, it is disappointing not to have the list of musical numbers in the playbill. Thus it makes it extremely difficult to point out what songs deserve special recognition or do not work within the framework of the story and book. I understand completely it is a work in progress, but even a Xerox insert of that evening's list of songs performed would have sufficed.

The basic story line, according to DTC's notes, of Fly By Night goes like this, "Harold is a hapless sandwich maker who stumbles onto the path of music and romance. Enter sisters Daphne and Miriam and the sweetness of new love becomes more complicated than expected. As the Narrator explains, theirs is a story of destiny, free will and hope that moves beyond darkness and into the light."

It is that, but oh so, so much more. The creators have thrown into the mix a slight homage to Guiseppe Verdi's La Traviata (only reversing roles of the doomed triangle of love), fortune telling, astronomy, and The Twilight Zone. All set within the actual blackout that occurred in the Northeast on November 9th, 1965. This real life event is used greatly as a metaphor within the story, both in actuality and in spirituality. There is no real defined separation within the artistic trio of who wrote the book, lyrics and music. This trio comprises Will Connolly, Michael Mitnick, and Kim Rosenstock.

The plot of the first act is actually pretty much predictable. Much of the exposition leads to see who falls in love with whom, so much so that you start mapping out mentally what will occur in the second act. That is where you will be completely wrong! The second act takes the audience on such an emotional, cataclysmic ride that it will have you in tears. I want to be vague here because I don't think it's fair to spoil it for you in regards to the actual plot.

The book for Fly By Night is priceless. By itself it is a work of art in playwriting. In a dizzy, head-spinning way, they zip zag from present to five months ago, to nine months ago, then fast forward back to present, and then to another time frame all within minutes! But it is done so meticulously that you never get confused or lost. What is even more remarkable is how various characters, their actions, and the tiny pearls within the story that come into play with the outcome of the story. Be prepared for several moments of audible gasps in this second act.

There is only two small dents within this stellar book. One has to do with the character of Joey, the playwright/director in the story. All the other characters have such cathartic, compelling revelations and move the story so emotionally. They all have such rich, multi-layered subtext and influential purpose within the book. Joey doesn't. The character feels like the writers were hell bent on twisting a round peg into a square hole. It just doesn't work. You can feel the frustration of what to do with this character from the creators as he is only given one major solo to sing.

His second act epiphany comes completely out of thin air and makes no solid significant impact within the story. The revelation actually comes off as an afterthought. Nothing prior is given to the audience to see his revelation. His character arc just doesn't have the emotional connection to the material that the other characters have. Plus it is very obvious to the audience what will happen to him and his muse, thus the character really has nowhere to go. It's not the fault of the actor who portrays the role, but this is the one character that needs serious reconstruction.

The other flaw is that the piece could use some editing, it clocks in at 3 hours. There were moments in the second act where you felt that was the ending, but instead another whole new number and scene set up occurred. It just needs some small tweaking and cutting here and there.

The score is an amalgamation of rock, The Who, a dash of Seattle grunge (think Nirvana), 60s Woodstock, folk, and even a hint of Maroon 5. The creators achieved that oh so rare goal when it comes to creating a musical. Songs in a musical have to seamlessly float out of the characters as a crystal, clear segue from book to song. Many musicals have the ole book scene leading to the obvious musical number….and go!

In Fly By Night, each song delicately interweaves itself into the book. The songs assigned to the various characters are musical numbers that display in dynamic clarity the subtext within them. The emotions, thoughts and the very soul of these characters pour out so beautifully with each song. These songs are not created just to give that role a song. They have such organic purpose and give the audience the extraordinary ability to see into the heart and soul of each character. They better make a cast recording of this score! It should be noted that they also do something that I don't think I've ever seen in a musical do before, which is to have a full company number. Even with a cast of only seven, there isn't a single song that has the entire cast on stage. The closest they come to this is in the second act, but even then one character is missing on stage.

The lyrics are at times are downright hysterical, and they are peppered throughout the score. The dramatic numbers again raise the bar for artistic creation of musical scores. The lyrics pour from the very inner souls of the characters. They are not written just to rhyme or hit the audience over the head with the obvious. Instead they rip open the character's rib cage and allow the audience to feel and truly comprehend what that exposed heart is saying. Several songs have the dramatic impact that just punches you right in the gut so that you feel your eyes sting from tears. Many of the lyrics paint these exquisite mental pictures in your brain as they sing away. How rare is that in the art of writing a lyric in today's batch of original musicals.

Bill Fennelly's direction is so detailed, so powerful, so original, and just so damn magnificent that mere words of praise are not enough. To take a black box set with minimal set pieces and then to have characters go back and forth in time, in some scenes within seconds. To have characters go into various stages of emotion within a few beats of music, to have every stage movement and blocking waft within the physical elements of light, set, costume, and music - talk about a reason to bring a bottle of vodka to rehearsal! This musical has to be one of the greatest challenges ever set before a director.

But somehow Fennelly makes it all work superbly. The detail to staging and blocking is a directorial master class. There are several key scenes where the staging and blocking are doused in dramatic subtext that, if you catch it, it will emotionally hit you even harder in the second act. Fennelly's direction is the magical glue that makes every scene, every moment, and every emotion stick to not only the score, lyrics, and book but to the subtext as well.

Dane Laffrey's scenic design, Paloma H. Young's costume design, and the lighting design by Paul Toben all marvelously work to match in perfect sync with Connolly's direction. Laffrey has constructed a black box set that helps keep the audience in the "void" that is mentioned throughout the show.

It immediately gives us the foreshadowing of the actual New York blackout but it also gives the unknown of what is out there in the dark. He has small set pieces glide in and out or appear behind panels. From the home of the two sisters to the various New York apartments, to the sandwich shop, to the greasy spoon diner, and so on. He also uses charcoal-black painted boxes to help "shape" various locations such as the box office at the Met to a pawn shop.

Young has the very daunting task of having her small cast change costumes in split seconds. We are talking going from one climate to another in a mere five seconds or shifting from work to home. Each character has one basic costume which is very design appropriate in relation to their role. From there, pieces of costumes come off and on with lightening speed while still on stage. She keeps them dressed to perfectly resemble the 1960s. They must have had one full rehearsal day to map out all the rapid costume changes because they work like a well-oiled machine.

But the most incredible design element falls to Paul Toben's lighting. Funny that in a musical about an actual black out, the lighting would be singled out as the best design element but once you see this production you'll know why. He uses a mind-boggling array of light instruments, light bulbs, LED units, Christmas lights, florescent tubes and sheets of color gels to bring such life on stage.

My coined term "emotional lighting" is used here to its fullest. For several ballads he cloaks the actors in the perfect colored hues. But more so, he knows just how much light needs to be pumped on stage and how to angle it to give the emotional song more weight. Wait till you see what he does, lighting wise, in the second act. It will leave you speechless.

Alex Organ portrays the role of Jerry, the hyper playwright. Or is he a director? Or a composer? Here's what I mean by how problematic this character is.

He comments over and over about new scenes he's written, or that he has rehearsal and directs his muse Daphne, or that he wrote a new song the night before opening night for her. Huh? Joey is all over the map and not clearly defined in purpose or continuity within the musical. Organ does a very good job with the flimsy character that is on paper. His one solo is a festive up-tempo number sung at Daphne's work place. He also has a hysterical scene with pages of a script, a sofa, and his coat that achieved loud guffaws and a huge round of applause from the audience when he exited the stage. Organ is an extremely gifted performer but, unfortunately, his talents have an uphill battle to make Joey have the muscular, emotional subtext that the other characters possess on paper. Nonetheless, Organ is wonderfully entertaining in what he does with his time onstage.

For those of you who own video copies of past Tony Award telecasts, go back and look at the 1998 Tony Awards telecast and watch the number from the revival of 1776 as Michael McCormick is portraying John Adams! He replaced original actor Brent Spiner who did the role for the Roundabout production. Just this past summer, if you saw the glitzy, fantastic national tour of La Cage Aux Folles starring Christopher Seiber and George Hamilton, then you saw McCormick on stage as the morals politician Monsieur Edward Dindon. Remember, at the finale that character is in drag and McCormick was indeed a vision of gown, wig, and makeup!

Here he is Crabbie, the owner of a deli shop named Sandwiches/ Snadwiches. During the war he was an air flight controller which was the highlight of his life. Now it's a numbing, paint by number life of "bread, mayo, meat, lettuce and cheese". McCormick nails the gruff, bitter overtones of Crabbie's bland life. His comedic timing and deadpan facial expressions to the audience would make the comic genius ancestors smile from the heavens that their craft is still given life thanks to McCormick's performance. He takes two simple words and says them in a certain way, complete with a facial expression that slays the audience in laughter. I so wish the character had a couple of more songs to sing. His duet with Harold at the deli is a solid show stopper. And what occurs to him in the second act had the audience howling and wildly applauding!

David Coffee. The most beloved, respected and admired character actor in the Dallas-Fort Worth theater talent pool. No one can hold a candle to him. He has that rare gift of being able to achieve artistic success in both the worlds of comedy and drama. He was a farcical Edna in Casa Manana's Hairspray, but then broke the audience's hearts as Herr Schultz in DTC's critically acclaimed Cabaret. Both roles earned him COLUMN Awards. Make room for another COLUMN Award next season Mr. Coffee because I predict once audiences see your performance in Fly By Night, you will earn your 3rd award!

Coffee is Mr. McClam, Harold's father and a recent widower. He dearly clutches a record player and a recording of La Traviata. He has a simple gesture of putting his hand over his heart and saying his wife's name, Cicely. Throughout the musical, Coffee comes briefly in during a scene, then leaves. But it's in the second act where all those things about McClam come to fruition. And it's here that Coffee sings a ballad.

There are those rare, unique moments in musical theater when you see a performance and you realize that you are watching something so special, so commanding and so powerful that you know people will talk about it for years to come. Coffee achieves that very lofty goal with this ballad. The lyrics alone are heartbreaking and written so beautifully, but Coffee strips layer after layer of painful, poignant subtext within these lyrics. As the song ended you could hear sniffles all around the Kalita Humphreys Theater. It is one of the most dramatic, commanding, one in a lifetime performances that will just astound you.

When Coffee finished the song, he was met with a prolonged thunderous applause, cheers, and some in the house yelling; "Bravo!" it went on for what seemed like forever. If this production does make it to Broadway and the producers are smart enough to take Coffee along, he would clearly win the Tony Award for Best Featured Actor in A Musical.

Whitney Bashor is Daphne, the girl who leaves her small South Dakota town to go to the Big Apple and become a big Broadway star. She drags along her older sister Miriam, traveling in their daddy's sea foam green car. Bashor has a robust soprano voice that fills the theater with crystal clean vocals. Her first big number has a long sustaining note which she ends right at the cut off. That's how it's done in musicals folks. You end the note to the cut off! Bashor has spot on comedic timing that makes her lines crowd pleasing zingers. Her chemistry with Stokes and her boyfriend Harold is so tight and unbreakable throughout the evening. In the second act Daphne has major obstacles and changes, plus a very tough emotional character arc, But this talented actress achieves glowing success in tackling all those elements. Several of her musical solos are major highlights of the evening. But observe the painful, dark pathos of her second act work. It is emotionally devastating to watch. Bashor delivers a stunning performance.

This is not the first time that Kristin Stokes has portrayed the role of Miriam. She did the role at TheatreWorks. And it is easy to see that Stokes wears this character like a second skin. Stokes (who looks physically like a young Mare Winningham) breathes charismatic life into Miriam. She brings to the forefront Miriam's shyness and fear of leaving her comfortable life in her small town. She's happy to be a waitress there. The scenes and songs on her backyard swing with her father will have you reaching for the Kleenex, so be prepared. The role also has some hilarious comedic dialogue and Stokes wrings out huge laughs from the audience with her radiant gift of comedy.

The girl has the audience in her hands, rolling in the aisles with her comedic talents. But once she meets Harold, that's when Stokes just holds the audience close to her heart. We as the audience feel this girl's deepest fears and her loneliness. We want her to take that big leap in life. Does she? You'll have to see for yourself. Stokes has an exquisite soprano voice with a layer of folk/pop overtone. Her vibrato sticks to her notes like taffy, never letting her notes quiver or struggle when she has to sustain them. Instead, a polished voice leaps from her vocal chords. She has several solos that become showstoppers within the evening. Stokes is superlative in Fly By Night.

Damon Daunno (who resembles physically a cuter version of Jerry Seinfield if he was Italian) is Harold. A son without a mother, he has no connection emotionally to his grieving father and is stuck down a dead end road of making sandwiches. But when he and his father cleans his mother's closet, a guitar is found and his life changes. Daunno's first big number, about a sea turtle, comes out of nowhere in the very beginning of the first act. He has an outstanding tenor/ rock voice that makes the number a major stand out, so much so that Friday's audience went into a frenzy of ear- splitting applause when he finished the number. But this particular song has much more meaning and depth as you will discover as the evening progresses.

Daunno's chemistry with his two leading ladies as well as with his boss Crabbie and his father is resplendent. He has to change his emotions and subtext constantly with all the characters swirling around him and Daunno does that with radiant acting choices. He never lets his subtext wane, and just grabs the book, lyrics and music like a treasure chest, allowing the audience to reap the riches within. His second act work is remarkable and his choices on how to make it raw and honest are just pure acting artistry. My seat was just a few rows up from the scene with his father on the steps at the lip of the stage. As a father (Coffee) speaks to a son who has been so distant to him, Daunno's dark caramel eyes well up in tears, the chemistry and subtext between these two actors just left many, including myself, in a puddle of tears.

But for this critic, the star of the evening who steals the show is Asa Somers as Narrator. I first saw Somers on Broadway in the rock musical The Rocky Horror Show. In that bizarre, connect the theater dots world, here is a fun side fact. Actor Wade McCollum played the role of Narrator when Fly By Night was produced at TheatreWorks. McCollum then was in DTC's much lauded production of Cabaret, earning him a COLUMN Award nomination for his portrayal as the Master of Ceremonies. He will be here in Dallas in a week with the national tour of Priscilla Queen of the Desert at Dallas Summer Musicals. How's that for connecting the dots?

The role of Narrator does remind you of past shows that use this type of character. Think of Into the Woods, The Drowsy Chaperone, Our Town, and The Fantasticks. But this narrator is a concoction of Rod Serling from The Twilight Zone, a male Carol Burnett, a dash of Jim Carrey, and the dramatic intensity of Daniel Day Lewis. This is the hardest role within the company.

He practically never leaves the stage and has to set the emotional floorboards for both the audience and the cast. Like a chameleon, he has to change into a mélange of various characters at the drop of hat. From narrator to gypsy fortune teller, the girls' mother and father, and other characters throughout the entire evening, each one has to have its own distinct voice, body frame, and tone. Asa Somers achieves astonishing success on taking on all these challenges. To aid him, he has only a small prop or a costume piece to bring all these characters to life. Somers, hands down, delivers a spectacular, awe-inspiring, stupendous performance.

Somers, costumed in a grey suit, looks like Dan Draper's younger brother from Mad Men. A tall handsome actor, he has a powerful, magnetic stage presence that never dims. He takes great command of the stage and magically holds and leads the audience through the story and his many characterizations. Somers achieves this with superior acting choices and the use of his craft to its highest level. His staging and blocking notes must look like a Rorschach test on his script. He is all over the stage, having to constantly pin point specific moments and scenes. Somers does this with gliding finesse, not breaking a sweat.

Then there are his songs. Somers sings with a booming tenor voice that has to ride high into the stratosphere for tenors. He does this with effortless ease. Even his falsetto is sublime. Each of his solos is astounding to listen to. This role is herculean challenge for any actor but Somers achieves stunning, resounding success with his consummate performance here.

Fly By Night could be coined as a chamber musical. It has only seven characters, backed up by a small band, with minimalistic sets. It is a very intimate musical. These kinds of musicals struggle on Broadway to achieve success. The theaters there are mostly massive houses that are elephantine in size. But some do become hits on Broadway, like Next to Normal and Grey Gardens. But then there are the failures like A Catered Affair.

Chamber musicals don't have big casts, lots of glitzy costumes and dazzling choreography. They are very character driven and intimate. So the audience must focus deeply into the lyrics and book of these musicals. That's extremely tough in today's society of wanting everything spoon fed to them, fast and flashy.

But Fly By Night soars so high artistically. While it starts off generically, and you think you know what's going to happen, it steers you emotionally in ways you never thought you would be. It reaches deep into your heart, you so care for these characters on stage. You are spell bound by the score, book, lyrics, its very accomplished cast, the design elements and the direction. All of this makes you realize they are taking the art form of musical theater and breaking new ground.

In all fairness, this production does deserve a Broadway mounting but they desperately need to book one of the smaller theaters in New York City. I'm afraid that in a much bigger house, much of the intimacy that makes this musical so special and unique will get lost.

In the new house that Kevin Moriarty has built at the Dallas Theater Center he has achieved what several past DTC Artistic Directors could not do. He has brought new musicals that end up on Broadway or Off-Broadway, both Lysistrata Jones and Giant achieving critical success. Fly By Night will easily be his third when it moves to Playwright Horizons next year.

Fly By Night has set the bar very, and I mean VERY, high for all other Dallas-Fort Worth theaters that are creating musical theater this season. The production does not use state of the art special effects, yards of sequins or high energy dancing. This is an intimate piece that requires no big bells and whistles, and what it achieves will astound you and will make your heart ache. It is the definitive must see new musical of the season.
---

FLY BY NIGHT
Dallas Theater Center
at the Kalita Humphreys Theater
3636 Turtle Creek Blvd., Dallas, TX 75219

Plays through May 26th

Tuesday–Thursday & Sunday at 7:30pm, Friday-Saturday at 8:00pm,
and Saturday-Sunday at 2:00pm

Tickets are $15.00-$144.00, depending on the day. Youth tickets
are $15.00 in limited seating areas. Note: Tickets are less expensive, for now,
later on in the run.

For Group Sale Tickets please contact groups at attpac dot org
or call 214-978-2879.