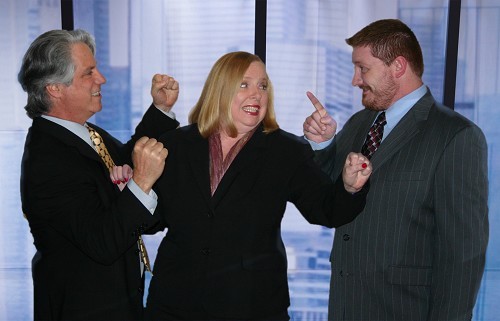 CRISIS
(World Premier)
by Larry Herold
Rover Dramawerks
Directed by Paul McKinzie
Stage Manager – Darcy Koss
Set Designer – Kevin Brown
Properties Designer – Terrie W. Justus
Sound Designer – Danica Bergeron
Lighting Designer – Jack Wilkinson
Costume Designer – Sakura Brunette

CAST
Margot Euston – Carol M. Rice
Jack Carville – Gary Eoff
Charles Prince – Matt Gunther
Cindy – Shelby Gilliland
General Chavera – Michael Speck

---
Reviewed Performance: 5/26/2016
Reviewed by Charlie Bowles, Associate Critic for John Garcia's THE COLUMN
What level are you? Do you compare the Pope with Che Guevara? Then you're a Level 1. Maye you invented a product that turns the population cross-eyed. Level 2. Of course, you might be responsible for the deaths of 10,000 in sub-Saharan Africa because your nuclear plant is faulty. Then you jump to level 4. Either way, you need a Crisis Manager. What's Level 5? You really don't want to know.

Crisis Managers are a sub-species of PR, who can turn a colossal public failure into a positive message of hope and recognition of the resilience of the human race. They are unique, highly specialized, and completely private.

CRISIS is the second play to premier locally by local author, Larry Herold (The Sports Page at Stage West). It exposes the underbelly of this quiet industry and how it uses human nature and the news cycle to sweep major blunders under the rug. This World Premier opened at Rover Dramarwerks this weekend.

Paul McKinzie directed Crisis. It's a comedy and all the design and pacing, which is fast as far as delivery goes, supports comedy. A team of designers and actors who know how to bring comedy to life made magic. Actors popped with their lines and interacted as an ensemble to make it fun. McKinzie's vision made that happen.

It's a corporate world, so what better way to build a set than create a corporate boardroom. Kevin Brown did this with a long oval conference table and chairs, an office desk, office phones and a tele-conference unit. This set moved around the stage to create many scenes. A couch on one side became an airport waiting area. Pull back a curtain on one end and it became a corporate lobby. Another curtain hid the palace of a small island nation. And these large pieces of furniture moved around on stage frequently to create different configurations. Into this setting, Property Designer Terrie Justus placed the accoutrements of rich high-rise offices and the fineries and luxury of a small country head of state. Flags, cigars, bottles of water, office supplies, and of course corporate papers and such made the setting seem believable.

The one design flaw was that scene changes went far too long and required too much movement of all this furniture. The music was nice and we got to watch people move tables and couches, but it probably added lots of time to the show and blunted the crispness of the comic situations.

Lighting by Jack Wilkinson seemed pretty basic for comedy, bright white lights and a few blue LEDs to fill the space with a cold corporate air. Danica Bergeron designed sound, which included a range of effects like gun fire and an occasional telephone ring. Press conferences and telephone calls with recorded voices were heard. There was scene change music for this plethora of changes and pre-show and intermission music from the likes of the Avett Brothers, AC/DC, and Third Eye Blind, lively songs that had a message relating to the story.

In the corporate world there are suits, even casual ones that identify people and where they are in corporate hierarchy. Sakura Brunette gave everyone their own form of that world, from Margot's classic women's business suits to Jack's CEO look to Charles' casual California jeans and jacket with a print t-shirt. The intern had a real arc to her clothing, from a newbie office worker to a business suit that suggested professional. General Chever's costumes covered the gamut from a tan, casual head-of-state suit with golden epaulets and his ever-present black Che beret, to military fatigues with golden trim and epaulets, and that beret.

Jack Carville is CEO of a water bottling company. After visiting Russia on vacation, a video surfaces on YouTube. It's not too flattering, but Jack insists it was an innocent event. He wants to attack, sue, threaten, and show strength. He's been to a seminar for CEO's and believes he can overcome any enemy. Charles, his best friend and a Board Director, forces the issue and brings in a crisis manager. That would be Margot and that's when the fun begins.

Margot Euston, played by Carol M. Rice, is a professional fixer. She fixes corporate mistakes. Remember Deepwater? Of course you'd never see her name on a disaster of that level. She insists that she stays anonymous. Of course, she's never met a CEO like Jack. Her challenge is huge. Rice carries a brash, ballsy, bossy, woman-at-the-top attitude that Margot needs to push her agenda onto a reluctant CEO. Rice uses a strong, loud voice with a quick delivery, and quick wit to get Margot's points across without any room for argument. Jack pushes back, though, and it takes cunning to push, pull, and drag him into the program. Rice has a Hillary-like drive of a woman who won't be denied. The plan? Well, the usual is lots of special hand-holding during PR events, like a presser where the mea culpa is made and the public image is shined. Of course, Jack is more like Trump, in that a good presser is a chance to make his own statements. More crisis ensues. It's during these times we see Rice show the side of Margot that comes unhinged. Flabbergast and utter disbelief unravels Margot's strong exterior and Rice melts, blows up, and shrivels as Margot faces Jack's equally strong obstinacy. There is also that whole bit with the General, but you need to see the show for that.

Jack Carville is the CEO you'd love to hate. Gary Eoff plays him as a brash, young CEO who not only presents confidence as the man who made the company profitable, but who went to a seminar by a Tony Robbins look-alike and now feels invincible, a trainer, by the way, who teaches Sun Tzu and Machiavelli as the preferred management style. No high-priced outsider, a woman at that, is going to step in and tell him how to manage. Eoff looked, dressed and held himself as this part. He could easily be this role. His voice resonated like someone who deals with visions and strategic planning, rather than the mundane work of the little people. But in the face of pressure from his only friend in the company, Jack has to give in and allow Margot to run him. He fights it all the way, and Eoff did a great job of simultaneously making Jack rebel and accede to Margot's demands. It does get crazy after a while and Jack gets taken down a notch, and we saw Eoff play this disappointment and discouragement. Perhaps there's some lessons learned by Jack; probably not.

Charles is the un-corporate leader. His dress is casual. He has long hair and he's laid back like a Silicon Valley product manager. Matt Gunther plays Charles with a cross between easy-going and ruthless behind-the-scenes power that makes sure he gets his way. Charles' past relationship with Margot convinces him she is good and, if anyone can, may be able to control Jack. Gunther gave Charles a sense of humor as Charles looked at Jack's predicament with some glee. With Gunther's force and presence, Charles can also make a strong case against Jack and take on the company when he has to. Charles is the Board and ultimately has the power. Charles represents how a Board of Directors looks the other way as Jack keeps meeting his corporate targets, until a crisis gets too big to ignore.

Michael Speck puts the Che in General Chavera. The brother of a mysteriously-ousted twin who led the country with an iron hand, General Chavera is more a lover than a fighter, at least on the outside. Speck uses a delightful Spanish (?) accent and a real sense of the suave to make Chavera a likeable character, especially to Margot. Margot is being wooed by Chavera to fix his country's mistakes, especially the perception he may be the ousted brother. When he meets Margot, there's chemistry, at least in his eyes. Speck is the real comic relief in this show and makes the General act and sound like a lounge lizard with real money. He puts the make on her, but she wants nothing to do with it, at least until he offers her millions to help. And so she begins to work for the General and Jack at the same time. As the General lavishes her with unwanted gifts and keeps making her a public figure in his country, Speck shows a softer side of the General, even as he's being ruthless with his own people. There's a kind of innocence in the General's connection to her.

Cindy is a young girl who comes to work for Jack, but suddenly finds herself taking orders from Margot. Shelby Gilliland stepped into this role at the last minute and did a great job creating a character that starts out innocent and inexperienced, but as Margot takes Cindy under her wing, Gilliland blossomed into a confidence that shows Cindy discovering her personal power. In time Gilliland changed to a formal business suit and became more forceful with Margot. This was a nice arc for Cindy. You could imagine her success in the company.

The public can be terribly gullible. Consider the political climate this election season. But when Corporations do bad things, we like to think someone will pay the price or lessons will lead to improvement in behavior and business practice. CRISIS shows what most people know instinctively. The only thing that's learned by Corporations is how to keep mistakes more private, but when they get out of hand, there are experts who can make it go away. How? Obfuscation and misdirection. Few of us think about major corporate blunders last year. As much as a hullabaloo rose around the water scandal in Flint only a few months ago, how many stories are in the news now? Where is the national outrage? The fact is that once the news cycle outruns the story, the public moves on. That's what Crisis Managers know. You can decide whether that's good or bad.
---
CRISIS
Rover Dramawerks, 221 W. Parker Suite 580, Plano, Texas 75023
Through June 18th

Thursday, Friday, Saturday at 8pm; Saturdays at 3pm. Tickets for Thursday night and Saturday matinee are $16 and for Friday and Saturday night are $22. Seniors and Students are $2 off. For information and tickets, go to www.roverdramawerks.com or call their box office at 972.849.0358.