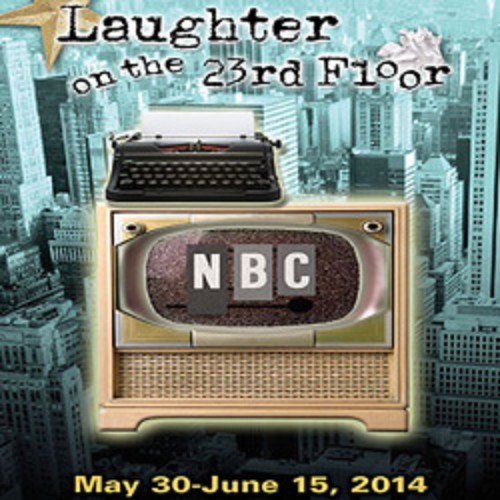 LAUGHTER ON THE 23RD FLOOR
by Neil Simon
Runway Theatre
Directed by Scott Nixon
Assistant Director – Billy Betsill
Set Design – Scott Nixon
Lighting Design – Cooper Mitchell
Sound Design – Scott Nixon
Costume Design – Janelle Lutz, Rae Harvill and Carrie Campbell
Properties Design – Kristin Burgess and Joan Bledsoe
Stage Manager – Jason Joos


CAST
Joe Messina – Max Prince (Sid Caesar)
David Hartley – Lucas Brickman (Neil Simon)
Shane Beeson - Milt Fields (Sheldon Keller)
Aaron Lett – Val Skolsky (Mel Tolkin)
Chris Taylor – Brian Doyle (Tony Webster)
Jerry Downey – Kenny Franks (Larry Gelbart)
Jayjeny Smith – Carol Wyman (Lucille Kallen)
Tim Brawner – Ira Stone (Mel Brooks)
Lynsey Hale – Helen
---
Reviewed Performance: 5/30/2014
Reviewed by Charlie Bowles, Associate Critic for John Garcia's THE COLUMN
The 1950's were a tumultuous time in America. On one hand, the economy was booming after WWII and the middle class grew exponentially. Technology exploded with television leading the way. We watched this social experiment unfold through a new window on the world, with TV shows like Playhouse 90, The George Burns Show, and The Jackie Gleason Show. It was a booming time in the arts.

On the other hand we also saw things we had only read about before. The Joseph McCarthy Hearings on Un-American Activities in Congress played out on our TVs. Many creative artists lost decades of their careers because of hysteria led by a few narrow-minded, paranoid men. But Americans were swayed by the fear that Communists among us could disrupt our way of life and that played out on TV as well.

In this highly charged atmosphere, a group of comedy writers created a television masterpiece, Sid Caesar's Your Show of Shows, from 1950-1954, a show accepted as the origin of everything we now see in TV comedy. This show extended the careers of a group of legendary comedic artists - Sid Caesar, Imogene Coco, Carl Reiner, Mel Tolkin, Mel Brooks, Woody Allen, and Neil Simon. It influenced the seminal Dick van Dyke Show and was the basis for Neil Simon's play, Laughter on the 23rd Floor.

Runway Theatre in Grapevine has given us the chance to relive this exciting time through the acerbic wit of Simon, who thinly veiled the real-life people he worked with into a cast of characters just as funny on their own. Note the names in parentheses on the cast list. There's little argument about who the story characters represent and it's a bit fun to recognize their characteristics, but there's no parrots or caricatures at Runway Theatre. These actors infused their own personalities into their roles; this play stands on its own.

Scott Nixon directed, designed the set and sound, helped build the set, and helped dress it; so it's safe to say his vision was all over this production. All the action takes place in a single room, the Writer's Room, in a skyscraper on the 23rd floor in NYC. The room looked like any office workroom from the early 50's where highly creative types spent most their days and many nights. Desks, work tables, a couch, a big leather executive chair, lots of snacks and drinks on a side table – it was definitely an eclectic work place. The set was painted in dingy colors, maybe stained would be a better description. There were large window-like frames that came in to play. Props and dressings discovered by Kristen Burgess and Joan Bledsoe were varied, normal for a working room and pretty accurate for the period, including an old typewriter, a can of pencils and yellow legal pads on the desk. Real coffee, drinks and bagels and such were eaten by the actors constantly.

Cooper Mitchell lit the stage brightly for comedic action, but also dimmed areas to create focus spots on a present-day narrator. Sound design included a walk down a musical memory lane from the early 50s in pre-show and intermission plus telephone noises and such from a big city office.

Costumes were varied and outlandish and the costume team of Janelle Lutz, Rae Harvill and Carrie Campbell did a marvelous job. Everything seemed of the colors and styles for the 50s. The men wore suits, sweater vests and overcoats, and the women wore mid-calf dresses of fairly low-key colors. During a party, though, everyone stepped up their game with fancy suits and gowns. But there was also an all-white men's suit including white shoes and a white panama hat and even a bright red beret. It's comedy folks, so it wasn't just the things they wore, it was how they wore them. One actor entered in a high-dollar suit under an overcoat and proceeded to strip down and wear the coat over his underwear and his black socks with suspenders and dress shoes.

The play's TV show writing team consisted of Lucas, Milt, Val, Brian, Kenny, Ira, and Carol. They represented the best slingers of one-liners in their day and we heard many from the opening scene to the last exit. They wrote for Max Prince, who was Sid Caesar in real life. Max was a slave driver and a natural-born comic who, nonetheless, would fight to the death for his writing team and really loved them all. We know this because he said so. Helen rounded out the characters as Prince's office assistant.

The problem in reviewing a Neil Simon play is that he wrote fast, short dialog between characters and Laughter on the 23rd Floor contains so many one-liners it was hard to remember who said what, especially as one character fed another who then completed another's line. This says a lot about Nixon's direction of this great cast. Their comedic timing was amazing and, even when a one-liner might fall on its face as-is, these actors made them funny just by their delivery.

What I do remember are several sustained bits that were just priceless. In the first act, as Max Prince arrives, there's a memorable bit where Prince, played by Joe Messina, asks questions of the writers and it quickly evolves into a rapid-fire sequence reminiscent of the classic Who's On First routine. It was so fast I couldn't keep up but the whole bit was a scream.

In a later bit, Max Prince is met in the empty workroom by his newest staff writer, Lucas Brickman, played by David Hartley. Prince seems confused, doesn't know the day, and falls asleep standing up. But it was Hartley's visual reaction that was so hilarious. Few words were spoken, but the silent looks at his boss reminded me of the famous stares by Jack Benny. Hartley also regularly stepped outside the scene to provide information about what was going on. He slipped out of and back into character easily and naturally to make these pronouncements, so we never questioned who he was at any one point, narrator or Lucas.

Everyone in the cast had equally funny bits. Milt Fields is the king of one-liners and cranks them out from his very first line. With his red beret, Shane Beeson delivered lines so fast it took a moment before the joke sunk in and by then he had moved on. In Beeson's portrayal we see a character who knows what he's saying is funny, but Shane's delivery was natural and serious and when we finally caught up it was even funnier because we knew he knew we had finally gotten it. Smug! Classic!

Val Skolsky is the Russian, Mel Tolkin, in Caesar's writing group. Aaron Lett's credible Russian accent turned into its own comedy as Skolsky tries desperately to cuss in English, often unsuccessfully and hilariously. Lett played this character huge and loud as Skolsky's troubles with his fellow writers and American customs kept taunting him. Lett frequently used a frozen stare or a heavily accented insult to try to make Skolsky's points.

Ira Stone is the crazy Mel Brooks character Simon wrote into the cast. Tim Brawner took on Ira's Jewishness and added an even stronger hypochondria to play constant, comedic "dying" bits as physically as an actor can without hurting himself. Brawner played strokes, heart attacks, brain tumors and other maladies to show Ira's eccentric character. Playing a character who lives an all or nothing life requires acting skill to balance the malady with the comedy. He succeeded.

Brian Doyle is an Irishman with a bit of a subtle brogue, nicely played by Chris Taylor. Doyle's weekly assertion that he was going to Hollywood soon caused constant irritation to and ridicule from the other writers, and Taylor projected an air of quiet confidence to all of this in the way he spoke and responded, and even in the way he wore his plaid suit and Irish hat that covered his balding head. At one point Ira Stone and Brian Doyle had a cross-cultural joke-off and Brawner and Taylor showed us how funny two guys with perfect timing and rapid-fire dialog can be.

Add to this mix the Larry Gelbart character, Kenny Franks, who was played by Jerry Downey. Franks is the business-type neat-nik and Downey's deadpan delivery was just what this zany group needed to provide some balance. That doesn't mean he wasn't funny. Franks had lines which were often comebacks to others or comments about what others were doing so that we would notice them, but his straight comments were often funnier than what he described.

Carol Wyman was played by Jayjeny Smith. Wyman wants to be one of the guys, cussing with the best of 'em and slinging one-liners, though the guys have no intention of slowing down to let her in. During Act 1 she was a bit of a wallflower, piping up where needed. Smith played this in a subdued way. But in Act 2 Wyman is pregnant and Smith gave us a truly hilarious pregnant woman act that really displayed her comic timing and delivery. Her physical expression of the challenges of pregnancy was priceless and the women in the audience really appreciated it like they could relate.

Rounding out the cast was Lynsey Hale as Helen, Prince's secretary assistant. Hale played Helen as business-like, low-key and reserved, and looked like a small-town librarian. But when we learned of Helen's desire to be a writer and the others gave her a chance to show what she can do, that's when Hale came alive as a comic, trying to be a comic who wasn't. Her deadpan, dead joke delivery with dead timing was actually funnier by how Hale played it than the words.

Joe Messina's portrayal of the Sid Caesar character, Max Prince, was magical. I've seen lots of physical comedy but I think Messina took the cake with this. His facial expressions, body movements, high physicality and comedic timing were each individually sidesplitting, but when combined it was sheer mania. His mimicry of Marlon Brando playing Julius Caesar was a fantastic piece of comedy, only intensified when backed up by the rest of the actors playing characters who were playing the Julius Caesar cast.

I've only scratched the surface of everything this cast did with Simon's material. The actors did phenomenal jobs bringing their characters to life. Their comedy was all the better because they didn't act funny; delivering the lines realistically was funny on its own.

Laughter on the 23rd Floor recalls a time when writers started scripting the shows we watched instead of just showing us a variety of entertainment It led to Carol Burnett and all those great shows of the 60's and later which had a point and played planned comedy sketches. Those earlier writers went on to become the staples of the entertainment industry and many of our greatest works of comedic art came from them. But we also admired their courage back then for stepping into a public forum to address issues in America when many of the artists were banished to the Hollywood Blacklist. Even networks unashamedly implemented McCarthyism and hounded stars and writers relentlessly and that was certainly in the background of this play. But the writers didn't give in. They pushed through the threats and hounding and America benefited from it.

One way to benefit is by spending an evening of all-out, unbridled laughter with one of theatre's funniest playwrights, some of the funniest characters to come out of the minds of those early giants of comedy, a really good production crew, and actors who know how to make you laugh. It's entertainment of the highest order.
---
LAUGHTER ON THE 23RD FLOOR

Runway Theatre
215 North Dooley
Grapevine, TX 76051

Plays through June 15th

Note: This play is rated R for very strong language

Friday - Saturday at 8:00 pm and Sunday at 3:00 pm

Ticket prices are $15.00 and $12.00 for students and seniors 60+..

Get tickets and information at www.runwaytheatre.com or call their box office at 817-488-4842.