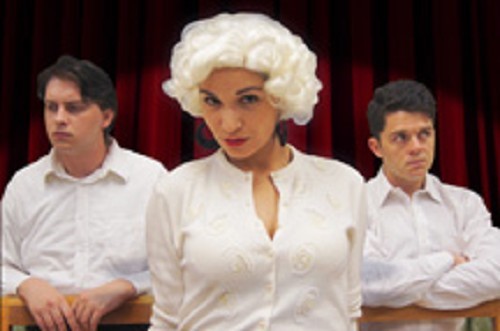 DEAD WAIT
By Carson Kreitzer
Churchmouse Productions
Festival of Independent Theatres
Development and Direction by Chad Cline
Sound Design – Kurt Kleinmann
Stage Manager – Ben Schroth

CAST:

Andrews Cope – Ron
Jared Culpepper – Chris
Isabelle Culpepper – Jayne

Photo courtesy of Churchmouse Productions
---
Reviewed Performance: 6/1/2013
Reviewed by Mary L. Clark, Associate Critic for John Garcia's THE COLUMN
So . . . you're dead. And, I guess, depending on what you believe, you go somewhere else. But where exactly? And once you're there, then what? The eternal question of what comes after is explored in Carson Kreitzer's Dead Wait, one of the opening plays performed during the Festival of Independent Theatres.

Set in one corner of what some call limbo, two waiters and Jayne Mansfield recall snippets of their lives as well as their untimely ends in the aura of a dream. All three characters die violently, each at a time and place where they were not originally supposed to be. Part dark comedy, part meditative exercise, the three actors take the audience on a journey of remembrances, and amongst those, how mere moments of life can become obsessive memories.

A simple set of two small restaurants tables, one filled with empty salt shakers and salt container, the other a stack of folded napkins, clearly show the eternal side work every wait person knows all too well. A pink chaise lounge upstage is the home base for Mansfield to wave at unknown fans or make commentary on her life.

The Bath House Cultural Center has a pre-recorded curtain speech, and I laughed when the music that came with it was "Tell Me Somethin' Good" – a fitting statement just before a theatre piece! Then, as the lights dim, a wolf howl sharply changes the demeanor of the space before barely audible ethereal music plays like the afterlife's version of Muzak.

Other than the pink chaise and bronze cloth napkins, most everything else is black and white – white shirts and black pants and waist aprons for the men and white sequined cardigan sweater, black pencil skirt and black heels for Jayne. Her platinum hairdo immediately recalls the time period when she was most famous. Opening with a slew of profanity, Andrews Cope's waiter Ron has just recently arrived and figured out where he is, sort of. He is overly wrought at his outcome and upsets the more languid atmosphere of the place. Cope plays Ron like a one-man time bomb that has just reached zero. His rants at Ron's fate, when it was just starting to go so right for him down here, are startling. But within the annoying behavior comes empathy for a guy who is working every angle just to make it in the big city.

Quite the opposite is Jared Culpepper's portrayal of Chris, the other waiter who has apparently been doing just that for awhile now. His memories are more distant and recollections come in waves, especially when disturbed into recognition by Ron. Continuously folding his napkins and using a speech rhythm akin to the walking dead, Culpepper lulls the listener into a dream state, making his sudden shift to normal rhythm as Chris starts to remember things all the more jarring. He plays Chris on the other emotional spectrum from Ron, as one who clearly recognized his death while it was happening; musing and examining rather than in denial. And for all the actors who have worked in a restaurant, Culpepper gets one of the best laughs of the evening, "You know what being dead is like when you wait tables". Amen.

The femme fatale that was Jayne Mansfield is easily portrayed by Isabelle Culpepper. As feminine and curvaceous as the other actress, she illuminates the stage with her facial expressions, slow sexy walk and soft, higher-pitched voice to reflect the dumb blonde Mansfield played but never was. Isabelle has several great laugh lines as Jayne's skewed memory gives her credit for unconnected parts of history. Isabelle deftly switches her voice to instantly become Mansfield's poorer class mother or her own younger self, than back again to her star personae. Director Chad Cline obviously let his actors find their way through their characters as each fits them so well. Subtle nuances to heighten the sharp turns of phrase from an already clever script are all that was needed.

Dead Wait deals with time and what it does to memory, good or bad. It is also a reflection on fear and regrets as small remembrances resurface to the forefront of our minds. And maybe that's why the playwright put these three together, to support and resolve their conflicted selves before finally moving on.

***Remaining performances are Thursday, June 6th at 8:00 pm, Saturday, June 15th at 2:00 pm, and Saturday, June 22nd at 8:00 pm.
---