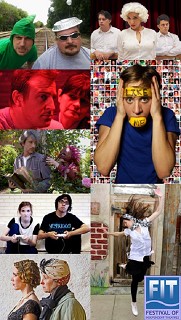 FESTIVAL OF INDEPENDENT THEATRES VARIOUS THEATER REVIEWS:
DEAD WAIT
By Carson Kreitzer
Churchmouse Productions

LYDIE MARLAND IN THE AFTERLIFE
By Isabella Russell-Ides
Wingspan Theatre Company

THE TREATMENT
By Eve Ensler
Echo Theatre Company

LIKE ME
By John Michael Colgin
Festival of Independent Theatres
---
Reviewed Performance 6/1/2013
Reviewed by John Garcia, Senior Chief Critic/Editor/Founder for John Garcia's THE COLUMN
Celebrations are in order, as the Festival of Independent Theatres is beginning their fifteenth year of showcasing new talent and premiering new works. Over those years more than 600 local actors, directors and designers have presented their skills, and almost fifty world premieres by more than twenty-five local playwrights has kept FIT on the forefront of theatre festivals nationwide. Blending one-act local plays with classics from writers such as Carol Churchill, Horton Foote, David Mamet and Tennessee Williams, the festival encourages innovative risk taking, and the sold out audiences year after year is proof they are doing something right.


Click on a show title to read the review:

DEAD WAIT
By Carson Kreitzer
Churchmouse Productions

LYDIE MARLAND IN THE AFTERLIFE
By Isabella Russell-Ides
Wingspan Theatre Company

THE TREATMENT
By Eve Ensler
Echo Theatre Company

LIKE ME
By John Michael Colgin

ASK QUESTIONS LATER
By John Michael Colgin
by Meggie Spalding
Rite of Passage Theatre Company

THE 1947 FORD
By Ellsworth Schave
One Thirty Productions


---
FESTIVAL OF INDEPENDENT THEATRES
at the Bath House Cultural Center
521 E. Lawther Drive (on east side of White Rock Lake)
Dallas, TX 75218
Runs through June 22nd
Thursday – Friday at 8:00 pm
Saturday – Sunday at 2:00 pm, 5:00 pm, and 8:00 pm
TWO PLAYS PER TIME SLOT
Festival Passes can be purchased for 2 weeks at $63.00 each or for 4 weeks at $73.00 each. Prices include $3.00 handling fee. The pass allows you to see all eight productions and to choose your dates.
(The 2 week pass is for either May 31st – June 9th, or June 13th – 22nd)
FESTIVAL PASS HOLDERS RECEIVE PREFERRED SEATING AT ALL PERFORMANCES. NO NEED TO MAKE RESERVATIONS. JUST SHOW UP AT THE THEATRE 15 MINUTES BEFORE THE CURTAIN, SHOW YOUR PASS, AND BE SEATED FIRST !
Single Tickets are $20.00 (including $2.00 handling fee) for each two play time slot.
To purchase festival passes or single tickets, call the FIT Box Office at 1-800-617-6904. The box office is open Tuesday – Saturday from noon to 8:00 pm, and Sunday from noon to 5:00 pm.
---
***Don't miss the festival's FIT Underground with live music and light refreshments available on the shore level of the Bath House Cultural Center. Art exhibitions titled "15 Minutes to Curtain!" and "Return to Fantasy: Paintings by Sergey Chernomorets are shown in the Bath House art galleries.

"Festival of Independent Theatres runs four weeks and shows one-act plays running sixty minutes or less. FIT was created in 1999 as an outlet for smaller companies without a permanent performance space to give them an opportunity to produce seldom seen, new or avant-garde works. FIT exists to promote awareness and growth of Dallas area theatre through collaboration, participation and cultivation".