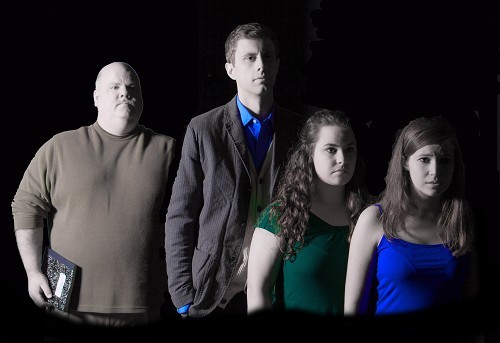 PROOF
By David Auburn
ONSTAGE in Bedford
Director – Lon Barrera
Stage Manager – Kristen Frazier
Lighting Design – Cris Blake
Sound Design – Lon Barrera and Michael B. Winters
Set Design – Kevin Brown

CAST:

Catherine – Jennifer Fortson
Hal – Matthew Clark
Robert – Doug Fowler
Claire – Laura Saladino
---
Reviewed Performance: 5/31/2013
Reviewed by Jeremy William Osborne, Associate Critic for John Garcia's THE COLUMN
There are 525,600 minutes in a year (supposedly, as Google begs to differ), four quarts in a gallon, 5,280 feet in a mile, the smallest number expressible as the sum of two cubes in two different ways is 1,729, and Onstage in Bedford's production of Proof runs for only three more weekends. With an exquisite set design, good light and costume designs, but only passable performances, this production is fine at best or tolerable at worst.

Proof debuted off-Broadway in May 2000 and moved to Broadway in October of that year. In 2001 it won the Tony Award for Best Play, the Drama Desk Award for Best New Play, and the Pulitzer Prize for Drama. It deals with heredity of genius and mental illness in a profound way, showcasing an episode in the life of Catherine, the 25 year-old daughter of Robert, a recently deceased mathematical genius who suffered half his life with a debilitating mental illness.

Catherine lives in fear of following in her father's footsteps in both mathematics and mental health. She is haunted, much like Hamlet by the specter of her father who appears at the top of the play to provide much needed exposition.

The set for Onstage in Bedford's production is detailed beyond measure. The old house and poor upkeep are shown in great detail with perfect set dressing placement of an old cooler, a dead bush and leaves fallen from trees littering the stag. The wall of Catherine and Robert's house is in desperate need of paint and wonderfully conveys the metaphor of the fragile nature of Catherine's character, threatening to fall apart at any moment. Levels are incorporated into the set design by having a multi-level porch attached to the house. This effectively alleviates some of the problem of having two leads who are so diametrically opposed in height.
Lighting for Proof is unobtrusive and used well to highlight moments, usually at the end of scenes. Most of the play happens in morning scenes so the light is bright but not glaring. The few night scenes are well made with dimmer effects that don't miss any part of the stage, a problem often encountered in staging.

The costumes express each character well. The audience can sense Catherine's state by the clothes she wears, whether it's a frumpy sweatshirt after her father dies or well-fitted jeans and shirt in a flashback scene when she tells him she's worked up the confidence to go back to school. Hal's character also progresses through costumes, from a geeky mathematics student in a vest and glasses during the flashback to a more confident individual who has moved on to contacts and ditched the geeky vest for the rest of the play.

Thought was put into the sound design but not enough. Some of the jazz they use as pre-show, intermission, and inter-scene music grate on the ears of the audience. The volume level in those instances could be considerably brought down. Also, the song choice for bows at the end of the show, "What a Wonderful World" by Louis Armstrong, is a confusing selection. Any connection of that song to the subject of the play is difficult to make.

The sound effects of police sirens, birds chirping and a party inside the house are all very well implemented in the show, however.

The cast is led by Jennifer Fortson in the powerful role of Catherine.
Her performance can best be described as a rough draft of a decent interpretation of the part; with some fine tuning it could be very good. Depending on who she's playing opposite in a scene affects the quality of her delivery. Fortson has great chemistry with Matthew Clark and their scenes are the strongest scenes in the production. However, Fortson's line delivery occasionally comes out unnaturally, the sign of an inexperienced actor. Her delivery of the most pivotal line in the play is so matter-of-fact and void of feeling it could easily be glossed over if it weren't for a special light highlighting her and the immediate end of the scene leading to intermission. There is no weight to her revelation.

Matthew Clark's characterization is like that of a Muppet of Woody Allen on amphetamines. The boy does not stop moving, EVER. He's so nervous and neurotic, somebody should stop the play at some point, grab him and yell "Calm down!" His is the best performance in the production, however. The audience can sympathize with Hal's yearning to be with Catherine and honor her father, his mentor, while being caught up and pushed away by Catherine's fear and confusion surrounding her possible hereditary peculiarities. Clark's character is nerdy and passionate but not overbearing.

Catherine's sister, Claire, is a currency analyst in New York. Absent
from the care of their father but responsible for paying the bills, she is pragmatic but wrapped up in her own New York world and not in touch with the feelings of her sister. Laura Saladino plays Claire splendidly. Her performance is nuanced and a fine compliment to those around her.

Doug Fowler, as Robert, Catherine and Claire's genius father, seems uncertain in the role. His performance is often stiff and lacking connection with the other actors. In his climactic scene he does convey frustration well and that garners some sympathy from the audience, but the overall performance is underwhelming.
Many of the weaknesses in the performances of the characters seem to stem from Lon Barrera's interpretation of lines or characteristics. With a little more guidance from the director, Fortson's and Fowler's performances could be greatly improved and Clark's character could be more nuanced.

Onstage in Bedford puts on some excellent work and Proof, although not their best work, is a decent production itself. Despite some performance difficulties, it is worth the time for the story itself.
---
PROOF
ONSTAGE in Bedford
2819 Forest Ridge Dr, Bedford, TX 76021
Runs through June 16th

Fridays and Saturdays at 8:00 pm, Sundays at 3:00 pm

Tickets are $15.00, $12.00 seniors, students, and Bedford
Residents. Groups of 10+ are $10.00 each.

For info go to www.onstageinbedford.com or call 1-817-354-6444