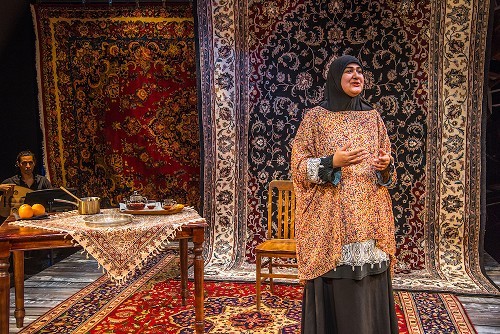 UNVEILED: A ONE WOMAN PLAY
Written and Performed by Rohina Malik
Regional Premiere
WaterTower Theatre
Stage Manager – Kathryn Demith

CAST
Rohina Malik – Maryam, Noor, Inez, Shabana, and Layla

Musician
Lucia Thomas – Violin and Kemençe
---
Reviewed Performance: 6/12/2019
Reviewed by Chris Hauge, Associate Critic for John Garcia's THE COLUMN
Last evening my wife and I had the honor of sitting in the company of five remarkable women. They shared the challenges they face and the sorrows they've endured and the wonder of being alive and wrapped in God's love. Each woman bound to each other by their cultural love of tea and their wearing of the hijab, the headscarf worn in public by many devout Muslim women. And these women have invited us in for the evening to open our hearts and minds by opening their lives to us. It was an evening that will not be easily forgotten.

These women are the creations of playwright and actor Rohina Malik. Born and raised in London and now based in Chicago, Ms. Malik has been touring and performing this play around the world over the last ten years. This is the first time she has performed in Texas and we must thank WaterTower Theatre and Producing Artistic Director Shane Peterman for the opportunity to see this excellent production

The seed for this play came from a real-life incident at a friend's wedding, which took place not long after 9/11, where a man from another wedding party made angry remarks about Ms. Malik hijab and threatened physical violence. From this seed, Rohina Malik has produced a harvest of women who, in spite of the pain they've endured, or the cultural barriers imposed on them by their families, or their perceived self-weakness in the face of evil, have triumphed because of their faith in God and the assurance that love is stronger than all the pettiness of humanity.

We first meet Maryam, a dressmaker in the Devon commercial district in Chicago. A Pakistani immigrant, Maryam is Ms. Malik's conduit for her story about the incident at the friend's wedding. We then are introduced to Noor, a Moroccan American lawyer who tries to persuade a sexual assault victim to testify by sharing her own tale of pain and loss and resolve. And then Ms. Malik becomes Inez, an African American convert to Islam whose wearing of the hijab becomes a life or death issue on the streets of New York, September 11, 2001.

Off now to London where we meet Shabana, a young South Asian rapper who wears the hijab as a symbol of her faith and rebels against the false assumptions that label her as a terrorist and her family's expectation of cultural conformity. We end with Layla, a Palestinian immigrant and restaurant owner whose personal connection to 9/11 mirrors the loss felt by many on that day.

Ms. Malik has brought each character to vivid life. She has been doing this play for ten years and the precision of her performance attests to that experience. The emotional power of her portrayals shows that none of the heart and love that she poured into her script when she developed it has ebbed over time. Her women are real, and Ms. Malik's skill engages the audience and invites it to share in all that makes their lives worthwhile. As playwright and performer, Rohina Malik shines like a diamond.

Accompanying the play is the music of Lucia Thomas, a professional musician based in Chicago, who has an extensive background in the traditional music of countries around the world. Playing the violin and a thinner instrument called a kemençe (literally a "little violin"), and singing traditional songs from various places, Ms. Thomas' music added to the intimacy of the performance. I couldn't imagine the performance without the music.

There is so much to say about Rohina Malik, so for those who would like to find out a little bit more about her, I refer you to Manuel Mendoza's excellent article on the Dallas Morning New Website at https://www.dallasnews.com/arts/theater/2019/06/06/making-texas-debut-rohina-maliks-one-woman-show-pulls-veil-muslim-stereotypes. Some of the information used in this review was gleaned from this article and I thank Mr. Mendoza for this excellent resource.

So, I encourage you to come to this show, and if you do, to spread the word about it to all the people you know. This show deserves to be seen, not only for its plea for racial and religious tolerance, which is vital in of itself. Also come see it for the chance to meet five women who, over a cup of tea, will touch your heart and convince you that we are all connected by our common humanity. And stay for the talk after the show for the chance to meet two more wonderful women-Rohina Malik and Lucia Thomas. With the beauty of their spirits, you'll see that faith in one's God and one's message can transform us all.
---
UNVEILED: A ONE WOMAN PLAY
WaterTower Theatre
June 12 – 30, 2019
Wednesdays & Thursdays: 7:30PM
Fridays & Saturdays: 8:00PM
Sundays: 2:00PM
The Karol Omlor Studio Theatre
Addison Theatre Centre
15650 Addison Road, Addison, TX 75001
For tickets and more information call 972-450-6232
Or visit on the Web at www.watertowertheatre.org