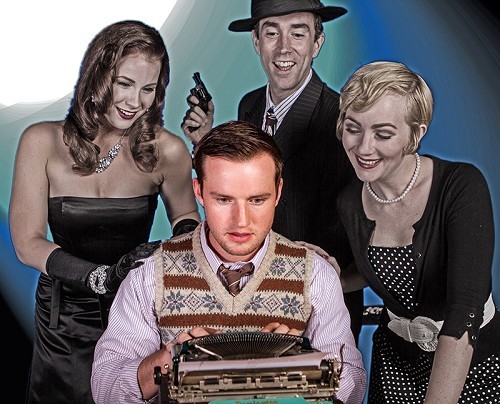 CITY OF ANGELS
Book by Larry Gelbart, Music by Cy Coleman, Lyrics by David Zippel
Theatre Three
Directed by Bruce Richard Coleman
Musical Director – Terry Dobson
Set and Costume Design – Bruce Richard Coleman
Lighting Design – Carl Munoz
Sound Design – Richard Frohlich
Vocal Coach – Vonda K. Bowling
Fight Choreography – Ashley White and Jeff Colangelo

CAST:
Christopher J. Deaton – Quartet Baritone
Anthony Fortino – Jimmy Power
Jonathan Garcia – Officer Pasco, Guard, et al
Sergio Antonio Garcia – Pancho, Lieutenant Manny Munoz
Whitney Hennen – Clara, Alaura
Lee Jamison – Donna, Oolie
Jackie L. Kemp – Buddy, Irwin
Gregory Lush – Stone
Nikki McDonald – Avril, Mallory
Kassiani Menas – Gabby, Bobbi
Grace Neeley – Quartet Alto
Scott Nixon – Big Six
Ken O'Reilly – Quartet Tenor
Darius-Anthony Robinson – Dr. Yamoto, Emcee
Alexander Ross – Stine
Dustin Simington – Peter, Nephew, et al
Sarah Elizabeth Smith – Quartet Soprano
Sam Swanson – Sonny, Dr. Mandril, et al

MUSICIANS:
Terry Dobson – Piano/Conductor
Mike McNicholas – Drums/Percussion
Peggy Honea – Double Bass
Ellen Kaner and Michael Dill – Woodwinds
---
Reviewed Performance: 6/17/2013
Reviewed by Mary L. Clark, Associate Critic for John Garcia's THE COLUMN
The recipe for a funny, entertaining, action-packed musical full of great music and lyrics is to take a "twists and turns" story, add a handful of Damon Runyon characters, a big dash of late 40's Hollywood glam, some great singing and acting and just a pinch of dramatic realism. Bake on high for 2 hours, 20 minutes while you listen to Big Band, jazzy sounds and you'll have a delicious summer treat worth each and every bite.

City of Angels, playing at Theatre Three, was written by Larry Gelbart of Funny Thing Happened on the Way to the Forum, MASH and Tootsie fame. He penned the musical to be a "stinging satire on Hollywood and the indignities that screenwriters suffer in the 'ego-fuelled jungle warfare that rages on the West Coast'". Getting the infamous Cy Coleman to compose the music was a great coup.

A child prodigy and concert pianist turned songwriter and composer, Coleman is know the world over for musicals such as Seesaw, I Love My Wife, Barnum, On the Twentieth Century, and The Will Rogers Follies. David Zippel's powerful, sometimes dramatic lyrics stem from years of working with great singers such as Stevie Wonder, Christina Aguilera, Cleo Laine and Barbara Cook. Though City of Angels was his Broadway debut, he also wrote the lyrics to The Goodbye Girl and songs for feature and animated films including Hercules, Mulan, and The Wedding Planner.

City of Angels hit Broadway in December 1989, and by the following year had won eleven Drama Desk Awards and ten Tony Awards including Best Musical, Best Book of a Musical, Best Original Score, Best Performance for a Leading Man in a Musical for James Naughton, and Best Performance by a Featured Actor in a Musical for the wonderful René Auberjonois.

A sometimes hilarious, sometimes somber spoof on the life of a Los Angeles gumshoe, City of Angels pays homage to the film noir genre that became a popular motion picture entity in the 1940's. The originality came in meshing a private eye story with its real-life writer's attempt to turn his best-selling novel into a film. It was fun to see how the people in writer Stine's life slowly filter into his ever-changing script. An interesting touch, brought into several musicals of the 90's, was to interject a bit of current social or political commentary, this time being whether Stine will eliminate the racially-motivated plotline of his book to screenplay at the demand of the producer. Reality is kept in color while the author's written, deleted and re-written script is played in black and white.

Characters start out on either side, but as the musical progresses, actors take on other roles and cross back and forth between the two worlds. It's a wild ride and kept the audience momentarily guessing who is who and who did what, just as any good film noir worthy of its dark alley should accomplish.

A good musical is made so much better with the addition of a live band or orchestra. Under the direction of Terry Dobson, five musicians playing piano, drums, double bass and woodwinds emulate that Big Band sound admirable. They recreate Cy Coleman's jazzy numbers and Sinatra-style crooning ballads and are to be congratulated equally.

The cast of most musicals is usually a large one so City of Angels comes in well under the norm with a cast of eighteen, some of whom play more than one character. Within the supporting roles, a few highlighted the musical with their acting choices or voices.

Jackie L. Kemp played both producer/director Buddy Fidler and wealthy Hollywood magnate Irwin S. Irving with the autocratic nature of men of that stature but his gruff vocal quality and volume began on a high note and never dissipated much throughout his performance.

Darius-Anthony Robinson summoned a touch of Cab Calloway into his band Emcee, made a quacky Dr. Yamoto. . . and didn't I see his sister, uncredited, in one scene?

Both Anthony Fortino as crooner Jimmy Powers and Sergio Antonio Garcia as Lt. Manny Munoz played to their strengths, and understanding the theatre acoustics, delivered fully-rounded vocal performances.

Fortino portrayed Powers as a ladder-crawling celebrity wannabe in "You Gotta Look Out for Yourself", but kept that suave, pretty boy image intact with his apparent one-hit song "Stay with Me". As the lieutenant whose life was about to be written out by author Stine, Garcia had a short, touching scene about what it's like to be judged for how you look and his song, "All You Have to Do is Wait" with the trio of Dr. Yamoto, Mahoney and Officer Pasco clearly reflected those feelings.

Whitney Hennen played Mata Hari stepmother Alaura to Nikki McDonald's Mallory, and both were equally alluring and conniving in their roles within the screenplay story. Hennen had a fine tête-à-tête with detective Stone in their duet "The Tennis Song". McDonald's sultry alto voice was perfect for "Lost and Found", the less than subtle song she fairly oozed while wiggling and writhing on Stone's bed; a very flexible young woman to be sure. Her spoiled daughter, Avril, was just as conniving in the real world, getting her rich daddy Irving to convince Stine to actually bring his book's dead character back to life for the film. The crossing over of similar characters between the worlds was a part of the musical that kept the audience in the plot and intrigued.

In a wonderful tour de force performance, Lee Jamison played the two secretaries found in both the real and story worlds. Playing Stone's ever-faithful secretary, Oolie was a better detective than he and could still keep his messy office and life organized. She did the same for writer Stine but this time made the mistake of falling for him. A tremendous singer, she belted out "You Can Always Count on Me" as both secretaries ranted on not being seen for who they are. (A bit confusing, I know.)

Gregory Lush looked every bit the jaded gumshoe character he plays. Tall and lean with a long face, his Stone was a worn burnout of a detective whose mind was more into padding his wallet than in his new case. His rough, urban accent developed around a little Cagney, a dab of Bogart and a tongue in cheek nod to Garson Keillor's Guy Noir. Not familiar with Lush's singing ability, I was pleasantly surprised at his rich vocal quality. Stone is fed up with Stine not standing up for his original story and suddenly crosses over into the real world. His duet with Alexander Ross' Stine in "You're Nothing Without Me" was powerful and a showstopper highlight. A delight to watch, Lush's character was the backbone of the noir story and he the backbone of the musical.

The role of writer Stine is a harder one to portray as Larry Gelbart wrote him more a minor character than detective Stone. Maybe because it's a touch auto-biographical, Gelbart didn't want Stine to take full lead. No matter, Alexander Ross took what was given and played Stine as the milquetoast man he was. I wish his character had been more in balance with Stone but his scenes with producer Buddy and wife Gabby, as played by Kassiani Menas, were painfully accurate and telling. Ross' voice was astoundingly strong and clear and the duet "You're Nothing Without Me" with Lush was a powerhouse number. But it was at the end, when Stine finally stands up to Buddy and for his own self that Ross got to show his vocal skills. He took the audience aback as he blasted out "Funny", a song on where Stine's work and his life had taken him, and though Ross strained to be heard over the band, it was still a goose bump number and another musical highlight.

To help keep the two worlds apart, Bruce Richard Coleman designed both set and costuming to reflect visual differences. The writer's office, his clothes, typewriter and home were all muted shades of beige, brown and green with touches of red here and there. The film producer's office was flamboyant in old Hollywood coral and turquoise with Art Deco curves and silver metallic trim. For most of the staging area, however, the vision was dimmed to tones of gray, black, cream and white.

The flooring was painted and stenciled in light grey and white, grey and white marbleized benches flanked two entrance/exit corners, and the enormous platform taking over one corner of the theatre space held the band above and a garage-style grey curtained opening below where set pieces unobtrusively rolled in and out, carrying actors with them on occasion. All clothing for the detective tale was also shaded in grey, black, cream and white. The occasional bright red lipstick or stark white pieces threw the eye off a bit, breaking the film noir effect, but as Coleman was not going for the "Black and White" illusion of a popular play series, those asides could be overlooked. Coleman has directed and designed plays and musicals in the area for many years.

His costuming choices are original, sometimes over the top and usually ingenious. Always one of the highlights of any piece, I look forward to seeing a show where his name is included as costumer. For City of Angels, however, I was rather underwhelmed, in particular with the choices for the detective story characters. The gumshoe, police officers, thugs, tuxedoed male singers, etc. were fine in shades of gray and black, but the women's clothes especially held no allure. Creamy white satin teddy and hose or black pencil skirt and cream sweater was one thing, but the dresses and gowns of black, silver and white were plain and uninspiring, not what I would expect from Coleman's usual excellent work. On the other side, however, a few hits made up for it, in particular the wide-lapelled, Tropicana-striped crop jacket with palazzo pants ensemble that was a stunner and typical of both the detailed sophistication of the era's Hollywood set and Coleman's attention to detail. The writer's jacket was beige-brown tweed and may have had leather patches at the elbow. Again, pencil skirts and blouses or tight sweaters reflected the women's attire, this time a tad bit brighter.

Carl Munoz' lighting was unassuming for the most part, with a few blackouts and fades to duplicate the slow "lens closing" technique of older films.

The sounds of gunshots, typewriter key taps and characters being "rewound" as the writer rewrote their dialogue, as designed by Richard Frohlich, were both highly effective and hilarious.

My biggest concern was with the microphones and the volume of the band, which is in the conductor's territory. Large, headband mics with wires coming from the neckline are acceptable for the distance of the Winspear Opera House or Music Hall, but when you can reach out and touch an actor going by, they became painfully obvious, distracting and vocally unnecessary for such a space. Their levels were turned up to the max in some cases, most likely so the singers could rise above the music. Most were belting their lungs out but still their lyrics could not be understood clearly.

Properties design had no credit but I wanted to mention the huge old-style motion picture camera, old typewriter (aren't they all?) and a quirky, space age-looking iron lung, a part of the story you'll have to see to fully appreciate. In the screenplay story, nothing missed becoming grey-toned – the tennis ball, the towel, the table radio, coffee mugs and bedcovers. Even the plants were grey.

City of Angels, being a multi-award winning hit in the U.S. and London, should for me have been more amazing that it was. The challenge I had was not in the clever story idea but in the script being too long and the two stories being overly imbalanced. So much emphasis was put on the film noir screenplay story, even in this production's set and costumes, that Ross' world was underplayed and therefore the characters in that world. I never got to fully know the man who literally held the detective story's characters between his typewriting fingers.

And at well over two hours, the musical began to drag and wane somewhat. Even at that, I laughed often, was entertained and saw a well-directed, talented ensemble that found the essence of the film noir style and took it to heart.

Theatre Three's City of Angels was more than a mere crime tale or song and dance musical, but the combination made for a non-stop production with strong songs and even stronger singers.
---
CITY OF ANGELS
Theatre Three
2800 Routh Street, Dallas, TX 75201
Runs through July 13th

Thursday and Sunday at 7:30pm, Friday-Saturday at 8:00 pm, and Sunday at 2:30 pm

Special performances are Miser's Night Out on July 7th at 7:30 pm and The Hooky Matinee on Wednesday, July 10th at 2:00 pm. In addition, every Friday from 11:00am–1:00pm

Theatre Three sells 20 tickets for $20.00 each to that evening's performance. Purchases must be made in person at the box office. Limit 2 tickets per person Regular tickets range from $25.00 - $50.00. Prices for both Miser's Night Out and Hooky Matinee are $10.00-$15.00.
For info & tix go to www.theatre3dallas.com or call their box office at 214-871-3300, option #1.