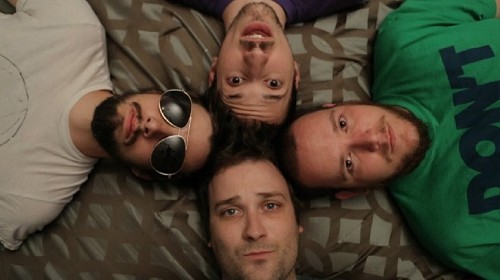 THE BOMB-ITTY OF ERRORS
by Jordan Allen-Dutton, Jason Catalano, GQ and Erik Weiner
Original music by Heath Gage and Steven Walters
Second Thought Theatre
Directed by Amy Corcoran
Costume Design - Caitlin Rain
Lighting Design - JoJo Percy

CAST (in alphabetical order)

Joseph Holt - Antipholus of Ephesus
Zac Kelty - Dromio of Ephesus
Drew Wall - Dromio of Syracuse
Steven Walters - Antipholus of Syracuse
---
Reviewed Performance: 7/6/2012
Reviewed by Mary L. Clark, Associate Critic for John Garcia's THE COLUMN
It?s a tale of mistaken identity enveloped in old hip hop sound. It's fast-paced and energetic with rapid costume changes and even faster entrances and exits. It's Shakespeare in The Bronx - it's Second Thought Theatre's production of The Bomb-itty of Errors.

Based on the bard's The Comedy of Errors, it is one of those stories where the audience is let in on the joke, but not so the characters. Two sets of twin boys have each been separated from their brother and now live in different cities. One set are both named Antipholus and their twin slaves are both named Dromio (you can just see it coming, can't you). Antipholus and Dromio of Syracuse travel to Ephesus where, unbeknownst to them, the other Antipholus and Dromio reside. The wife of Antipholus-E mistakes Antipholus-S for her husband, he in turn falls for her sister, the slaves are bandied about for doing or not doing what their supposed master told them, payment for a gold chain goes missing, as does the chain, arrests are made falsely, an Abbess has some revealing news to tell, and the twins finally meet, realize their errors and all ends happily.

And unless you know Will's story well, you probably would not recognize this as one of his plays, it is so deeply steeped in New York City characters and stereotypes.

Four NYU grad students took an urban approach in writing this send up of the short comedy, changing up the Elizabethan language to the lower East Side, deleting characters and combining others, so that up to twenty actors could be utilized, but STT chose the original concept of four males.

Joseph Holt, Zac Kelty, Drew Wall and Steven Walters perform all their varied roles full-out, with hip-hop steps and machine gun spewing of lines.

They are comedically talented, astoundingly agile, and their performances are akin to a three ring circus of entertainment. And that is also why this production, to a large degree, does not work.

Amy Corcoran's direction has several moments of comedic clarity but her overall approach is to run these guys b*lls to the wall, and that's exactly what they do. The pace is too fast, the music overpowers them, if that is possible, and the story is pretty much obliterated in a sea of neon costumes, wigs and sweat. The authors started things right with a detailed prologue to get the audience on the same wave length. But here the prologue speeds by so fast that even with the help of screen projected cartoon-style words and pictures to supplement; it does nothing to set up the play to come.

Though frankly, Shakespeare does not readily come to mind here. It is interesting to note that this play which won over its original audience can still make us laugh today, just as it was written. Several websites state this version runs ninety minutes but it clocked in at a tad over eighty. Ten more minutes would have done wonders in making The Bomb-itty of Errors more complete, with that hint of tragedy blending with the slapstick comedy. Corcoran needs to have as much respect for the classic work as for the work of the actors.

The set is a playground jungle gym of scaffolding, steps and blacks, putting the actors through heavy paces as they run around and through seven different entrance locations. An un-credited female 'DJ' is supposedly spinning the tunes under one of the platforms though I suspect she is actually the light and sound board operator.

Lighting by JoJo Percy is mostly of the disco-kind with bright colors and traveling gobo spots. The projections, again by an un-credited designer, are inventive and fun, setting up various locations in Ephesus where all the characters run around. Caitlin Rain's costumes are a hoot - the Antipholuses wear striped T's and neon red hoodies, looking like ghetto gondoliers, the Dromios are in graffiti T's, sweatbands and baggy shorts. Add neon pink wigs for the wife and courtesan, a clown-like wig and rainbow tutu for the sister, a bicycle-helmeted messenger on a tricycle and one Hasidic Jew complete with long black coat, hat and curled sideburns and that three-ring circus is complete.

And then there is the music. STT's notes state it is original by Heath Gage and Steven Walters with rap lyrics by the original authors. No matter, it is old school hip hop cranked up to a volume that drowns the words out, and therefore the plot. It's not the style of music, but the booming backbeat that simply goes on far too long, to the almost headache stage. Seated in the last of four bleacher rows, I started watching the audience in the first two rows laughing uproariously and the last two rows not so much, if at all. I then looked up to see the speakers angled to the back rows so that we got all the music and the front audience got all the lines, even though the actors are miked. It makes all the difference where the sound hits the audience and, in this case, it hit those of us towards the back the wrong way.

The four actors taking on this daunting athletic endeavor are nothing if not extraordinary - doing hip hop moves, acting, climbing up and down, changing costume pieces, and all the while rapping their lines. Some of the funniest moments occur when, naturally, an actor cannot quite change costume in time and enters in character but half dressed, open coat or shirt unbuttoned. Each actor has great diverse characterizations, some of the best being Zac Kelty's Luciana, belly hanging out over tutu. His interpretation of the ditzy sister is actually cute and lovable.

Drew Wall portrays one heck of a courtesan in fur coat (no shirt) and bobbed pink wig. His tricycle messenger is naively silly and adorable. Steven Walters makes his Jew-eler an old standup comedian with all the corny jokes and shtick.

But it is Joseph Holt that takes the prize for his interpretation of the Puerto Rican princess wife, Adriana. The long pink wig helps his character but it is his attempted model runway walk and the flipping back of hair with imagined long nails that is so perfect and so hilarious. Girl, he works it as much as the character works her husband and Holt makes the show.

So, the final verdict. Is The Bomb-itty of Errors just that? Absolutely not, but don't go because you want to see a good interpretation of Shakespeare. With this production, that's the last thing you'll get. If you want to see a good comedy, you are getting closer. And if you wish to see four of the hardest working actors on any stage, giving their all to ensure you are entertained, this is the place. Second Thought Theatre has never been one to hold back and this play is no exception. If for nothing else, I'd go for a short theatre evening of fun, precision rapping and, oh yes, that hip hop music.
---
THE BOMB-ITTY OF ERRORS
Second Thought Theatre
Bryant Hall at Kalita Humphreys Theatre campus
3636 Turtle Creek Blvd., Dallas, TX 75219

Plays through July 22nd

Thursdays at 7:30 pm, Fridays-Saturdays at 8:00pm and Sundays,
except July 8th, at 7:30 pm.
Sunday, July 8 show is at 2:00pm, and the Pay-What-You-Can performance is
Monday, July 9th at 7:30 p.m. Pay-What-You-Can tickets will be available for purchase only at the door.

Regular tickets are $22.00 & $15.00 for seniors/student