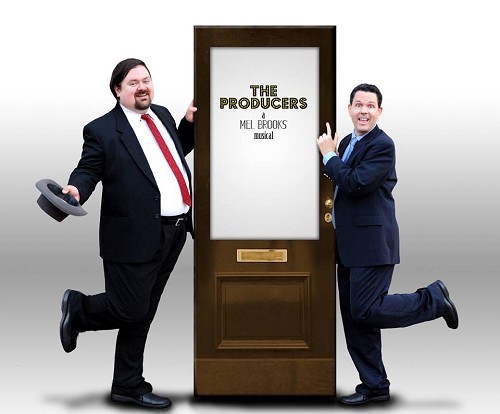 THE PRODUCERS
Book by Mel Brooks and Thomas Meehan
Music & Lyrics by Mel Brooks
Greater Lewisville Community Theatre
Director – Eddie Floresca
Music Director – Bryce Biffle
Choreographer – Larry Borero
Stage Manager – Eddie Floresca
Set/Video Designer – Chris Robinson
Lighting Designer – Ken Davis
Costume Designer – Hope Cox
Sound Engineer – Joshua Cardenez

CAST
Max Bialystock – Ben Phillips
Leo Bloom – Chris Robinson
Ulla – Alena Cardenez
Franz Liebkind – Keegan Arnold
Roger DeBris – David Tinney
Carmen Ghia – Steve Robert Pounds
Ensemble – Jermero Bureller, Caroline Carter, Stacie Cleland, Rob Edgin, Jonathan Hardin, Marianna Harris, Christina Kudlicki Hoth, Christina Keil, Brendan Rex, Adam Stevenson

---
Reviewed Performance: 7/10/2015
Reviewed by Jeremy William Osborne, Associate Critic for John Garcia's THE COLUMN
A lot of fun is what you expect when you hear about Mel Brook's "The Producers." Stemming from Brook's association with an unscrupulous producer in his earlier years The Producers became his first film starring Zero Mostel and Gene Wilder. Thirty-something years later and Brooks adapted his zany movie into the most successful Broadway show of all time, winning 12 Tony awards including Best New Musical. The cast included the incomparable Nathan Lane as Max Bialystock and Matthew Broderick as Leo Bloom. Greater Lewisville Community Theatre captures the silliness and fun of the original and compresses it to fit their space with only 16 cast members for a show that can easily use 30.

The set for The Producers is simple. Sometimes a flat set of walls represent Bialystock's office this is traded for a set of stairs for the big Broadway number "Springtime for Hitler." None of it is overly impressive but it is effective in representing changes in location for different scenes. Eddie Floresca also did well in using the apron of the stage and center aisle of the audience to expand the play area and allow for scene changes behind the curtain during the show, limiting pauses in the action.

There are several hiccups in the action as scene changes sometimes take longer than expected. Leading into "Springtime for Hitler" the intro played three times at the reviewed performance. The first scene in Bialystock's office left the audience in the dark as we watched Bialystock set his clothes and get into position under scene change lights.

The cast looked wonderful in their costumes designed by Hope Cox. Not only are they period appropriate the costumes accentuated the characters. The more outlandish the character the better the costume. Roger DeBris' "Chrysler Building" gown is a little flat with just a simple design but his opening night clothes capture his flamboyant style perfectly. The uniform floral mu-mus the old lady's wear for "Along Came Bialy" are great for hiding the gender of the actors playing them as well as demonstrating these characters are ultimately unimportant to Max Bialystock and all the same.

Music Director Bryce Biffle did a great job preparing the cast for the vocal demands of the show. They harmonize well and everybody sings their parts beautifully. The orchestra is small but effective. My only complaint is the overuse of synthesized string instrument sounds that detract from the more pure sounds throughout the show.

There is a lot that can be done for choreography throughout this show. Mel Brooks is an old-fashioned performer and wrote in several traditional "song-and-dance" numbers. Larry Borero's dance numbers have their moments of brilliance but in some areas fall short. The old ladies with walkers tap dance in "Along Came Bialy" and tap dancing in "Springtime for Hitler" are fantastic. However, Leo and Ulla's dance in "That Face" leaves a lot to be desired in terms of storytelling. We would like to watch them fall in love but this dance is merely an exercise. It's technically nice but doesn't tell much of a story.

The final technical element, lighting, does well in its job. There is a moment in "Springtime for Hitler" where David Tinney sits at the edge of the stage. For the most part he is well lit but the top of his head is often caught by shadows that annoyingly distract from his performance. All other aspects of lighting work well throughout the show with a nice dark and lonely effect, with the use of colors, applied during Bialystock's song "Betrayed."

This production of The Producers is full of fine performances and the more outlandish the character the more fun is apparent in the actors' performance.

Ben Phillips is the crooked producer Max Bialystock, who funds his plays by "wooing" many old ladies throughout New York. He provides a nice base line from which all other actors can juxtapose their wacky characters. Early in the performance his comic timing was a little off and didn't quite land the punch lines to his jokes perfectly but by the middle of the first act everything was working well.

Leo Bloom is the mousy accountant who comes into Bialystock's life with the inspiration for a plan to make more money with a Broadway flop than a hit. Chris Robinson is marvelous in this role. He uses a whiny voice and stiff mannerisms to portray the insecure Bloom and isn't afraid to go over the top physically for the comedy. Watching him go "hysterical" is a highlight early in the play.

The Swedish sexpot Ulla is excellently played by Alena Cardenez. Her stereotypical Swedish accent helps the audience get past her tan skin and dirty, dyed-blonde hair. She has a great, powerful voice that is highlighted in "When You Got It, Flaunt It"

The funniest character in The Producers is the "former" Nazi Franz Liebkind and he is played brilliantly by Keegan Arnold. Arnold enthusiastically sings "Haben Sie Gehort Das Deutschland Band" and is hilarious with jokes written for him.

Finally, are the exceptional Roger DeBris played by Roger Tinney and Carmen Ghia, played by Steve Robert Pounds. The pair heighten the comedy in every scene they appear. Tinney is more than a stereotype as the cross-dressing DeBris. He's a delusional artist overly self-confident in his directing ability. Tinney has great facial expressions and body posture to react to ideas while Pounds' mannerisms and over-extended characterizations fabulously flavor their scenes.

For a fun night of theatre, head up to Greater Lewisville Community Theatre and see The Producers. At only $22 a ticket ($18 for youth and seniors) it is a great deal for a night of entertainment.
---
The Producers

Greater Lewisville Community Theatre
160 W Main Street
Lewisville, Texas 75057

Runs through August 2nd

Friday and Saturday at 8:00 pm, and Sunday at 3:00 pm

Tickets are $22.00 and $18.00 for seniors 65+ and those 18 and under.

For tickets and information, go to http://www.glct.org or call their box office at 972-221-SHOW (7469).