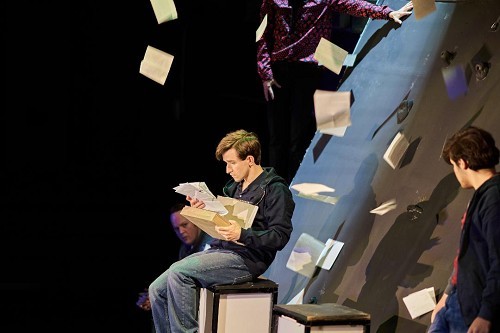 THE CURIOUS INCIDENT OF THE DOG IN THE NIGHT-TIME
A play by Simon Stephens
Based on the novel by Mark Haddon
WaterTower Theatre
Directed by Emily Scott Banks
Assistant Director – Maxey Whitehead
Production Stage Manager – Hailey Green*
Assistant Stage Manager – Jessica Updike*
Set Design – Kennedy Stryon
Costume Design – Amy Poe
Sound Design – David Lanza
Properties Design – Hillary Collazo Abbott
Lighting & Projection Design – Adam Chamberlin
Covid Compliance Officer – Elizabeth Kensek

CAST

Colin Hodgkin – Christopher Boone
John-Michael Marrs* - Ed Boone
Felicia Bertch – Judy
Megan Haratine – Siobhan
Shannon McGrann* - Actor 1
Jericho Thomas – Actor 2
Mitchell Stephens** - Actor 3
Christopher Abraham – Actor 4
Hayley Ewerz – Actor 5
Nancy Sherrard – Actor 6
Walker Eggart – Actor 7

* Appearing through SPT Agreement between WaterTower Theatre, Actors' Equity Association, Union of Professional Actors and Stage Managers in the United States
** Production Fight Captain

---
Reviewed Performance: 7/15/2021
Reviewed by Ann Saucer, Associate Critic for John Garcia's THE COLUMN
The Curious Incident of the Dog in the Night-Time opens with the corpse of a shaggy white dog in the middle of the traverse stage. A pitchfork, which the English characters will call a "garden fork," sits straight up from the lifeless carcass. There is drama from the first scene.

The deceased canine, Wellington, belonged to a furious Mrs. Shears (a convincing Shannon McGrann). She accuses her fifteen-year-old neighbor, Christopher Boone (Colin Hodgkin), of the crime, presumably because he was at the scene. Christopher is a twitching, nervous wreck, and he collapses into a wailing, rocking heap shortly after a policeman arrives and confronts him. The eponymous "curious incident" is Wellington's murder, a who-done-it mystery that Christopher sets out to solve. Christopher's determination is such that he travels well out of his comfort zone, having his first conversation with a kindly, grandmotherly neighbor (a fantastic Nancy Sherrard) who has lived across the street for years. Conversing with her is like pulling on a string that ultimately unravels the shocking fictions that have defined Christopher's life.

Christopher's comfort zone is very, very narrow. Think Temple Grandin narrow. Christopher is an autistic math genius who cannot carry on a normal conversation. As the play unfolds, we see why people trying to help a lost boy fail to communicate with him.

The production is a play-within-a-play, with Christopher's heroically effective teacher Siobhan (Megan Haratine) reading from the book he is writing about his quest to identify Wellington's murderer. Haratine's nuanced, controlled performance not only illustrates the talent and devotion necessary to teach autistic kids, but her character's sympathy for Christopher makes it easier for the audience to like him too.

Christopher's devoted, harried father, Ed Boone (John-Michael Marrs) is desperate to shut down Christopher's investigation. From the beginning Ed is a ball of stress and contradictions. He loves and understands his son, and has a font of patience—until he doesn't. He immediately compels the audience's sympathy as he navigates Christopher's release from the police station, with absolutely no help from Christopher. But as the play progresses, we see Ed is darker, bubbling with angst. The events are presented from the fulcrum of Christopher's knowledge, and Marrs does a wonderful job of accommodating the plot twists. As Ed says, "It is bloody hard to tell the truth all the time." Marrs' Ed is a gritty, lost, heartbroken mess. Marrs has a gravitational stage presence as a broken, there-but-for-the-grace-of-God everyman.

As Christopher's mysterious mother, Judy, Felicia Bertch serves up a haunted, fragile beauty. The play shows how parenting a child with autism can be a sleep-deprivation beat down, an unrelenting test of patience and stamina that strains the outer limits of parental love. The novel from which this play is based left me with a punch-in-the-gut reminder of the old saw: let me not judge others until I have walked ten miles in their shoes. The play preserves the novel's power in this regard, and Bertch is excellent at exhibiting Judy's lack of fortitude in an understandable light. Bertch's Judy is well meaning, but the gulf between her virtues and what it would take for her to be a good mother to Christopher is miles wide.

Hodgkin is the unmitigated star of this show, a presence so strangely magnetic that he can delightfully perform the Pythagorean theorem (you just have to see it). I cannot describe precisely how Hodgkin makes Christopher adorable, but he does it—wailing and abnormal speech and gestures notwithstanding. The play requires a powerhouse performance of Christopher's unusual character, and Hodgkin delivers.

The play is beautifully adapted from the book of the same name. Weaved through the family mystery that animates the action is an examination of a life that is inherently different. The black set visually positions Christopher as alone in a vast universe. His astronomy fascination reflects his math prowess, but when Christopher explains the distance between him and the stars, it seems a metaphor for his isolation.

Speaking of metaphors, Christopher dislikes them. They are a kind of lie. Reflective of autism, Christopher is very literal, and frequently to humorous effect. His dialogue with a priest is particularly witty: if dead people were elevated through space to reach heaven, living people would notice. Hodgkin uses Christopher's speech pattern—normal inflections are flattened into a not unpleasant sing song—to brilliant comic effect.

The lack of a universally perceived "truth" is also a theme. In a clever, illuminating scene, passengers on a train identify what they see of the bucolic English countryside flashing by, and their accounts vary. Christopher's rapid-fire recital of the flood of details and facts that he sees by comparison reveals how superior observational skills could prove overwhelming. Christopher's problems navigating context and perspective may be disabling, but the rest of us are not operating from a single, monolithic understanding of reality to begin with. Not only do people looking at the same countryside notice different things, but as an overwhelmed policeman says at one point, "Let's not get into who said what here." We are invited to see Christopher as not that different from us after all.

In a daring innovation, Actors 1 through 7 not only morph into the variety of people Christopher meets on his journey, or who populate flashbacks, but the supporting cast also double as supporting props. Settings constantly change, and instead of actual furniture, cubes are portable stand-ins. The supporting cast appear as a coat hook, or to hand out props, in addition to reacting or echoing Christopher's gestures. These Actors not only facilitate the physical elements of rapidly changing settings, but their appearances add lively energy. Every one of them is consistently excellent.

The multi-functional, two story set is painted with the constellations, which twinkle to life at the end of the First Act. Slanted walls on two ends double as backrests and climbing walls, allowing the cast to scurry between the first and second floors. Cubes, Rubik's and otherwise, are an important visual theme as well as building blocks for ever-changing furniture. Some cubes are part of the set and others are carried on and off the stage morphing into chairs, beds, bins, desks, counters, and even props for an ill-fated day at the ocean shore.

The sound design and sound system are supreme. The audio effects include cicadas, commuter crowds, traffic sounds, tube and train sound effects, and ultimately music to jam by. The play's sounds are scary (a looming subway) and disruptively loud (Christopher's melt downs), but without actually being too loud.

The extraordinary lighting design is no easy feat—at one point A level "maths" (as the Brits call it) are projected on the traverse stage and on both opposing slanted walls. The costuming is clever. The lively blocking requires multiple entrances and exits as Actors 1 through 7 cycle in and out of different characters; their default costumes are predominantly black and white street clothes, which are adjusted for particular characters.

This was the first in-person performance at the WaterTower Theatre in sixteen months, and the excitement level was high. The Curious Incident is a fitting return to live theater, as its main character's isolation is one theme thoughtfully explored. I strongly recommend this production for the stellar performances, riveting storyline, and the overall beauty of this theater experience.
---
The Curious Incident of the Dog in the Night-Time
WaterTower Theatre
Dates July 14-25, 2021
The Terry Martin Main Stage
15250 Quorum Drive
Addison, Texas 75001
For information and Tickets call 855-778-2437 or go https://watertowertheatre.org