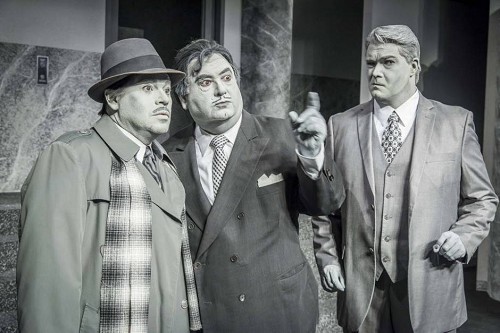 IT'S BEGINNING TO LOOK A LOT LIKE MURDER!
By Kurt Kleinmann
Pegasus Theatre
Directed by – Michael Serrecchia
Set Design – Robert Winn
Lighting Design – Sam Nance
Sound Design – Kurt Kleinmann
Costume Design – Jen J. Madison
Stage Manager / Properties Design – John Harvey


CAST
Billy Betsill – Frank Kelly
Ben Bryant – Nigel Grouse
Chad Cline –Lt. Foster
Bryan Douglas – Timmy/Jimmy
Alexander C. Ferguson – Elwood Johnson
Blake Hametner – Patrick Blaine
Kurt Kleinmann – Henry Hunsacker (weeks 1 & 4)
Scott Nixon – Henry Hunsacker (weeks 2 & 3)
Beth Lipton – Gayly Reed
Leslie Patrick – Eve Grayson
Michael A. Robinson – Nelson Quincy
Sheila Rose – Abby Davis
Allen Matthews – Smitty (Opening Video)

---
Reviewed Performance: 7/14/2016
Reviewed by Carol M. Rice, Associate Critic for John Garcia's THE COLUMN
Of all the Black and Whites I've seen at Pegasus Theatre over the years, It's Beginning to Look a Lot Like Murder! is my favorite. When it was produced in their 2001-02 season, I saw it at least three times. It's also the show that Executive Director Barbara Weinberger and Artistic Director (and founder of Pegasus Theatre) Kurt Kleinmann wisely chose to give a try in New York in 2002, with great success. They only produced one other show that season in their intimate Deep Ellum space, where they had been for 17 years and then went on hiatus for a couple of years, focusing on other projects. I'm sure I wasn't the only one who was pleased when Pegasus Theatre ultimately returned in January 2006 with a brand new Black and White. This time, they were at the beautiful Charles W. Eisemann Center, where they have continued to produce to full houses and critical acclaim.

In case you're unfamiliar with what I mean by a "Black and White," as these shows are affectionately called in the area, this a signature Pegasus Theatre show presented in "Living Black & White™," a unique production style created and perfected by Kurt Kleinmann. Mr. Kleinmann has written a series of plays (16 to date) that are affectionate spoofs of American black-and-white movies of the 1930s and 1940s. The acting as well as all physical production aspects of these shows (lighting, set, costumes, makeup, sound, etc.) are painstakingly designed to recreate the look and feel of an old movie, live on stage. (Taken from the Pegasus Theatre website.)

It's Beginning to Look a Lot Like Murder! takes place on December 24, 1937 at Grayson & Wayne's Department Store. As a prologue, we see a short film sequence in which the store Santa, played by an appropriately weary Allen Matthews, is murdered by a shadowy figure and a Christmas tree ornament placed in his hand as he takes his dying breath. Marc Rouse's video production is excellent and prepares us well for what we see next - Robert Winn's stunning set, created completely in blacks, whites, and grays.

There really is nothing to prepare a first-timer for the dramatic effect of "Living Black & White™." Even before the actors make an appearance, it is obvious that this is no ordinary show, and Mr. Winn's amazing attention to detail from everything to the black Christmas tree with silver/gray ornaments to the ornately designed elevator doors up half a flight of stairs, all in varying shades of gray with a hint of amber to provide a slight sepia tone, making it all seem slightly more old fashioned. The initial effect is stunning...and then you add the actors.

Resident costume designer Jen J. Madison has created an unbelievable pallet of black and white and gray shades and tones, with that same effective sepia thrown in for good measure. From the men's business suits to Santa suits to women's formal and business wear, the many variances are subtle and amazing. Wardrobe supervisors Leah Bell and Gelacio Gibson must also be given a pat on the back for their roles in making sure everything comes together before it hits the stage.

Ms. Madison's costumes wouldn't work without a skilled wig designer, and Stephanie Williams definitely does her part here by ensuring that the wigs not only fit the color pallet (or would that be black and white pallet?), but also look realistic - not an easy task when you're trying for a blonde, for example, or many different brunettes. She succeeds admirably, and Nikki Mac must also be applauded for keeping up with wig maintenance during the run.

Even costumes and wigs wouldn't sell this unique and dramatic concept without the makeup, though. My understanding is that everyone involved in a Black and White is sworn to secrecy about how the makeup is done. Understandably so, for it is truly stunning to see. Faces, necks, hands, lips - any part of an actor's skin that is seen - is done up in shades of gray. Makeup technician Bryan Douglas certainly has his hands full ensuring that everyone is properly colored and shaded.

Now, before you think that a Black and White is all gimmick, let me tell you that the plays themselves are also first rate. As playwright (he wears many hats in this enterprise) Mr. Kleinmann has lovingly developed not only his own character of the bumbling detective Harry Hunsacker, but also the genre of the 1930s and 40s spoof. Mr. Kleinmann also serves as sound designer, and he perfectly achieves the feel of those cheesy movies through his dramatic musical choices.

One of the things that has always struck me about the Black and Whites that I've seen, too, is that Mr. Keinmann's not going for a "star vehicle" for himself. He always writes for a solid ensemble. Harry Hunsacker is always in the middle of things and in the end he manages to solve the crimes, but the other characters are always fully developed and well rounded, too.

A couple of the "usual suspects" in every play are Harry's friend and paid-by-the-hour associate Nigel Grouse and Lt. Foster, the cop he consistently drives nuts. For the past several years, Ben Bryant has ably filled the shoes of Nigel, with Chad Cline taking on the blustery Foster. These two characters comfortably guide Harry through all the twists and turns of the current case. Mr. Bryant plays Nigel as calm and accommodating, always anticipating Harry's next question and subtly feeding him the answer so Harry thinks it's his idea, and he does so quite naturally, as though he's been doing it forever. On the flip side, everything Harry says or does sets off Foster, and Mr. Cline easily walks the fine line of getting upset and going too far with his anger. These two actors carry much of the show, and they do so brilliantly.

Other members of the cast have been in previous Black and Whites, but playing different roles. Ben Schroth is one of them, and he also reprises his role of Nicholas Meriweather from the 2001 production. As the gentle vagrant living the basement of the department store, Mr. Schroth's performance is touching and sweet, with just the right amount of mystery.

Also returning from the 2001 cast is Leslie Patrick, albeit in a different role. Her stunning portrayal of store owner Eve Grayson (her costume is definitely the best in the show) is overly dramatic and funny. Her extreme versatility also shines in her various character choices.

Blake Hametner and Beth Lipton are on-again, off-again couple Patrick Blaine and Gayle Reed. They're willing to lie for each other even when "the wedding is off" and they play both the attraction and the anger toward each other well.

Sheila Rose plays the sassy reporter, Abby Davis, who's moonlighting as Mrs. Claus to try to get a story. She's determined to get what she wants and is unafraid to go after it. This tends to rub store security guy Frank Kelly the wrong way. Billy Betsill perfectly plays Kelly as a wise guy with a chip on his shoulder. Michael A. Robinson plays the snooty store manager Nelson Quincy with just the right touch of organized panic. Elevator operators Timmy and Jimmy are hilariously portrayed by Bryan Douglas. (I honestly can't tell you more.)

The hapless store employee holding down the gift wrap station, Elwood Johnson, is one of the highlights of the show, played by Alexander C. Ferguson. His stutter, which grows as he becomes more agitated, is beyond brilliant, and his attention to detail with the physical comedy he portrays is impeccable. Really a fine, detailed performance. Property master John Harvey's various rolls of gray-shaded wrapping paper and bows also really shine in Mr. Ferguson's hands.

At the performance reviewed, I was fortunate enough to see Mr. Kleinmann as Harry Hunsacker. This is the last time he will be playing the role, as he is turning it over to the excellent Scott Nixon going forward. (Mr. Nixon will be playing the role during the second and third weekends, with Mr. Kleinmann during the first and fourth.) While I have seen Mr. Nixon in other Black and Whites, playing other parts, I have not yet seen him as Harry Hunsacker, but I feel strongly that if Ms. Weingerger and Mr. Kleinmann are handing him the reins that he is the right choice to take over the role. Kurt Kleinmann has breathed a long life into Harry Hunsacker, and the character works not because he's clueless and bumbling, but because he is so sincere about everything he does while being clueless and bumbling. Mr. Kleinmann gets that to be funny, you don't try. You play it straight, and fact that it's a ridiculous situation played seriously will get the laughs. All the gray makeup and costumes and amazing sets aside, THIS is why Pegasus Theatre's "Living Black & White™" works. Harry Hunsacker believes implicitly in everything he does and says, and so does everyone around him.

Obviously director Michael Serrecchia also ascribes to this belief, as the sincerity and hilarity are both fully present in It's Beginning to Look a Lot Like Murder! He has put together a powerhouse of a cast and design team, and it's an incredible send-off for Mr. Kleinmann. Not that he's truly going anywhere, as he already has his next new play in the works. It just won't be in "Living Black & White™."

I must say that this is obviously a hard thing to do, to let go of a character and a genre you've lived with for 30 years, and I admire Mr. Kleinmann for doing so. When Barbara Weinberger made her stunning "red dress" appearance at the end of the show (another Pegasus tradition you have to see to believe), she was obviously moved...and this was at the beginning of the run! I'm sure the final performances will be even more moving, and for the audience as well.

One of the fun things about these shows is that the audience votes at intermission for who they think the murderer is. At the performance I was at, I was surprised that a major character was left off the ballot. In hopes that this was corrected, I won't mention who that was, but there IS a write-in option in case it hasn't been fixed. (And no, I won't tell you who I voted for.)

If you've seen a Black and White before, go again. If you've never seen one, GO! There's a reason It's Beginning to Look a Lot Like Murder! is my favorite of the ones I've seen, and I strongly encourage you to see for yourself why.
---
IT'S BEGINNING TO LOOK A LOT LIKE MURDER!
Pegasus Theatre
performing at the Charles W. Eisemann Center, 2351 Performance Drive, Richardson, TX 75082
Runs through August 7.

Actual days: Thursdays at 8:00 pm, Fridays at 8:00 pm, Saturdays at 3:00 pm and 8:00 pm, and Sunday at 3:00 pm). Tickets are $ 22.00 - 42.00. For info and to purchase tickets, go to http://pegasustheatre.org or http://www.eisemanncenter.com, or call the box office at 972-744-4650.