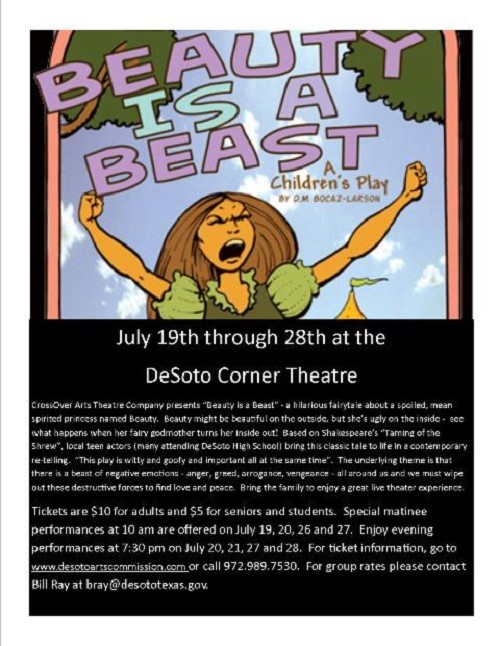 BEAUTY IS A BEAST
by D.M. Larson
CrossOver Arts Theatre
Directed by Dennis Raveneau
Musical Director - Kathi Baker
Technical Director - Mark Pearson
Costume Mistress - Christie Hernandez
Stage Manager - Sherry Hurne

CAST - some roles are double cast

Kayla Adams - Fairy
Sydney Hewitt - Beauty/Lady
Jasmine Washington - Honor
Davian Jackson - Nick
LaDarius Walker - Andres
Dominique Hunter - Page
Joshua Mitchell - King
Lossiebeth Hudspeth - Queen/Sam
Nia Delmast - Jill/Julie
Audrey Nida-Best - Jackie
Tomisin Ogunfunmi - Scribe
Clifford Cummings - Tutor/Tim/Dancer
Halim Muhammad - Mayor
Mimi Diallo - Molly
Jayla Lane - Sarah
Destinee Penelton - Sally
Tony Contreras - Guard/Joe
De'Aris Canning - Guard
Maya Pearson - Janie/Dancer
Gabriella Reyes - Gypsy/Patty
Rickey Hewitt - Jimmy/Servant
Skylar Moore - Mandy/Servant/Dancer
Francesca Nelle - Cindy
Kristin Raveneau - Musician
Josef Mangon and Yasin Wright - Dancers
---
Reviewed Performance: 7/19/2012
Reviewed by Mary L. Clark, Associate Critic for John Garcia's THE COLUMN
Driving on a hot, muggy Texas summer day, the thought of magically traveling to a faraway place in fairytale land was most inviting. Surely a mythical kingdom would have cool breezes blowing throughout the land, the forest trees and the palace flags.

With that dreamy idea planted firmly in my mind, I headed south to the land of DeSoto, there to behold a youth-filled musical, part fairytale, part urban, all fun.

Crossover Arts Summer Theatre Program (CAST) is a free, six-week intensive workshop with an emphasis on performing and production. All aspects of a professional theatre are taught to children and young adults, grades 6-12. The workshop concludes with a production running for two weekends. This year, forty students are presenting Beauty Is A Beast by D.M. Larson. Their website says this musical is based on Taming of the Shrew but other than Ms. Beauty being an intolerant, hateful young princess, and a young man who can see her real beauty, the similarity is vague. In classic fairytale form, the King and Queen have two daughters, Beauty and Honor, who both live up to their name royally. Beauty knows she's . . well . . beautiful and let's everyone within hearing distance know it. Honor is kind and only wants the best for her family, including Beauty, and the peasants of the kingdom of Callentine. Enter Fairy, a godmother of sorts who turns Beauty ugly on the outside and beautiful inside in an attempt to show her the errors of her way. This is a great lesson story for anyone, and at my performance it was standing room only with kids and adults from summer youth programs and church groups. It was obvious they all loved it. I hadn't seen the script but can imagine that some of the lines, like "You ugly", "Whatever", "That's not nice" and that finger snap wave were either adlibbed in rehearsal or in the performance.

Being opening day, there were the typical missed and incorrect lighting and sound cues and some acting cues you could drive the proverbial truck through. Director Dennis Raveneau was a nervous "new father", running back and forth through the side blacks to take care of any number of problems, whether we realized them or not.

The opening set had a "Sesame Street" look with townspeople watching the goings on outside the palace through their house windows. Changes to the palace ballroom or a peasant family's home were accomplished with free-standing walls and set pieces. Fairy's home was a side stage arbor of tree branches.

Costume Mistress Christie Hernandez nicely blended street clothes with fairytale costumes to separate royalty from the townspeople. Beauty and Honor's last gowns were truly gorgeous and the two princes looked rather gallant. Lighting was full of hits and misses, with a big error in not illuminating far stage right so that two scenes, one that was probably really funny, were completely in the dark. A real shame as one young man was acting up a storm over there. Also, little thought was given to the wide range of skin hues onstage and the actors wound up walking into color filters of red and deep ochre, dramatically changing their skin tone time and again.

Now as you can probably tell, Beauty Is A Beast is a pretty simple story of a young girl finding out what true beauty is and the importance of being kind to others. However, in this day and age, that story might not hold the attention of such a group as was in the audience that morning. But with the able assistance of Musical Director Kathi Baker, these young people sang and danced to the songs of current day artists such as Beyonce, Lady GaGa, Stevie Wonder, Coldplay and Brian McKnight. It's during these songs and dances that the actors came alive and felt most comfortable on stage. I suspect they had a huge part in the music selections and dances. However, the songs many times brought the story to a halt rather than enhancing it. Each was far too long and Baker failed to keep her young audience in mind. A verse from each song or, if the singer highlighted the ending, then a bridge and the last verse would more than suffice. The story would be supported, the actor would have their moment and the audience would not be talking and squirming before the song was finished. Choreographer Austin Nguyen, a student at Booker T Washington High School for the Performing and Visual Arts, led his dancers to moves not too far unlike those on So You Think You Can Dance.

It is important to note that not all students were chosen to perform onstage but were essential to the making of their own production. From Margaret King and Sarah Hoelting as Costume Assistants to Dalia Lopez as Apprentice Technical Director to Stephen Raveneau with set Construction and sound, every one of the members of the arts program used their talents to create a solid piece of theatre.

Somebody has to play the characters however, and in this group there were several standout performances. Kayla Adams commanded the stage as Fairy who both narrated the story and used her magic to help Beauty see the truth. Actually, Adams had the acting and vocal ability to command attention even more, not to grandstand but to lead the audience into the fairytale world. Jasmine Washington made a lovely and soft-spoken Honor, perfect for her character, but her solo song was diminished as her microphone was not on or too low. The audience respectfully kept still and you could tell she had a lovely voice, just too quiet.

Both Clifford Cummings as Tutor/Tim/Dancer and Halim Muhammad as the Mayor were a couple of hambones up there, gesturing and grinning, but all in character, and the audience laughed loudest when they came onstage. Dominique Hunter made a very dignified Page, announcing the royalty at different events. But it was his pratfall down the stairs that made the audience gasp and then laugh as he rolled around on the floor. Quite the stunt man and quite the scene stealer!

Beauty was played by Sydney Hewitt and her performance ran the gamut of emotions from haughty and rude to confused and questioning to grateful and loving. Hewitt built these emotions at the proper time and level, never overdoing any one area of the character's transformation to her true beauty. She also had a lovely vocal quality but, again, was too soft and quiet which is confusing since she had no trouble vocally when yelling to her sister, peasants and anyone else in her way!

Two actors had smaller roles but were big on talent. Andres, the prince who was temporarily blinded by Fairy, was played with skill, body presence and tremendous humor by LaDarius Walker. Regally attired, he bumped into walls and fell up stairs to gales of laughter and while I felt awkward laughing along, he really was funny and not in a condescending way. I was even more impressed with Davian Jackson as Nick. Yes, this is a children's musical and it's silly and funny but this young actor stayed true to his role and gave an outstanding performance as the young man who fell in love with a simple young girl who was turning into the beauty she was meant to be. His comedic timing was impeccable and he stayed in the moment onstage from the first to the last, never overplaying his character or falling back into being Davian. A graduate of DeSoto HS, his bio says he hopes to attend American Musical and Dramatic Academy in Los Angeles. They would be lucky to have him.

This production is quite a feat for these young people. I have no doubt that with each performance, the mistakes will lessen or vanish and they will have had a truly meaningful experience. Beauty Is A Beast is a tale with a moral lesson to be told and heard. And as we know, children sometimes learn best taught in ways they can understand and enjoy. Any child you know, age 6 to 16 will enjoy this production. They'll see actors they recognize as being like them, a fairytale they'll also recognize and music they will enjoy and sing to - and clap and stomp their feet to! As for the younger crowd, one child in the audience summed it up quite distinctly when one of the characters was betting another to "do it for a kiss", to which the child yelled out "Ickk!" That pretty much says it all - in life you either have to go for the kiss or go for the ick, but by all means take your family and go see Crossover Theatre's summer production of Beauty Is A Beast - I bet there's at least one person in your life that might just see themselves in one of the characters OR maybe see themselves being up there on that stage one day. You just never know. . . .
---
BEAUTY IS A BEAST

Crossover Theatre
DeSoto Corner Theatre
211 E. Pleasant Run Road
DeSoto, TX 75115

Very limited run through July 28th

Saturday, July 21st at 7:30 pm; Friday and Saturday, July 27 and 28th at 7:30 pm.
There are special morning performance: Friday, July 27 at 10am.



Tickets are $10.00 for adults and $5.00 for seniors/students. Group rates are available by emailing Bill Ray at bray@desototexas.gov.

For information go to www.desotoartscommission.com or call 97