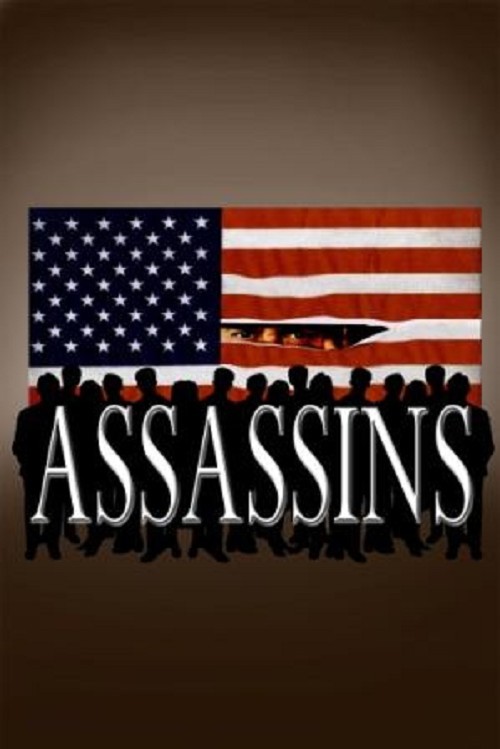 ASSASSINS
Book by John Weidman
Music and Lyrics by Stephen Sondheim
Based on an idea by Charles S. Gilbert, Jr.
ONSTAGE in Bedford
Directed by Terry Hagar-Scherer
Music Director – Chelsea Coyne
Scenic Designer – Charlotte Newman
Lighting Designer – Michael B. Winters
Costume Designer – Derek C. Whitener
Video/Designer – Chris Robinson
Sound Designer – Kenny Green
Choreographer – Eddie Floresca
Properties Design – Emma Bayne, Jo Anne Hull, Briana Lopez
Stage Manager – Kass Prince


CAST:
Jordan Justice – Balladeer/Lee Harvey Oswald
Craig Boleman – Charles Guiteau
Spencer Laboda – Giuseppe Zangara
Ben Phillips – John Hinckley
Nick Moore – John Wilkes Booth
Travis Ripley – Leon Czolgosz
Kiley Pearson – Lynette "Squeaky" Fromme
Mike Hathaway – Samuel Byck
Caroline Rivera – Sara Jane Moore
Scott Bardin – The Proprietor
Kylie Arnold, Matthew E. McPherson, Tess Moore, Logan Rodgers,
Will Singleton, Kimberly Smith, Dave Tinney – Ensemble
MUSICIANS
Galean Dean Peiskee, Jr. – Piano
Randy Linberg – Percussion
Cory Curvin - Synthesizers
---
Reviewed Performance: 7/19/2013
Reviewed by Mary L. Clark, Associate Critic for John Garcia's THE COLUMN
Never one to take the easy road, Stephen Sondheim's original, disturbing and alarmingly funny musical, Assassins, tells the brief stories of nine people who killed or attempted to kill an American president. It was not widely received during its many incarnations, and theatres today seldom produce Assassins, not only due to the subject matter but because of the feeling that it promotes the assassins, especially in the wake of our current society's ills. However, the musical focuses more on the why rather than the how, the motivation before the assassination.

In a bold move, ONSTAGE in Bedford put Assassins on their roster, playing during the summer when Shakespeare festivals and lighter fare are the norm. Director Terri Hagar-Scherer took on this small, complex musical revue, speaking of her love of challenging, edgy theatre in her program notes. This production was neither, however, and with the exception of two or three good performances it failed to achieve an emotional impact or the underlying glimpse into what made these people tick.

At the very top of a list of problems is the use, or misuse in this case, of the weaponry each of the nine brandished. Each gun or rifle was appropriate to their time period, but instead of firing real blanks the director chose to simulate the noise with recorded sound effects of gun fire. Making it worse, the sound most often came from the opposite side of the stage from the object. Even the cocking of their weapons in "Gun Song" was recorded. If a theatre company is going to produce Assassins, you MUST fire the weapons live onstage. The whole idea is to unnerve the audience to the violence of the people's actions. Otherwise, why in the world would you attempt to stage the piece?

Starting with the set design, Charlotte Newman kept everything simplistic, taking into consideration the time periods within the musical. Newman relied on an upstage projection screen to convey locations and crates moved around for seating. A rather large Seal of the President of the United States was painted by Scenic Artist Sergio Turrubiartes. Set in the middle of the stage, it was never referred to and more often than not covered by the crates or groups of people. A shame as it is the very symbol these assassins are railing against.

Chris Robinson's video design set the location or tone for each scene. Projecting a section of the American flag during preshow, they then revolved from Abraham Lincoln to Ronald Reagan used for target practice, red bull's eye included. I particularly liked the black and white turn of the century street riot illustration transitioning into a quiet street/alley intersection where Emma Goldman encounters Leon Czolgosz, the assassin of President William McKinley. The video of passing street lights in the night added needed movement to a car drive.

Lighting was an unfortunate mash up of badly focused instruments and strange colors. LED instruments are common place in theatres now but the block or coil patterns hung upstage were directed into the audience, making us stare into glaring shades of hot pink, baby blue and tropical orange/yellow. Far left, right and upstage remained dimmed throughout the entire performance. Only downstage specials kept the solo numbers lit. Notably, the electrocution lighting effect was appropriately long and unnerving.

Aided by Fort Worth Costume, Derek C. Whitener's design was fairly generic, showing just enough to set the time period and a hint of the personality of each character. Of note were John Wilkes Booth's rich brown suit with long coat and vest, and the turn of the century off-white dresses and hats and men's suits with straw boaters. The wigs didn't help the actors any and McKinley's brief appearance was marred by shiny adhesive tape visibly seen around his beard. Hinckley's polyester pants were painfully tight, making me uncomfortable just looking at them.

Kenny Green made some fun, message-laden choices with his preshow music. Flowing from "Yankee Doodle Dandy", "God Bless America" and "God Bless the USA" to "When Johnny Comes Marching Home", "We Shall Overcome" and "Blowing in the Wind", each depicted both a time and the emotions of our country when those songs were sung. The guns real or looked as though and the assemblage of food, odd objects coming from Sara Jane Moore's tote bag and other small items would keep any properties person busy before, during and after the show – I know this all too well! In one scene, a bottle is to be nonchalantly thrown away and broken so that Leon Czolgosz can sing on how many men it takes to make that bottle. The bottle does not break, making the line nonsensical and the song not work.

Three musicians playing piano, synthesizer and percussion make up the band. Placed offstage, they were just audible enough to assist the actors/singers but not much more. And here is the second on my list of problems. The music, as played and directed by Chelsea Coyne was unbelievably slow. Sondheim's music is all over the place with difficult rhythms and equally difficult lyrics. Except for "The Ballad of Booth" and "The Ballad of Guiteau", most were set in 4-4 time, plodding and unexciting. The only piece that should be somber is "Something Broke". Knowing the vocal talent of some of the cast members, I cannot imagine the fault lay with them.

Slow, lethargic music can spill over to even slower scenes and each scene for this production began at a crawl, adding over ten minutes to a ninety minute script. There was zero energy onstage, especially during the opening number, and an eighteen-wheeler could have fit through the space left between cues and scene changes. In a musical about misguided individuals who turned to violence for reaction or retribution, a lack of energy and emotion is the last thing you want.

Eddie Floresca's choreography was nicely standardized to reflect a brief cakewalk reel or simple side-step moves as the assassins brandished their guns in unison.

Much of the singing was also lacking in energy and many of the singers could not sustain their holding notes adequately. The seven singer/actor ensemble is only used sporadically through the revue until their shining moment in "Something Broke". Beautifully sung with clear, rich vocals, the song tells of the end of the dream our country had and you could feel the sorrow from each singer. The song had the Sondheim stamp all over it and was a true highlight of the production, unfortunately coming so late in the musical.

Direction wise, some of the actors understood their character's thought process and angst, and some did not, dearly affecting the musical. Staging was sporadic and ineffective for the most part, groups of people clustered here or there, blocking each other from audience view.

The opening scene and number was a bit underdeveloped, the nine meeting at a fairground's midway, a carney Proprietor leading each to their destiny when their turn comes. Many times my eye was led to the wrong part of the stage or to unnecessary business between actors that took focus from the main action and too much action was delivered offstage, confusing the issue even more.

Nick Moore as John Wilkes Booth was a delight to watch, this tall lanky dark-haired actor who resembled the famous actor and spoke as Booth probably would have. Moore used Booth's apparent flair and flamboyance to great advantage. His buttery Maryland accent was good enough to distinguish him from the others as a man of learning and culture. Moore understood Booth's urgent nature and his voice during "The Ballad of Booth" was full, dramatic and a highlight. Moore had one of the best laugh lines of the night, and one of the few, when he tried to console the ailing and complaining Zangara by saying, "Have you considered shooting Roosevelt?"

Spencer Laboda's role of Giuseppe Zangara, who attempted to murder President Roosevelt, is not as fully developed as others but he shone in his song with the ensemble "How I Saved Roosevelt". He sang well but had some difficulty with control. Singing while in the electrocution chair was truly riveting.

During "Gun Song" and "The Ballad of Czolgosz", Travis Ripley had solo moments that filled the theatre space. His rich baritone vocals in combination with his character's East European accent left an indelible impression of strength and fortitude from the immigrant laborer who assassinated President McKinley. Ripley's characterization was one of the few to help you understand his character's motive, his choice.

Neither Kiley Pearson as Lynette "Squeaky" Fromme nor Ben Phillips as John Hinckley had a good handle on their characterizations. Pearson's Fromme was angry at anything or anyone who could not envision the glory of Charlie Manson. The real Fromme was an easily manipulated naive young woman, turned extremist. The hows and whys never surfaced in this character, Pearson's only reaction being to speak loudly. Hinckley also went down the rabbit hole of confusing volume for emotion. Weak vocally, their duet "Unworthy of Your Love" showed none of the irrationally obsessive nature the actual two held that led to their crimes.

On the other hand, Craig Boleman went all crazy on us in his role as President Garfield's assassinator, Charles Guiteau. Energetic, funny and using Guiteau's obvious insane nature to play him for all he's worth, Boleman gave a worthy portrayal of madness, sometimes heading towards caricature. Boleman has a fine tenor voice that worked well during "The Ballad of Guiteau", a combination of gospel evangelism and vaudeville minstrel. I felt sorry for the actor when a Trojan horse of a hanging gallows was rolled out while he continued to sing downstage. He used the stairs to great advantage though, dancing sideways up and down them like Fred Astaire as Guiteau's time grew near.

Sara Jane Moore, a shallow middle age woman with no direction, attempted to kill Gerald Ford on a whim. Caroline Rivera has great comedy timing and played her scenes like a dim-witted sitcom housewife. She dominated the scenes with Fromme. Rivera has no solo number but her moments in the ensemble songs were solid and her voice full of life.

The most difficult character to grasp is Samuel Byck, who attempted to kill President Nixon via a jet through the White House. Byck has another of the laugh lines of the show when he announces, "It's gonna make the news!" For Mike Hathaway, the role doesn't give him much depth with which to work but his Byck has all the necessary qualifications for mental disorder. He has long been deep in his own world, wearing a Santa suit to picket and sending ranting cassette tapes to celebrities, reviling them when they don't call. Hathaway too has no solo number but added an aura of distain and discontent to his every scene.

Balladeer's design is to narrate the transitional scenes and keep the action flowing. Jordan Justice made a nice Balladeer, moving across stage or leaning on the arch in song to support each main character within their story. Though his voice was soft and a bit quiet, it worked for his character. The third of my biggest problems came with Director Hagar-Scherer's decision to allow the same actor to portray Oswald as written in John Weidman's script casting. With the exception of maybe Booth and Hinckley, most people do not know what these assassins or attempted assassins look like. I dare say the vast majority of the people on this planet know Oswald's face and Justice simply does not look like him. The intense, climactic scene on the sixth floor of the Book Depository as Booth and the others rally Oswald on to his destiny was completely wasted since you could not believe the main character. Dividing the role would have been the wisest decision to save this dramatic scene. As is, it still holds power in showing how easily Oswald was manipulated to his fateful end. After all these years I found myself choking up watching the famous Zapruder film, Kennedy's funeral procession and a saluting John John projected across Oswald's white T-shirt.

Sometimes good performances are enough reason to go see a play or musical. ONSTAGE in Bedford's Assassins has those. They also have an ensemble of actors that seem dedicated to bringing this rarely seen work to life. I only wish I had come away with the experience Sondheim and Weidman intended and a better understanding of these conflicted people whose American pursuit of happiness was tainted and whose dreams never fulfilled.
---
ASSASSINS
ONSTAGE in Bedford
2819 Forest Ridge Drive, Bedford, TX 76021
Runs through August 11th
This musical is rated R for language and adult situations.
Friday – Saturday at 8:00 pm and Sunday at 3:00 pm
This production is performed without intermission.
Tickets are $15.00, $12.00 for seniors, students & Bedford
residents, and $10.00 each for groups of ten or more
For information and to purchase tickets, go to
http://www.onstageinbedfo