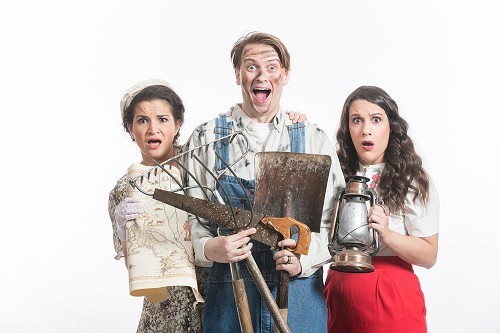 GEORGE WASHINGTON SLEPT HERE
by Moss Hart and George S. Kaufman
MainStage Irving-Las Colinas
Director/Sound Designer - B.J. Cleveland
Producer - Tom Ortiz
Technical Producer - Steven Merritt
Stage Manager - Branson White
Set Designer - Jeffrey S. Franks
Lighting Designer - Sam Nance
Costume Designer - Hope Cox
Properties Designer/Set Dresser - Jo Anne Hull
Master Carpenter - Edgar Leonardo Hernandez

CAST
Mr. Kimber - Neal Gregory
Newton Fuller - Jared Culpepper
Annabelle Fuller - Isabelle Culpepper
Madge Fuller - Caitlin Galloway
Steve Eldridge - Clark Jones
Katie - Dorothy Lynn Brooks
Clayton Evans/Mr. Prescott - Alex Lorenz
Rena Leslie - Leigh Moore
Hester/Mrs. Douglas - Cathy Pritchett
Raymond - Grayson Oliver
Uncle Stanley - Michael McNeil
Lagget Frazer - Justin Eggert
Tommy Hughes - Parker Hill
Sue Barrington - Jamie Patricia Dominguez
Miss Wilcox - Vera Aganmwonyi
---
Reviewed Performance: 7/20/2018
Reviewed by Rebecca Roberts, Associate Critic for John Garcia's THE COLUMN
If you grew up watching the TV Land channel religiously, like I did, you're probably familiar with the Green Acres-style conflict that occurs when you ask small town bumpkins and big city slickers to live together in harmony. Written in 1940, playwrights Kaufman and Hart take advantage of the real estate cliché made popular across small New England towns to instigate the plot of their timeless comedy, George Washington Slept Here. Directed by local favorite, B.J. Cleveland, and starring real life couple, Jared and Isabelle Culpepper, Mainstage Irving-Las Colinas' production of George Washington Slept Here is a lark and a half.

Surprising his wife, Annabelle (Isabelle Culpepper), and daughter, Madge (Caitlin Galloway), with a move from the Upper West Side of Manhattan to a small town in Pennsylvania, Newton Fuller (Jared Culpepper) fulfills a lifelong dream of owning a colonial farmhouse in the country. And it isn't your normal colonial farmhouse…it's a colonial farmhouse that George Washington slept in! (Or did he?) However, being neighbors with a number of colorful townies and dealing with the never ending strains of homeownership was not exactly what Newton had in mind. Even after some classic hijinks, unexpected rainstorms, an unsuccessful love affair, financial discrepancies, and a number of house repairs (and disrepairs), the audience can't help but wonder whether or not they should go out and buy their own New England farmhouse.

Director, B.J. Cleveland, was able to make a 78-year-old play just as enjoyable and relevant as it was when it first opened in 1940. He made great use of the stage, and kept blocking balanced throughout. His staging led to some very elegant Norman Rockwall-esque tableaus, reminding the audience of the simpler days of mid-century country living. However, Cleveland's pièce de résistance was his direction of the final scene in Act 2 – the daunting finale in every classic comedy that wraps-up all the loose ends and somehow manages to bring every character onstage at once. He expertly merged the right amount of chaos and comedy, without overwhelming the audience. And it landed beautifully!

Cleveland also did a good job in casting actors who could take small featured roles and leave some very big impressions. I was temporarily distracted by the contradictory ages of some of the characters, specifically Annabelle and Newton. In the end, I enjoyed their performances so much that I understood his reasoning behind ignoring certain age discrepancies. However, I wouldn't have been opposed to a little gray being added to their temples to age them and clear up a little bit of the confusion. (Every young actor eternally cast as the septuagenarian in their high school theatre production probably just shuddered at the memory of being immersed in baby powder and silver hairspray clouds.)

Jared and Isabelle Culpepper (as Newton and Annabelle Fuller, respectively) led the play remarkably well as husband and wife (both on and offstage). Newton's eternally optimistic attitude about country-living – even when surrounded with nothing but bills and ceaseless tribulations – was portrayed by Jared commendably. His enthusiasm in each scene kept the play from ever dragging. And his facial expressions and moments of physical comedy were a true hit. Conversely, Annabelle had to act as the foil to Newton's over-the-top zeal, for a majority of the play. And while Isabelle did just that (in a very admirable manner), her performance wasn't overly compelling until Act 2. When husband and wife were no longer at odds, but on the same team in their attempts to save their home, Jared and Isabelle's real life chemistry shone through beautifully. Isabelle was able to get perfectly in-sync with her husband, showing incredible character growth and adding depth to a play that didn't necessarily call for it (but is made all the better for it).

Caitlin Galloway played Madge Fuller with a youthful exuberance that almost made you forget she looked more like Annabelle's sister than daughter. Midway through the show, Madge meets a seasoned actor who she quickly falls for, leaving adorable boyfriend Steve Eldridge (Clark Jones) out to dry. While this sordid love affair mainly occurs offstage and doesn't totally make sense, having an additional plot that takes place in the background of the main plot (without focusing on it) rounds out the show and really keeps things interesting! Both Galloway and Jones were delightful to watch, and definitely endeared themselves to the audience.

There were a number of supporting roles that definitely stood out. Neal Gregory as Mr. Kimber was consistently funny – perfectly characterizing the small town farmer. His eternal state of glass-half-empty sensibilities came across through Gregory's sleepy performance, making his enthusiasm toward day drinking and home destruction in the final scene even more enjoyable. Another stand-out performance was from Leigh Moore as Rena Leslie. Her comedic line delivery was unfailingly spot-on, and she increased the energy of every scene in which she appeared. And again, her performance in the final scene was delightfully charismatic.

Other notable featured performances were: Cathy Pritchett as Hester, conveying quite the defiant attitude through brilliant facial expressions and a lovely musical flair. Dorothy Lynn Brooks as Katie, snarkily stealing her one and only scene. And Justin Eggert as Lagget Frazer, delivering his fairly simple lines in a strongly distinctive manner.

The period costumes conceived by costume designer, Hope Cox, were fairly simple. Most of the time, the dresses, blouses, skirts, and suits were enough to maintain the play's 1940s aesthetic. Newton and Annabelle's costumes were consistently period appropriate and lovely, from scene to scene. Their hair and makeup also worked very well for the time period. However, there were moments where certain costumes did not seem particularly period appropriate. Specifically, I found the leisurewear worn by the young people in Act 2 particularly jarring. While the intended silhouettes were accurate enough, the fit and fabric just didn't seem to match the rest of the play's design. Overall, the costumes did their job of immersing the audience into the 1940s well enough.

Set designer, Jeffrey S. Franks, and set dresser/props designer, Jo Anne Hull, likely had a very symbiotic relationship working on this production. When you have a play that only takes place in a single room, it can be tricky to keep the audience engaged in their surroundings. However, because there was only one set, more attention could be focused on designing and dressing that room. For the most part, I'd say it was done very well. The room was built so that it could undergo quite the transformation during intermission, as well as a bit of functional destruction in the last scene. Though I might have liked to see a few more colonial architectural elements, Franks used the space very well. There were a few prop faux pas that occurred during the show. For example, there was a basket of live flowers brought onstage in Act 1, Scene 2, which were still alive and well for the entirety of Act 2 (which takes place months later). I was also distracted by a pot that was accidentally broken onstage, but remained shoved into a corner for the rest of the show (even after several scene changes). However, overall, the furniture, décor, and art chosen to decorate the farmhouse were selected very well, and really rounded out the farmhouse aesthetic.

Sound designer, B.J. Cleveland, carefully crafted a lovely playlist of house music, which succeeded in placing the audience in a 1940s mindset. In the opening scene, there were several crashes that sounded as though they came directly from the offstage kitchen that they were apparently occurring. However, later on in the play, when similar types of crashes were supposed to be occurring offstage, the sound seemed to be coming from an ambiguous location. This made it unclear where the noises were actually supposed to be coming from. I would have preferred a more consistent emission of sound effects from the correct locations on and offstage. That said, I also really enjoyed the opening of Act 1, Scene 2 where the scene change music continued on into the scene, as the characters were cleaning and setting up their home – a well-directed montage-style scene opener.

Lighting designer, Sam Nance, lit the stage well and consistently throughout. But Nance's very literal moment to shine (is that too on the nose?) was during the storm at the end of Act 1. There were several well-chosen lighting effects to signify the growing storm outside. While I might have liked to see the transition occur a little faster (and at equal level with the accompanying sound effects), at full force, the storm was very visually exciting. And when the power and lights were supposed to go out in the farmhouse, they went on in the audience – ensuring the stage was still visible for the scene's final lines, while also signifying the start of intermission as the curtains closed. I also enjoyed the final moments of lighting at the end of the show – a spot on the lead couple as the chaos around them dimmed and diminished, leaving the audience with the perfect tableau of husband and wife comradery as the curtains enveloped them.

Seeing the opening night performance of this play made for a very enjoyable evening, and the cast and crew should be very proud of their hard work. So, walk away from that recliner you have parked directly in front of the TV Land channel and, instead, go see some of those classic small town hijinks live! Support local theatre and head over to MainStage Irving-Las Colinas' production of George Washington Slept Here.
---
GEORGE WASHINGTON SLEPT HERE
Irving Arts Center, Dupree Theatre
3333 N. MacArthur Blvd.
Irving, TX 75062

Plays through August 4th.

Fridays and Saturdays at 7:30 pm; Sundays at 2:30 pm; Thursday, August 2nd at 7:30 pm.

Tickets range from $21-28 on Friday-Sunday, or $19-25 on Thursday, August 2nd.

For more information and to purchase tickets, go to www.irvingtheatre.org or call their box office at 972.252.2787.