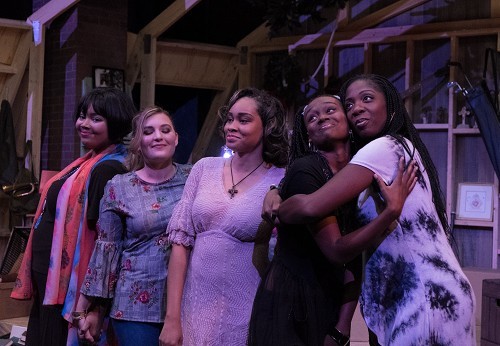 SISTAS THE MUSICAL
By Dorothy Marcic
Musical Arrangements by Germono Toussaint
Jubilee Theatre
Directed by D. Wambui Richardson
Musical Direction by Clark Joseph
Assistant Director – JuNene K
Stage Manager – Cherie Williams
Assistant Stage Manager – Aaron Butler
Choreographer – JuNene K
Costume Design – Andre Terry
Scenic Design – George Miller
Technical Director – Allen Dean
Scenic Artist – Jennye James
Light Design – Lindsay Silva
Sound Design – Adam Balley

CAST
Dr. Simone – Octavia Thomas
Roberta – Kimberly Billins
Heather – Kaylee Killingsworth
Gloria – L'Paige Bedford
Tameka – Sydney Hewitt

MUSICIANS
Keys – Steven A. Taylor
Bass – Joseph Love
Drums – Josh Willis
---
Reviewed Performance: 8/1/2019
Reviewed by Chris Hauge, Associate Critic for John Garcia's THE COLUMN
Last Thursday night Jubilee Theatre rummaged through the attic of a deceased loved one's house and discovered a gem of a show. Fronted by the talent of Octavia Thomas, Kimberly Billins, Kaylee Killingsworth, L'Paige Bedford, and Sydney Hewitt, "Sistas The Musical" is a thought-provoking journey through African American History and a look at the status of African Americans and women in present day society. And along the way we were treated to wonderful songs that explain the pain and express the frustration and joy these women have experienced in their lives. It is a delightful journey.

Scenic Designer George Miller has presented us with a perfectly cluttered attic, with a Christmas tree hanging from the rafters, and stuffed with boxes and old suitcases and the memories of deceased relatives. Into this world come sisters Dr. Simone (Octavia Thomas), Gloria (L'Paige Bedford), and Roberta (Kimberly Billins), along with white sister-in-law Heather and Simone's daughter Tameka (Sydney Hewitt) to clean up the house before the funeral of their Grandmother. Along with the cleaning duties, the women also must decide what song they want to sing at the service, and this search leads us from the past to the present time with songs bursting with pain and joy and faith and hope. And the cast assembled by director D. Wambui Richardson is not afraid to embrace those feelings with every fiber of their souls.

Any of you who have read previous articles of mine know that I am somewhat picky about the pace of a show. Quick line pick-ups are almost a religion to me. And there are some of those issues in this show and they will probably resolve themselves as the run continues. But there is so much heart in this show that it feels like nit-picking on my part. And I left the show thoroughly entertained. So, sometimes feeling trumps technicalities.

The trio of musicians, Steven A. Taylor on keyboard, Joseph Love on Bass, and Josh Willis, can play anything. A look at the list of musical numbers in the program shows you the broad range of range of music they perform throughout the night. From the Blues ('My Man', 'God Bless The Child' and the haunting 'Strange Fruit'), to 60's and 70's ('Sweet Talking Guy', Baby I'm Yours', 'R.E.S.P.E.C.T.' 'I Will Survive', 'We Are Family'), to more contemporary pieces ('Milkshake', 'Single Ladies', 'I Am Not My Hair'), the band plays it all with style and ease.

Director D. Wambui Richards takes full advantage of the set and arranges very appealing stage pictures. The choreography by JuNene K is simple but ably compliments the various eras of the songs. Her work on the 60's numbers, where the women just happen to find five sequined dresses and five pairs of white gloves in a trunk, is especially fun.

The parts, written by Dorothy Marcic, are more types than fully fleshed out characters. Dr. Simone is the sister with the doctorate and is struggling to raise a teenaged daughter as a single mother. Roberta has been traumatized by men and by society and greets life with angry cynicism. Gloria is the sister that has embraced the faith of her youth and uses it to brave life's storms. Heather is married to the sisters' brother and ends up being a stand-in for white society and sometimes comes across as unaware of the plight of African American women. And as the symbol of teenage rebellion, Tameka just wants to get away from these women and be with her boyfriend. The cast fleshes out the bones of these people with skill.

As Dr. Simone, Octavia Thomas embodies the strength of a woman who achieved much in her life yet still longs for more. Her singing voice is not the strongest of the group but the emotion she delivers is real and touching. Ms. Thomas has a stage presence that draws your attention to her, making you listen to what she is saying. You just know that what she says will be important.

Roberta is all pain and anger dressed in sarcasm and Kimberly Billins is not afraid to embrace those feelings. Her singing can go from lyrical to sassy at a moment's notice. Ms. Billins can make you laugh with delight and then can lead you through the valley of the shadow of death, as she did with her interpretation of "Strange Fruit", which was a highlight of the show. And her revelation of a major trauma in Roberta's life was so real and heartbreaking. Ms. Billins does a grand job of acting.

As faith has sustained many African Americans through hardship, so the character of Gloria is strengthened by her trust in God. L'Paige Bedford show us Gloria's strength with grace. Her singing, especially on the Gospel numbers, makes you believe that everything she sings about is the truth. Every now and then Gloria would catch herself indulging in dance move a little too racy for a church lady. Ms. Bedford looks like she's having a great time on stage and her joy is infectious.

In some ways, the part of Heather, played with assurance by Kaylee Killingsworth, is a bit of a straw person. Some of her seemingly clueless lines give you the feeling that Heather has just become a part of the family, when in fact, she's been married to the brother for five years. There are times when white society is justifiably disparaged by the other women in the room and there is a collective 'Sorry Heather!" from the other women when such remarks are made. But Ms. Killingsworth gives depth to what could be a thankless role and makes herself and indispensable part of the show.

What can I say about Sydney Hewitt as Tameka? From the moment she comes into the attic and begins singing 'Milkshake' and dancing with complete abandon, she captures the audience completely. Ms. Hewitt is a natural performer with singing voice capable of anything. With wonderful facial expressions and an irrepressible attitude, Sydney Hewitt is an absolute delight to watch.

I made a promise as I left the theater Thursday night, so I now make good on it. I wish to thank the beautiful and friendly volunteers at the Jubilee Theatre. I won't name anyone specifically as to not sow dissension in the ranks. So, thank you to all the courteous and lovely volunteers who were an essential part of a wonderful evening.

Jubilee Theatre has produced "Sistas The Musical to provide audiences with an evening of thought, emotion, and, most of all, song. They have succeeded magnificently. Please come and see it.
---
SISTAS THE MUSICAL
Jubilee Theatre
July 26 – August 25, 2019
Thursday – 7:30 PM
Friday & Saturday – 8:00 PM
Saturday & Sunday Matinee – 3:00 PM
506 Main Street, Fort Worth, Texas 76102
For tickets and more information please call 817-338-4411
Or visit on the Web at www.jubileetheatre.org