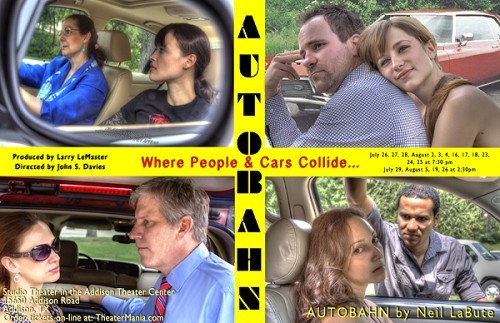 AUTOBAHN
by Neil LaBute
Totally Wow Productions
Directed by John S. Davies
Set Design - Rickey and Cindy Crenshaw
Media Design - Ryan Flores


CAST

"Funny" - Delaney Beckman & Ivy Opdyke
"Bench Seat" - Ashleigh Domangue & Andrew Worley
"Merge" - Larry D. LeMaster & Delanie Bitler
"Road Trip" - John S. Davies & Cindy Muerthe
"Long Division" - JP Frank & Dustin Sautter
"Autobahn" - Heather Child & Danny Evans

---
Reviewed Performance: 8/3/2012
Reviewed by David Hanna, Associate Critic for John Garcia's THE COLUMN
Anyone living in the state of Texas understands the need for cars. Getting from Dallas to Fort Worth requires a 45 minute drive across several freeways, most of which are continually under construction. Getting from place to place requires a car, even if you happen to live in downtown Austin, Dallas, or Houston. Texans spend a significant portion of their day sitting behind the wheel, moving through the world while confined to a space not much larger than our own body. Texas is dominated by cars with drivers who are expected to maintain control of a three-thousand pound machine while dealing with any number of problems in their everyday lives.

Author Neil LaBute chooses this environment for Autobahn, a seven-play cycle that explores the intimacy and dichotomy bred by the relationship between cars and people. LaBute's work is already hailed as some of the best playwriting of the new millennium. In plays like The Mercy Seat, The Shape of Things, and Fat Pig, LaBute blends the hyper-realistic, rhythmic style of David Mamet with tragic irony that rivals that of Sophocles' classics. Autobahn is no different, as each of the short plays thrust the audience into the middle of a conversation between two people in a car. Over that car ride, an ironic twist is revealed that completely shifts the audience's perspective on the characters, with each line drenched in subtext.

Because of the intimacy of the setting, LaBute is able to scrape away layers of pretense and expose his characters' raw and unfiltered lives. The characters have no names, and there's no reference to location; LaBute wants these stories to be open to interpretation, unfolding right before our eyes. Despite each play lasting no longer than twenty minutes; the playwright is able to tell complete stories without forced exposition. Though the plays are only connected by their setting, the pieces flow together extremely well. Autobahn is a lesser-known gem from LaBute, unique in its structure but steeped in his sense of realism and powerful irony.

Totally Wow Productions' performance of Autobahn at Addison Theater Center's Studio Theater takes a minimal approach that maintains the intimacy of LaBute's script and plays into his sense of dialogue. Director John S. Davies maintains the intimacy of the black box theater, using a projection system to show scenes of winding interstates, side streets, and crowded freeways to fill the space, while two car seats and a steering wheel are attached to a single, revolving set piece. Davies makes everything about the car, using limited media only as a subtle addition to the realism of the scene. The approach is vital to the tone of the show and serves the play well.

That minimalism is also present in the performances, which can be refreshing or frustrating depending on the scene. The cast doesn't overact, allowing scenes to unfold as the playwright intended. In some scenes, though, that understatement crosses into underwhelming portrayals. In 'Merge', Larry LeMaster is a husband trying desperately to understand a mysterious and dangerous encounter his wife had with two men. Deliane Bitler plays the wife nonchalantly, as though what happened was no big deal. It's obvious the character is hiding something, but the audience is asked to believe her husband never catches on despite how blas' she is about the entire affair. While trying to keep their performances grounded in the text, Bitler and LeMaster undermine the believability of the scene and hurt the momentum of the show.

Understatement serves other scenes perfectly. Ashleigh Domangue and Andrew Worley are hilarious in "Bench Seat", dealing with the stress and baggage of new relationships. It's not a perfect performance but the two have a quirky chemistry that makes the awkward tension between them very real and very funny. They also play the scene absolutely straight which only enhances the laughs as the scene goes along.

The best performance of the night belongs to Director John S. Davies, who performs in "Road Trip" alongside actress Cindy Meurthe. It's impossible to describe his character without giving away the plot of the story. Yet his performance is so balanced and nuanced that it almost made me leave the theater or physically intervene. He takes a vile character and imbues him with understated charm and darkness that forces you to watch him even as you want the scene to end. Sometimes the best performances aren't those that we enjoy, but those that make us feel something horrible. Davies is perfect in his performance.

Perhaps some of the best performances of the evening were ones that had no lines at all. Three of the plays chosen for Friday's performance are two-person scenes with only one character speaking. The other character is simply present to react to the revelations. Dustin Sautter has incredible sadness in his eyes as a divorced husband attempting to stand up to his wife in "Long Division". Ivy Opdyke is stone-faced with moments of heartbreak as a mother driving her daughter home from an involuntary retreat in "Funny"

The best of the silent performances, though, is from the other highlight of Friday's performance, "Autobahn". In it, Heather Child is a talkative, nervous wife trying to justify a decision to herself while her husband, played by Danny Evans, stews in a mix of anger, sadness, and guilt. Child wavers between anxiety and sadness beautifully, never able to come to a confident decision. It's Evans, though, that is incredible to watch. Though his face seems to be full of derision for his wife, his reactions suggest that there's much more going on inside of him. His acting is completely in his eyes as his hands hold the steering wheel in an uncomfortable and unsettling grip. It's mesmerizing to watch him while listening to Child babble on and his performance sells the scene completely.

The design is limited but specific and tailored to each scene. The revolving "car" set designed by husband and wife team Rickey and Cindy Crenshaw allows for smooth scene transitions. The designers also use different car seats, consoles, and interiors to suggest different types of vehicles - a subtle choice but one that really helps distinguish each scene. Ryan Flores' media design helps fill an otherwise empty space with a large projection of different driving situations. The design is just as minimal and restrained as the performance and direction and serves the show well.

There are two other things about Friday night's performance. First, Autobahn consists of seven plays, yet at this performance the play "All Apologies" was not performed. It appears that the order of shows is subject to change, so what was performed Friday may not be performed each night.

The other consideration is that WaterTower Theatre is currently running a musical in their main performance space and the sound was bleeding over into the Studio during the performance. It's no fault of the producers but it was a major distraction, especially due to the intimate, delicate nature of LaBute's play.

Still, Autobahn is engaging and engrossing enough to make the audience forget about noises in the other room or some slow starts to scenes and occasional acting missteps. This production isn't perfect but like the script, it feels raw and exposed. Autobahn isn't overproduced or overwrought, and there are moments of brilliant acting that beg to be seen. If nothing else, the performance is a chance to see a diverse company of actors performing a unique, relatively unknown work by an incredibly talented playwright. It's a chance to experience the claustrophobic, inescapable intimacy that can only be found in America's favorite mode of transportation - our automobiles.
---
AUTOBAHN

Totally Wow Productions
Studio Theatre
Addison Conference & Theater Center
15650 Addison Rd.
Addison, Texas 75001

Plays through August 26th. This play has adult material and is not appropriate for young children.

Thursdays-Saturdays at 8:00 pm
Sundays at 2:00 pm

Tickets, if ordered online are $15 regular, $12.50 for seniors and $5.00 for students with ID. Walk-up tickets are $20.00 regular, $15.00 seniors or $7.50 students.

To purchase tickets, visit https://web