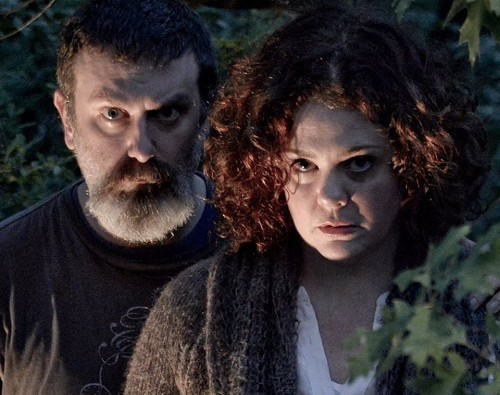 IN A FOREST, DARK AND DEEP
by Neil LaBute
Second Thought Theatre
Directed by Regan Adair
Scenic/Costume/Properties Design – Regan Adair
Lighting Design – Aaron Johansen
Sound Design – John Flores
Stage Manager – Madeleine Morris


CAST
Heather Henry – Betty
Jeremy Schwartz – Bobby
---
Reviewed Performance: 8/15/2013
Reviewed by Charlie Bowles, Associate Critic for John Garcia's THE COLUMN
To suggest Neil LaBute has received mixed reviews is understatement. With thirteen films and twenty-one plays, LaBute is no stranger to awards, such as Sundance Film Festival, Independent Spirit Awards, and New York Film Critics Circle. His work has received treatment by some big stars of stage and screen, probably because he writes meaty roles for actors. He's also no stranger to criticism. Reviewers often criticize his writing and praise his actors.

So why does his work get panned so much? He is often labeled a quintessential misanthrope, that is, someone who distrusts humanity and sees the bad in us all, and he relishes putting characters into the worst situations to see how they fare. His plays are verbose, with terse, colloquial (actually profane) dialogue. His situations are dark, emotionally violent, and difficult for some audiences to relate to. And yet theaters regularly schedule his work.

Such is the case with Second Thought Theatre and LaBute's recent work, In a Forest, Dark and Deep. This play has been panned as much as any, but it's a significant work that fits Second Thought Theatre's mission of "producing intimate, thought-provoking theatre … to make art that … helps spark deep, meaningful conversations…." In a Forest, Dark and Deep sparks conversation.

The story seems simple. A brother and sister meet in a forest cabin which she wants to clean out from a previous occupant. In the course of a long, stormy night they surface long-held resentments and reveal secrets that shaped their lives. Simple, it seems. The truths that come out and their effects become very complicated.

In Bryant Hall on the Kalita Humphreys Campus, Director Regan Adair creates a small one-room cabin with see-through walls with the audience peering through the open ends of the cabin to spy on the characters, perhaps a bit voyeuristically. Amazingly, it is still a substantial set of rustic hard woods, filled with furniture, books, knick-knacks and empty boxes.

As you enter before the show, Betty, played by Heather Henry, sits silently in the set, engrossed in her thoughts, ignoring the audience around her. Henry is in character from the moment the house opens, thirty minutes before curtain, and her melancholy is at once palpable. There is frequent thunder indicating a stormy, oppressive night. There's a radio playing soulful songs on KUCT, College Radio. Songs like "Under the Milky Way" by The Church and weary songs by Jeff Buckley and others fill the room with darkness. Lights go out periodically in the cabin as thunder sounds. Soft blue and green washes the area outside and around the cabin, creating a slightly eerie moonlight in the stormy night, while a dim globe chandelier and soft flickering candle glow in the cabin interior.

Light Designer Aaron Johansen not only sets a visual tone within the set but punctuates it with lightning flashes that sometimes plunge the cabin into darkness. The music and sound effects designed by John Flores create an aural atmosphere that keeps the audience on the edge. Adair's costumes are simple yet quickly suggest the status of the two characters. Betty's black pants inside tall riding boots with a white cover-top and Bobby's loose-fitting jeans and open plaid shirt tell us in an instant who these people could be.

With a short, almost feint, pre-show announcement coming though the thunder and rain, a sudden clap of thunder and a flash of lightning fills the house and in bolts Bobby, played by Jeremy Schwartz. With a long string of profane statements about the weather, the forest and his sister's car, he lights into Betty, who he hasn't seen in some time, and she springs to life to meet his surprise attack with an equally invective response. This dialog quickly becomes a tsunami into violent verbal, and then physical, confrontation. It's immediately uncomfortable and shocking how they interact.

Despite the intense sibling war, I was caught up in the story that unfolded. The loud tirades reveal a story about Betty's secret and Bobby's background that's both shocking and entertaining, like a slow-moving accident people don't want to watch, but get riveted to none-the-less. There is definitely something amiss in the story that's being told, but the outcome is fairly well-hidden until the last, though it's not all that surprising when it's revealed.

Heather Henry walks a fine line between the high-class person Betty wants to be, the past she wants to forget, and the secret she harbors. Henry's hysterics come out of Betty's extreme predicament. She gives Betty a roller-coaster ride of emotions, often dissolving into shock and sobs, a natural choice for someone dealing with that much fear and guilt. Henry finds suitable and acceptable choices for this story and her delivery is powerful.

Bobby, as created by Jeremy Schwartz, is intimidating as an uneducated, street-wise, carpenter. Bobby has his own dark violent secrets which he believes are covered by his own internal sense of morality, allowing him to attack her faults while ignoring his own. Schwartz carries this subtext through the mountains of words he spews until they finally explain what he's showing physically in his demeanor. Schwartz answers this challenge at every moment while rapidly delivering what I imagine to be thousands of words, often overriding Betty's outbursts. Some of his more shocking lines are humorous enough to alleviate the audience's tension for a moment, but most of them come across as ominous and then insightful. It's his words that uncover the secrets and tell the story.

As an actor watching actors work, these are amazing performances requiring all the skills in these professionals' toolboxes. As an audience, it is difficult to watch.

Second Thought Theatre seeks to "capture the moment of creation between artist and audience." What makes it difficult to watch is that the tension starts at level 7 on a 10-point scale of violence, volume and pace and stays high through most of the show. As a viewer, it's exhausting. That "moment of creation between artist and audience" includes helping the audience weather the storm with some variation. Despite this flaw, I liked the story and loved the production designs and actor performances.

In a Forest, Dark and Deep is a substantial piece of work that needs to be seen and discussed, and it takes a director like Adair and actors like Henry and Schwartz to breathe life into this story. The question of what theme is presented is open for discussion but I would suggest it comes from Bobby's accusation against Betty near the end, "You need to believe in that illusion even if you know it's not true." We all have illusions we live with and, to the extent we need them, we may fight to the death to defend them.
---
IN A FOREST, DARK AND DEEP
Second Thought Theatre

Bryant Hall on the Kalita Humphreys Campus, 3636 Turtle Creek Blvd.
Dallas, Texas 75219

Plays through August 31st

Monday and Thursday at 7:30pm, and Friday-Saturday at 8:0 pm

Tixs are $22.50, general seating. Pay-What-You-Can tickets available for the day of performance on Monday, August 19th and 26th at their box office.

For info & tix, visit www.secondthoughttheatre.com or call OvationTix customer service directly at 866-811-4