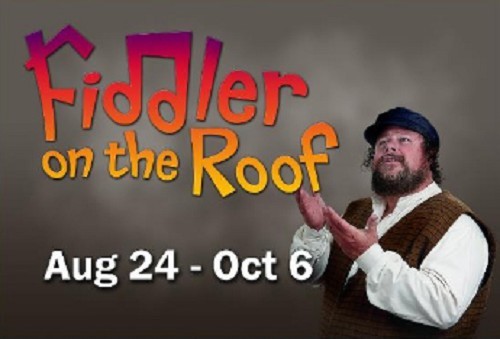 FIDDLER ON THE ROOF
Book by Joseph Stein, Music by Jerry Bock, Lyrics by Sheldon Harnick
Artisan Center Theater
Directed by Eve Roberts
Producer: Dee Ann Blair
Stage Manager: Kelly Jo Scott
Music Director: Richard Gwozdz
Choreographer: Eddie Floresca
Set Design: Eve Roberts
Scenic Painting: Lily Stapp-Courtney
Lighting Design: Kirk Corley
Costume Design: Rebecca Roberts
Props Design: Chris Seil

CAST (note: This production is double-cast. The actors listed below appeared in the reviewed performance.)

Tevye - Billy Myers
Golde - Cheryl King
Tzeitel - Hannah Cooper
Hodel - Kiyomi Sanders
Chava - Morgan Gerdes
Shprintze - Taryn Cates
Bielke - Mary Strauss
Lazar Wolf - James Lash
Motel - Spencer Laboda
Perchik - Jonathan Cooper
Rabbi - John Lattimore
Yente (the matchmaker) - Dorothy Brooks
Mordcha (the innkeeper) - Chuck Ellis
Avram (the bookseller) - Danny Macchietto
Nachum (the beggar) - Coleman Blackmon
Yussell (the hatmaker) - Efren Molina
Mendel (the Rabbi-s son) - Tevin Cates
Shaindel (Motel-s mother) - Sonia Alcala
Grandma Tzeitel - Louise Childs
Fruma-Sarah - Donna Cates
Fiddler - Holly Lackey
Fyedka - Carroll Savage
Constable - Tim Dewhirst
Russian Tenor - Brian Sears
Sasha (Fyedka-s Friend) - Michael Molina
Russian Soldier - Jack Bledsoe

Villa
---
Reviewed Performance: 8/25/2012
Reviewed by Chad Bearden, Associate Critic for John Garcia's THE COLUMN
The shrewdest move on the part of Director Eve Roberts is to have cast, and then opened Artisan's production of Fiddler on the Roof, with the perfect Tevya. A strong opening can set one up for success, and sending out the likes of Billy Myers, all frizzy hair and swarthy charisma, seems like a checkmate before the game has even begun. His booming introduction to turn-of-the-century Russia, Jewish tradition, and the townspeople of Anatevka is effective, and is only bolstered by a rousing rendition of 'Tradition' which introduces the full cast with a nimbly choreographed arrangement that very nearly overwhelms Artisan's cozy theater-in-the-round. Thus begins another engaging and successful production by Artisan Center Theater.

Fiddler on the Roof is Tevya's story to tell. He is a poor milkman with a nagging wife and five headstrong daughters. He acknowledges the importance of tradition in maintaining his cherished Jewish culture which teeters dangerously near the brink of extinction on the eve of Russia's 1905 revolution, like a fiddler perched precariously playing on the roof of a shtetl cottage. He isn't afraid to argue or haggle with Yahweh and is quite liberal in his interpretations and misquoting of the Tanahk. He is the heart and soul of the village of Anatevka and thus a magnet for the community's constant admiration, frustration, curiosity and disbelief. Myers captures all of this, stirring together equal parts wise elder, sly rascal, put-upon victim and clueless buffoon. Tevya is a complicated character and Billy Myers finds him and exudes him and becomes a strong spine around which the rest of the show can more easily be built.

As the play begins to explore the nooks and crannies of Anatevka, several small, but important performances come to light and create a strong sense of community that amplifies the effectiveness of so many of the play's smaller moments. Chuck Ellis as the no-nonsense innkeeper, Mordcha; Danny Macchietto as the exuberant and fussy bookseller, Avram; Efren Molina as the village hatmaker, Yussell; Tevin Cates as the young and earnest Rabbi's son, Mendel; James Lash as the wealthy but lonely butcher, Lazar Wolf: each of these men are given varying amounts of time to make their mark on the play, but thanks to some very effective casting, each character succeeds in establishing that strong impression, with each actor exuding his own unique aura. There is great chemistry among them as well, and the characters' mutual love and irritation for one another is honest and not simply acted.

Also effective are the women in Tevya's life: his wife Golde and their five daughters. Young Mary Strauss and Taryn Cates dutifully portray Shprintze and Bielke, the youngest daughters who seem constantly sidelined by the scandalous decisions of their three older sisters. Hannah Cooper as Tzeitel, Kiyomi Sanders as Hodel, and Morgan Gerdes as Chava, each attack their characters' romantic arcs with believable and distinct passions. And Cheryl King's portrayal of wife Golde avoids the nagging-wife cliche, as King imbues the character with a sad maternal worry for her family that is easy to empathize with even while you're disagreeing with her schemes and designs.

The three suitors of Tevya's daughters are also key to Tevya's progressively serious family crises. Spencer Laboda is particularly effective as the nebbish tailor, Motel, desperate to marry Tevya's oldest daughter, Tzeitel. Laboda's doe-eyed gawking through too big wire-rim spectacles compels you to root for the poor schmuck as he worries up the courage to confront his would-be father-in-law. Cooper's earnest Tzeitel is a perfect match for this gentle, unassuming fellow, and it is the couple's hapless innocence that allows for a lovely moment of self-reflection - Motel studying himself in a mirror, trying on his wedding day top hat - to be the understated climax of his journey to manhood rather than the more obvious verbal confrontation that took place moments before. It is a moment both nicely acted and directed.

The resolution of Tzeitel and Motel's marital crisis is followed shortly by less clumsy but more traditionally dangerous romances with Tevya's second and third daughters, involving the Ukrainian revolutionary, Perchik, and the Christian Fyedka. Jonathan Cooper as Perchik is all naive but fiery radical rhetoric, awkwardly sweeping Hodel off her feet. And Carroll Savage offers a distinctly Russian sternness as Fyedka, who seems determined to explain to daughter Chava that they've fallen in love, forgoing any need to muck up his courtship with physical passion. Both Sanders and Gerdes as the two smitten daughters elevate their performances impressively, as they are each tasked with pivoting from shallow and flighty girls to strong and loyal women. The subsequent confrontations with their father and the resolutions of their romances are given real weight by actors clearly up to the challenge.

Other characters scattered around the periphery of Anatevka add to the strong sense of community. Tim Dewhirst is subtly menacing as the Russian Constable who seems to begrudgingly admire the very Jews whose lives he upends. Dorothy Brooks, whose Texas twang persistently and humorously overpowers her attempt at a Yiddish accent, is fun as the nosy and ineffectual matchmaker Yente. John Lattimore's Rabbi is equally ineffectual, but he is beloved so no one seems to notice. Donna Cates nearly steals the show as the ghostly Fruma-Sarah, gleefully cackling her way through Tevya's playfully sinister Dream. A few awkwardly applied fake beards on some bare-faced extras are a bit distracting in places, but the overall effect of the villagers reinforces that afore mentioned sense of community that saturates the entirety of the show.

In a period play like Fiddler, sets and costumes are of utmost importance, and Director/Set Designer Eve Roberts and Costume Designer Rebecca Roberts both come through commendably. As always with any Artisan show, their arena stage is mostly left bare to accommodate the action of so many actors, and it is the painted backdrops and elaborately designed corner niches that become the most important elements in setting the scenes. Roberts fills those spaces with nice rustic touches to create Motel's tailor shop, Mordcha's tavern, a village barn, and a uniquely elaborate facade to Tevya's home that opens up between scenes to reveal its interior. Roberts's costumes are equally evocative, with a variety of head covers, hats, prayer shawls, scarves, natty overcoats, and such like apparel that suggest the ragged but comfortable state of the village's morale.

And mention must be made of Eddie Floresca's stellar choreography which kicks off the show with the full cast performing 'Tradition' and culminates in the infectious celebration of Tzeitel and Motel's wedding. Floresca cuts loose during this scene, taking advantage of the in-the-round seating to pull the audience into the wedding hall, surrounding viewers with dizzying staging that seems to loop around every avenue the house will permit. It is an electric sequence, with Artisan patrons tapping their feet, clapping their hands and gasping excitedly at the iconic Bottle Dance, performed beautifully by Jack Bledsoe, Tevin Cates, Jonathan Cooper, and Carroll Savage, with no help from clever theater magic. Those bottles are really balanced on their heads. The joy and exuberance from the spectators (both the extras on stage and the audience in their seats), as the young men make it through the routine, is thick and tangible.

The celebration of the wedding scene sums up well the essence not only of the play but also of this particular production. We are here for Tevya's story as everyone gathers for his daughter's wedding, but it all becomes so much more. It is family and community and love and irritation and tradition and progress and joy and sorrow, and as Tevya embodies and shares all of this with the people of Anatevka, the cast of Artisan's Fiddler on the Roof does the same, sending you home with the hope that those wonderful and colorful people you just spent a few hours with make good with their lot in God's plan.
---
FIDDLER ON THE ROOF

Artisan Center Theater
418 E. Pipeline Road
Hurst, TX 76053

This show will run at Artisan Center Theater through October 6th

Monday, Tuesday, Thursday and Friday @ 7:30 pm
Saturday @ 3:00 pm and 7:30 pm

Ticket Prices:
Monday through Thursday - $14.00 general/seniors/students, $7.00 children (12 and under)
Friday and Saturday - $18.00 general, $16.00 students/seniors, $9.00 children (12 and under)
Group ticket prices are also available.

To contact the box