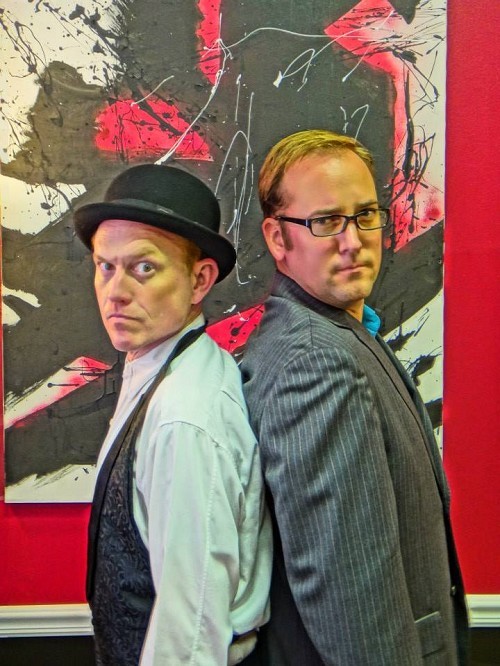 SPRING-HEELED JACK VS. THE ENIGMATIC DR. HU A MELODRAMA
By Kevin Michael Fuld
Pocket Sandwich Theatre
Director/Sound Design – Joey Dietz
Stage Manager/Lighting Design – Sarah Box
Pianist – Timothy Flippo
Costumes – Amy Wells
Fight Choreographer – Rhonda Durant
Graphic Design/Videographer – Jeff Smith
Scenic Design – Chuck Moore





CAST:

Spring-Heeled Jack – John Michael Jones
O'Leary – Bill Otstott
Polly Poole – Sheila D. Rose
Joe/Rodney – Jared Seman
Rose Taylor – Mary Tiner
Sam Snidely – Stephen Witcowicz
Mary Summers – Rhonda Durant
Capt. George Dudley – Nick Haley
Bessie/Bertha/Belinda – Lauren Hearn
Peter Poole – Chris Briseno
Dr. David Hu – Jason Cox
Lord William Summers – Andrew Dillon
---
Reviewed Performance: 8/30/2013
Reviewed by Jeremy William Osborne, Associate Critic for John Garcia's THE COLUMN
In Victorian Liverpool, Spring-Heeled Jack is on the loose and only The Enigmatic Dr. Hu can thwart his sinister plot, with the help of his accumulated acquaintances. Camp Death Productions brought its first production to the Richardson Theatre Centre Friday night. It's a melodrama in the style we're used to seeing at Pocket Sandwich Theatre, which was no surprise given the faces familiar to Pocket Sandwich involved in the production.

Spring-Heeled Jack is what can colloquially be called a boogie man, the frightening spectre that lurks in the shadows, waiting for his next victim. He is famous for dressing with a bat like appearance, and being able to leap up to roof tops in a single bound. His nemesis, for this production, is The Enigmatic Dr. Hu, a copyright-defying take on the modern, wildly popular British character with the similar name.

I found many positive things about this show. The actors turned in wonderful performances and did their best to pull every laugh out of the audience. The scenic design, combined with fantastic videography, was minimalist but effective. The piano accompaniment was subdued and valuable. However, even the best ingredients, when poorly combined, can make a less than desirable meal.

Most of the setting was established by projected images on an upstage on the back cyc. Images of a Victorian street, a dank and creepy tunnel, and the walls of parlors each were well- implemented and great for their purpose. However, even with this tool, the movement of furniture and a rotating platform was lumbering and disruptive. The scene changes killed any flow that may have been created in the prior scene. And even though audience participation was encouraged for this production, by the second act the audience had taken to heckling them. This has always been a dangerous situation and a warning sign for any performance.

Costumes for the show were provided by Pocket Sandwich Theatre and very well put together by Amy Wells. The Victorian styles were properly adhered to and fit each character perfectly, and Dr. Hu's odd fashion sense was altered just enough to avoid any cease and desist orders from the
BBC.

The actors were what made this show bearable. From the two excellent Pooles to the oddly similar brotherly bartenders, Joe and Rodney, each actor gave their best possible performance like true professionals.

Chris Briseno and Sheila D. Rose make up the randy couple Mr. and Mrs. Poole. Their alluded romantic adventures kept the audience's rapt attention and provided the most guffaws throughout the night.

Lauren Hearn portrays a trio of sisterly prostitutes, each murdered by Spring-Heeled Jack throughout the show. She also serves as MC for the night, providing the audience with instructions on what is and is not appropriate interaction with the performance. She was quite funny and enjoyable. Her limited stage time was disappointing.

Mary Summers is the focus of Spring-Heeled Jack's murderous plot. He was saving her to be his final victim in his fifty-year cycle of murders. Rhonda Durant was splendid as the demure Victorian lady with a fiery temper. Unfortunately, Mary Summers was an easily forgettable character, lost in the array of interesting characters.

Sam Snidely, played by Stephen Witcowicz, is not the mustache-twirling villain one would expect from such a named character. Snidely is, however, a lovable buffoon serving Spring-Heeled Jack as best he could while also causing countless foils to Jack's plans. Witcowicz turned in a strong performance, utilizing physical humor.

Jack himself is the perfect embodiment of a melodramatic villain. John Michael Jones was the perfect wild-eyed, sinister fiend for the role. His voice affectation and over-wrought expressions brought Spring-Heeled Jack to life.

Bill Otstott, Jared Seman, Mary Tiner, Nick Haley, and Andrew Dillon round out the cast, and each brought their special characteristics to the characters they portrayed. Regrettably, their characters were ultimately unnecessary and could easily have been edited out.

Finally, Jason Cox, as Dr. David Hu, was a disappointment. His performance consisted of a terrible, never ending David Tenant impression. Aside from the dreadful writing of the character, Cox did not pull off Tenant's version of the character effectively.

If you're the kind who enjoys fan fiction or being allowed to interact with the actors on stage, you might find some enjoyment in Spring-Heeled Jack vs. The Enigmatic Dr. Hu. However, the bad puns and abysmal word plays along with the uninspired direction provided by Joey Dietz and rampant over-use of Doctor Who jokes soured the entire production. Evenings in Dallas can be better spent seeing better shows.
---
SPRING-HEELED JACK VS.THE ENIGMATIC DR. HU
Camp Death Productions
Richardson Theatre Centre, 518 Arapaho Road, #113
Richardson, TX 75080
Limited run through September 8th.
Thursday, Friday, Saturday, at 8:00pm, Sunday at 2:00pm
Tickets are $20.00 - $22.00
For info:
www.campdeathproductions.com
To purchase tix go to
www.richardsontheatrecentre.net
or contact Richardson Theatre Center for Tickets at 972-699-1130.