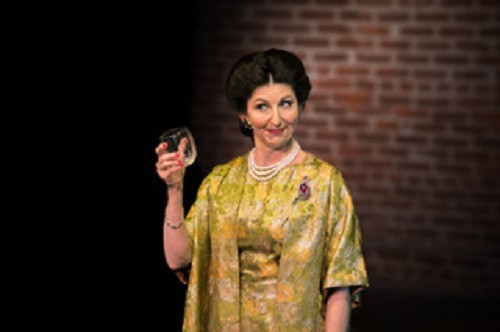 THAT WOMAN! WALLIS SIMPSON, DUCHESS OF WINDSOR
by Scott Edward Smith
presented by KeyLight, Los Angeles, CA as part of the FW Fringe 2019
Fort Worth Fringe Festival
Directed by – Philip Wm. McKinley
Sound Design – Christian Lainez

CAST
Melissa Jobe – Wallis Simpson
---
Reviewed Performance: 9/7/2019
Reviewed by Carol M. Rice, Associate Critic for John Garcia's THE COLUMN
In December of 1936, King Edward VIII abdicated his throne to marry the twice-divorced American, Wallis Simpson, and they go on to have a 40-year romance known around the world as "The Love Story of the 20th Century." The Royal Family never forgave him and never included Wallis in anything, referring to her in polite company as "that woman" and in less polite company as "the king's whore." What kind of woman would cause the King of England to give up his throne, his home, and his family for her?

As portrayed by Melissa Jobe, Wallis Simpson is a delight. Ms. Jobe is completely believable as "that woman" who both entranced the King and caused most of England to despise her. She is wholly captivating from the moment she hits the stage in a stunning gold and green ensemble that appears to be 100% couture. It's easy to see how she ended up on all the major magazines' "Best Dressed" lists for four decades. She welcomes us, pours herself a "cocktail" (i.e. straight Scotch) or two or seven and proceeds to simply tell us about herself. Ms. Jobe manages to come across as both completely conversational and skillfully performing. Her Wallis is both relaxed and uptight; confident and insecure; and gregarious and lonely, and she expertly glides through all of these varied emotions while piecing together a few of the more significant moments of her life for us.

Solo performance is difficult because you are IT up there, and you have to keep the audience entertained without anyone else to lean on. Ms. Jobe makes it look effortless. An hour and 20 minutes flew by as we laughed and cried with her, and I'm sure I'm not alone when I say I could have listened to her Wallis for twice as long.

I do have to point out a few of the technical details of the show that took away from Ms. Jobe's brilliant performance.

The lighting. I get that this is a festival, but only eight stage lights in this space? And surely there was a way to more evenly illuminate the stage area, even with such a limited number of instruments. There were many times Ms. Jobe was in the dark, and her expressive facial expressions didn't deserve that.

The sound. I think I must have been sitting right in front of a speaker because every time the dramatic music and footsteps sounded (representing her beloved's ghost walking through the villa), Ms. Jobe was practically drowned out. And some of those footstep moments seemed awfully random and, after awhile, repetitive. I wondered if there was some way to make them more meaningful, because most of them just seemed to interrupt her flow.

The simple yet elegant set, however, was perfect. Even with the cold cement walls of "The Vault" space of the Fort Worth Community Arts Center as a backdrop, the furnishings were lovely and made the room as inviting as Ms. Jobe's performance.

It really is too bad that That Woman! Wallis Simpson, Duchess of Windsor only ran for four performances. As far as that goes, it's too bad that the entire Fort Worth Fringe is already over, for there were some other shows that I would like to have seen, too. I was able to catch the amazing Bump! in addition to That Woman! and it, too, was excellent.

Next year, make plans to see what Texas Nonprofit Theatres puts together for their fifth annual fringe. I know I will. I have a feeling we won't be disappointed.
---
THAT WOMAN! WALLIS SIMPSON, DUCHESS OF WINDSOR

Fort Worth Fringe Festival 2019
Fort Worth Community Arts Center
1300 Gendy Street
Ft. Worth, TX

Runs through September 8, 2019.

Actual days Friday, September 6 at 8:10 pm; Saturday, September 7 at 1:00 and 7:40 pm; and Sunday, September 8 at 3:20 pm

Tickets are $10.00.

For information and to purchase tickets, go to fwfringe.com.