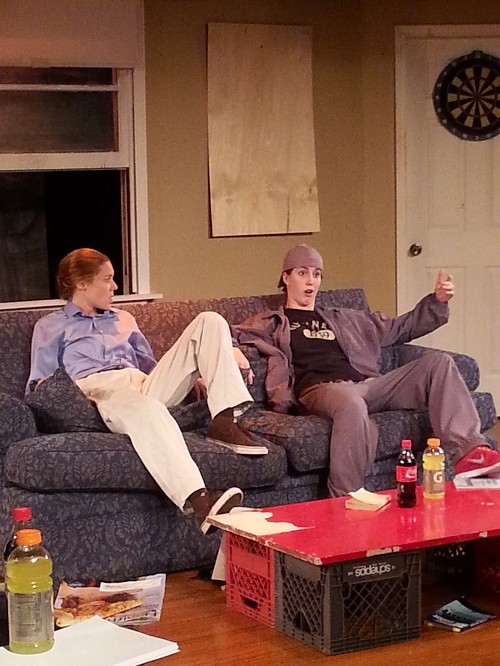 MATT & BEN
by Mindy Kaling & Brenda Withers
Echo Theatre
Director – Kelly Thomas
Set Design – Robin Binford
Costume Design – Ryan Matthieu Smith
Lighting Design – Lisa Miller
Sound Design – Pam Myers-Morgan


CAST:

Ben Affleck – Miller Pyke
Matt Damon – Catherine DuBord
---
Reviewed Performance: 9/13/2013
Reviewed by Jeremy William Osborne, Associate Critic for John Garcia's THE COLUMN
While it's not a weird idea to write a fictional "what-if" story about two real people. That has been done quite successfully with Picasso at Lapin Agile. People have been writing fictionalized accounts of real events since writing was invented (see: The Iliad, Richard III, and Saving Private Ryan). What IS weird is writing an absurd story about the writing of Good Will Hunting with women playing the roles of Matt Damon and Ben Affleck with no real reason to do so.

It would make more sense if the fact that women are playing two men is used as a comedic device, but it's not. It's just a truth to be accepted. Sure, there's the off-handed reference to the fact that both characters are male but it's glossed over so quickly, the audience doesn't have time to recognize it as a joke. Surprising, considering how blown out of proportion the rest of their performances are.

The difficulty with this show is getting the audience to suspend their preconceived notions of Damon and Affleck and accept them as characters in the story. As written they are caricatures of the people, painted in broad strokes to farcical heights. Far more subdued was the original off-Broadway performance by the writers, Mindy Kaling, of The Office and The Mindy Project, and Brenda Withers whose credits lie mostly in playwriting in New York. Subtlety is not what you get out of Miller Pyke and Catherine DuBord's performances, but wild flailing and screaming more suited for a production of God of Carnage. Although the seventy-five minutes with no intermission of this play can drag at some points and tire the audience, the production is fun and full of laughs, such as starting the show with a Ben Affleck as Batman reference.

Pyke as Ben Affleck is an underachieving goofball, although ambitious, who's intelligence is questionable. DuBord as Matt Damon is clean-cut and bright. Together they are a dynamic duo, like an unsatisfactorily written Odd Couple. Ben is Oscar Madison. Matt is Felix Unger. They make great use of the space in the Bath House Cultural Center's black box theater, constantly moving and climbing over furniture. Sometimes though, the intensity level is a bit over-the-top.

Technically the show is great. The set is wonderful. A shoddy Boston apartment represented is represented with doors on either side of upstage, decorated with obvious cracks in the door frame and badly-patched holes in the wall. Tables made of stolen street signs and milk crates with a second, or third, hand sofa center stage flesh out the poor, struggling artist theme of the play. Although, at the time the play takes place, Affleck had already starred in Mallrats and Chasing Amy and Damon had appeared in Courage Under Fire and The Rainmaker.

The sound is also brilliant in its design. Many zany sound effects are applied to objects dropping out of the apartment window, the most hilarious being a long, drawn out, continuous series of crashes that follow a penny being dropped. Coupled with the actresses' reactions, it's a show-stopping moment as the audience howls with laughter.

The lighting nicely distinguishes between storytelling sequences, the action of the play, and dream sequences. Bright, but not harsh, light fills the room during the action, while spot lights and a dim room highlight the characters stepping out of the story to speak to the audience. Dream sequences receive a mystical purple and blue treatment.

Finally, the costuming is particularly great. Matt, having come to the story from an audition, is dressed in fine khaki pants and a blue button down shirt, while the slovenly Ben "chillaxes" in a gray jogging suit, topped with a gray Red Sox cap, and accentuated with a Guinness t-shirt. Each actress also takes turns in dream sequences as either Gwyneth Paltrow or J. D. Salinger. Pyke as Paltrow wears a skin tight leotard, which highlights her ridiculously long legs and allows her to use them to seduce Matt, a blonde wig, and black and white top. DuBord makes a hilarious appearance as J. D. Salinger with a fedora and brown trench coat to hide her regular costume underneath. All of these elements make for quick and easy costume changes that don't interrupt the flow of the performances.

Overall, Matt & Ben from Echo Theatre is an enjoyable show. The performances skate between humorous spoof and over-done farce but carefully prevent the show from flying off the rails. It's a fun "what-if" scenario that is worth a look.
---
MATT & BEN
Echo Theatre
Bath House Cultural Center. 521 E. Lawther Dr., Dallas, TX 75218
Limited run through September 28th
Thursday, Friday, Saturday at 8:00 pm, and Saturday, Sept. 21st and 28th at 2:00 pm
Tickets are $15.00 - $20.00. $10 for Seniors and Student Rush
Thursday night performances are "Pay What You Can
To reserve tickets for payment at the door (cash, check, CC), contact Echo Theatre
by email at
reservations@echotheatre.org
or by calling. 214-904-0500. Note
All at door prices are $25.00 for Friday or Saturday.