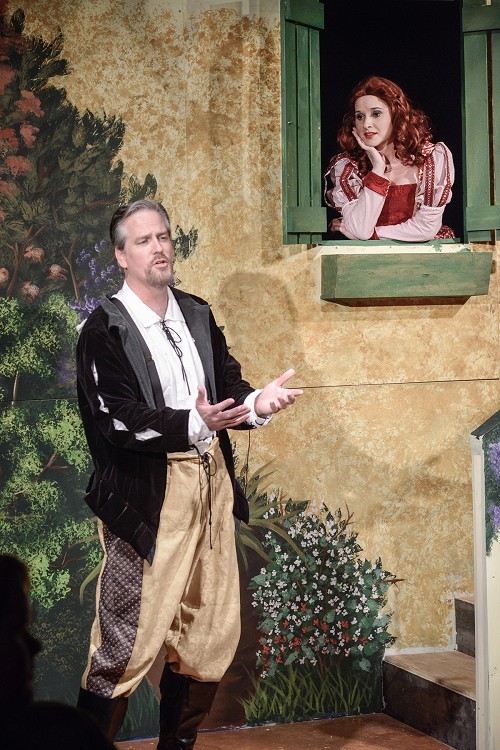 KISS ME KATE
Book by Bella and Samuel Spewack
Music and Lyrics by Cole Porter
Artisan Center Theater
Director – Eve Roberts
Stage Manager – Bethany Jarrell
Choreography – Gina Gwozdz
Music Director – H. Richard Gwozdz
Set Design – Eve Roberts & Nate Davis
Costume Design – Rebecca Roberts


CAST (as appeared on the evening reviewed)

Elizabeth Dewhirst – Lilli Vanessi/Kate
Noel Allen – Fred Graham/Petruchio
Gina Gwozdz – Lois Lane/Bianca
Cameron Potts – Bill Calhoun/Lucentio
Julian Gonzales – Flynt/Gremio
Christopher Dorf – Riley/Hortensio
Tevin Cates – Paul/Fred's Assistant
Michael Molina – Nathaniel/Ensemble
Brandon Shreve – Lippy (Gangster)
Dan Nolen, Jr. – Slug (Gangster)
Kat Ewing – Hattie/Lilli's Assistant
Kate Gabriel – Diana/Ensemble
Hannah Allen – Juliet/Ensemble
Heather Sturdevant – Rosalind/Ensemble
Stephanie Campbell – Viola/Ensemble
Julie Molina – Judy/Wardrobe Lady
Shawn Nelson – Harrison Howell/Lilli's Fiancé
Tamera Miller – Lucy/Stage Manager
Ken Bell – Harry Trevor/Baptiste
John Lattimore – Pops/Doorman
---
Reviewed Performance: 9/13/2013
Reviewed by Eric Bird, Associate Critic for John Garcia's THE COLUMN
It has been a while since I have the opportunity to see a show at Artisan Center Theater and as such I was amazed at the progress they have made in their remodeling of the main theatre. The addition of several seats and the expansion of the floor helped make things more comfortable for me to be able to see the action that was taking place onstage. It also made it easier to see the different corners that were used throughout the show, making this one of my more enjoyable visits from a visual standpoint.

Kiss Me Kate is a musical about a musical theatre cast's rendition of Taming of the Shrew and their off stage lives. It follows two main characters, the divorced actors Lilli Vanessi and Fred Graham, playing the roles of Katherine and Petruchio, respectively. The comedy abounds as we see the conflict that exists between the two of them both on and off the set. There is also a side story involving the story of Lois Lane and Bill Calhoun (her gambler boyfriend) that introduces a completely new mix into the play.

Kiss Me Kate opened on Broadway on December 30, 1948 at the New Century Theatre in New York, directed by John C. Wilson. Since then it has undergone many revivals, most recently in London at the Chichester Festival Theatre where it later transferred to the Old Vic Theatre in November, 2012. Kiss Me Kate has won numerous Tony Awards
throughout the years, including Outstanding Revival of a Musical and Best Musical.

The choreography as designed by Gina Gwozdz had its good moments along with some not so good. When the choreography included the solo or couple performances, it was really impressive, but when the entire dance ensemble performed, the unity fell apart more often than not. This was especially visible during the numbers "Another Op'nin', Another Show" and "Too Darn Hot." For other numbers, such as "Wunderbar" with Lilli and Fred and "Tom, Dick or Harry", the choreography fit perfectly with the feel of the scene and the objectives of the characters.

The set, designed by Eve Roberts and Nate Davis, worked well in the musical and was detailed enough to tell the story. I especially appreciated the turning wall that helped differentiate between the outdoor alleyway and the inside of the theater. When the actors first entered the studio I liked how they turned the wall as they moved to show the continuity of entering the building. The design of the dressing rooms was impressive and created a specific imagery onstage.

The set had four principal locations, the entrance with a pay phone, the main stage where most of the action took place, an entrance to the dressing rooms, and a staircase where the window scenes played occasionally. The set was essential in dividing the different scenes and helping to tell the story.

The lighting illuminated the actors well. I especially appreciated the use of red and green lights to convey different moods in the musical. The sound was good for the most part, though there were occasions when the actors could not be heard, especially during the big group numbers.

The costume design by Rebecca Roberts had a very definite concept that fit well in the play. The choices made for Katherine worked well for her personality, and the costumes that the actors wore when "offstage" nicely indicated the time period. I enjoyed the black and white costumes designed to visually unify the ensemble.

Director Eve Roberts' blocking had several nice staging images, though several times the pacing was a bit erratic and slow. This made it harder to follow the storyline and keep me engaged as an audience member.

Elizabeth Dewhirst was good in her roles of Lilli Vanessi and Kate. Some of the numbers she performed, such as "Wunderbar" and "So in Love", showcased her exceptional voice and allowed it to shine. Some of her other numbers weren't as strong, particularly "I Hate Men". Dewhirst was exceptional in making her role believable. I could feel the tension between her and Fred Graham whenever they were onstage together. Overall her performance was very good and enjoyable to watch.

Noel Allen was also exceptional in his portrayals of Fred Graham and Petruchio. He combined his remarkable voice with a very believable performance as actor Graham while also maintaining his persona as Petruchio when Katherine became angry with him. I especially liked his rendition of "Were Thine That Special Face" and his part in the group number "Kiss Me, Kate". His performance was strong, with an easy grace.

Gina Gwozdz performed the parts of Lois Lane and Bianca, and in both portrayals she was very ditsy with a strong flirting personality that made the three suitors go crazy for her in their performance of "Tom, Dick or Harry." Gwozdz was fabulous in her performance of "Why Can't You Behave", making the character her own and showcasing it during this song. She was deeply involved in her character, with an exceptionally strong performance, and her dancing showed her obvious experience. Gwozdz's ditsy actress persona was believable, adding a fun dimension to her character.

Cameron Potts was extraordinary in his portrayal of both Bill Calhoun and Lucentio. His songs, "Bianca" and "Why Can't You Behave", were enjoyable. His characterization of Calhoun was believable and Potts showed his trifecta talent with his dancing and singing. His strong stage presence made it enjoyable to see him whenever he was onstage.

Julian Gonzales and Christopher Dorf played the parts of Flynt/Gremio and Riley/Hortensio respectively. Their performances during "Tom, Dick or Harry" held a consistently high energy level and it was fun watching them try to woo Bianca.

Tevin Cates had a good performance in his roles of Paul and Fred's Assistant. He was engaging as a character and believable, whether with his dialogue or when singing. I was impressed with his vocal talents in "Too Darn Hot" and the range of skills that he demonstrated on stage.

I thoroughly enjoyed the gangsters played by Brandon Shreve and Dan Nolen, Jr. Their characterizations were consistent and comedic, and their duo rendition of "Brush Up Your Shakespeare" was very well performed. Both Shreve and Nolen had acceptable accents which helped to build and portray their characters. The gangsters had a dynamic quality that added a fun contrast to the regular "actors" onstage.

Overall, Artisan Center Theater's production of Kiss Me Kate had many good visual images and some great performances even though the musical's pacing and flow was slow. Even through the rough spots there were moments where the production highlights the musical's clever storyline and wonderful songs (and you'd be
surprised how many you know!), making it enjoyable to see, or see again. I can recommend this show as a way to spend a good evening of theatre and watch one of the great classic musicals.
---
KISS ME KATE
Artisan Center Theater
418 E. Pipeline Road, Hurst, TX 76053
Performances run through October 12th
Monday/Tuesday/Thursday/Friday/Saturday at 7:30pm
Saturday matinee at 3:00 pm
Tickets are:
Mondays, Tuesdays & Thursdays: $14.00, children (12 under) $7.00
Fridays - Saturdays: $18.00, seniors (60+)/students $16.00, children (12 under) $9.00.
For info & tix go to
www.artisanct.com