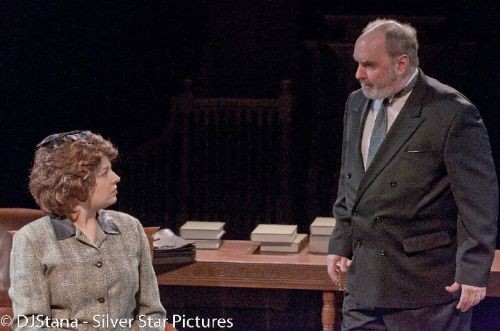 WITNESS FOR THE PROSECUTION
by Agatha Christie
Theatre Frisco
Director/Sound Designer - Sue Birch
Set Designer - Kevin Ash
Lighting Designer - Tony Adams
Wig Designer - Tony Hall
Stage Manager - Sarah Barnes

CAST
Carter - Marty Gallagher
Greta - Sue Wagner
Sir Wilfrid Roberts, QC - Robert Banks
Mr. Mayhew - Greg Wilson
Leonard Vole - Blake Owen
Inspector Hearne - Ruben Rosales
Romaine - Elizabeth Saxe
Court Clerk - Kasie Callaway-Blanton
Miss Myers, QC - Sue Birch
Mr. Justice Wainwright - Steve Zalman
Dr. Wyatt - Judith Johnson
Janet Mackenzie - Nancy Lamb
Mr. Clegg - David Neil
The Other Woman - Sara(h) Montgomery
---
Reviewed Performance: 9/16/2011
Reviewed by Clyde Berry, Associate Critic for John Garcia's THE COLUMN
Witness for the Prosecution began as a 1925 short story by Agatha Christie that she eventually expanded into a play performed at both the West End and on Broadway. Eventually it was made into a popular movie directed by Billy Wilder and featured Tyrone Power in his final role. Noted for having a surprise ending, the popular courtroom drama is an intriguing whodunit and a good choice for a community theater.

The story concerns Leonard Vole who has been accused of the murder of Emily French, an older woman who had been befriended by Vole, and to whom she left her entire estate. Accused of her murder, the play concerns his defense and court trial, revealing the truth of the incident. The three act play is a little longer than average, and is a low action, talky piece. For those attentive to details, the production will be a pleasing one as they attempt to piece together the clues to solve the crime. FCT has a solid courtroom drama on their hands.

Directed by Sue Birch, Witness moves along in as quick and clear a pace as can be expected. There are lots of facts to be discovered, alibis and theories to debunk, and motives to debate. Some roles have also switched genders. Staging wise, the audience is on three sides in this black box venue and Birch plays well to all sides, even using one section of audience as the jury. The blocking progressives across the space, from one end to the other just as the scenes progress; simply turning chairs to face new directions from each location is a simple and effective move.

Accents as a whole are quite good, and while there are a few less steady ones, the production includes Cockney, Irish, German, and several British dialects. Additionally, the props are quite detailed looking in their authenticity, something rarely seen in simple paper props. It is this detailing, and steady progression of storytelling that holds this production together. While there may have been some stumbling over lines from having the week off, the performances are enjoyable.

Kevin Ash's set design is mostly furniture, including a lovely desk and chair for the office, and an English courtroom stand on the other side. The height of the courtroom adds importance to the events, and helps create some interesting stage pictures. Tony Adam's lights on this set are basic but effective, leaving no dark holes for actors to discover, even on the edges.

While no costumer is credited, the outfits are period appropriate as are Don Hall's wigs. The men are in textured browns and blacks, and only the ladies seem to have a bit of color in their dress.

As Sir Wilfrid Roberts, Robert Banks delivers a compelling performance similar to his work in a recent Inherit the Wind. Banks has an easy and natural nature to his courtroom banter that makes the scenes engaging. He is also the most natural and responsive to fellow performers. There is always something working in his brain that is smoothly portrayed on his face and throughout his physical character.

Elizabeth Saxe plays Romaine, Leonard Vole's wife, a key witness in the trial. Saxe clearly enjoys this perplexing character, full of abruptness, intimidation and cunning. Her physical character is as restrained as Romaine's is forthcoming. With an impatient tone in her lines, and weary look in her eye, Saxe has created a compelling woman.

The accused man, Robert Vole, is portrayed by Blake Owen. Owen's take on Vole paints him as a seemingly na?ve and feckless man. He speaks in declarative sentences, paces, and stares off like a lost puppy. This successfully garners the necessary audience sympathy. For large parts of scenes, Owen is relegated to a chair to watch the proceedings but is always engaged in the action.

As the prosecutor, Sue Birch creates the appropriate humorous chemistry with rival Roberts, although more would be nice. She is also engaging in making her arguments, and by directly addressing the jury she keeps focus on the events at hand. Physically she is also responsive to the testimony, visibly reacting and reworking her strategy as events progress.

In smaller roles many of the supporting cast stands out. Judith Johnson provides an educated air as Dr. Wyatt while Sue Wagner is effusive and charming as Greta. Steve Zalman as the Justice has the gravitas and humor to keep the trial in control and punctuated with chuckles. Nancy Lamb is delightful as housekeeper Janet Mackenzie.

Audiences should certainly try to solve the mystery by attending this lovely production by Frisco Community Theatre. Be warned, the story builds to an exciting conclusion. FCT has created a chestnut worth cracking.

---
Witness for the Prosecution
Frisco Community Theatre

Through September 24, 2011

8004 Dallas Parkway, Frisco, TX 75034

Performances are at 8:00 pm on Friday & Saturday, & at 2:30pm for Sunday matinee September 18.

Tickets are $19 for the evening shows & $17 for the matinee. There is a $2 discount for seniors age 60 & above, students and military. A $1 service charge per ticket applies if paying with a credit card.

Tickets can be purchased online at www.friscocommunitytheatre.com