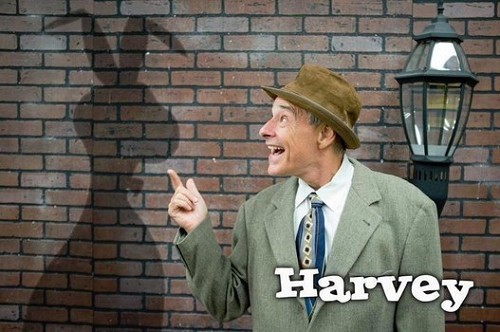 HARVEY
by Mary Chase
Level Ground Arts
Direction by John Tillman
Stage Management by Rian Slay
Costume Design by Megan Ruth Nieves
Lighting Design by Bryan S. Douglas
Set Design by John Tillman and Bill Fountain
Props by Mega Ruth Nieves and Ande Bewley


CAST (In order of appearance.)
*Played role in reviewed performance

Audrey Ahern - Myrtle Mae Simmons
Laura Jones - Veta Simmons
Tiffany Monday - Mrs. Chauvenet / Mrs. Chumley
Dick Monday - Elwood P. Dowd
Megan Ruth Nieves - Nurse Ruth Kelly
Zack Massey - Wilson
Robert G. Shores - Dr. Lyman Sanderson
Shawn Patrello - Dr. Chumley
Jon Morehouse - Judge Omar Gaffney
Bill Fountain - E.J. Lofgren
Ande Bewley* / M. Shane Hurst - Mrs. Tewekberry

---
Reviewed Performance: 10/5/2012
Reviewed by Richard Blake, Associate Critic for John Garcia's THE COLUMN
Level Ground Arts offers an entertaining evening of theatre for the whole family with their presentation of the popular stage play Harvey.

Harvey premiered on Broadway on November 1, 1944 at the 48th Street Theatre and closed on January 15, 1949 after 1,775 performances. The play also had a production in 1949 at London's Prince of Wales Theatre, and a Broadway revival at the ANTA Theatre ran from February 24- May 2, 1970 and starred James Stewart and Helen Hayes. The play was adapted for film in 1950. Directed by Henry Koster, it starred Josephine Hull and James Stewart. Three U.S. television adaptations have been made. The first, in 1958 starred Art Carney, Marion Lorne, Elizabeth Montgomery, Larry Blyden, Fred Gwynne, Charlotte Rae, and Jack Weston. James Stewart reprised his famous screen role in 1972 along with Fred Gwynne, Richard Mulligan and Madeline Kahn. The latest was in 1998 with Harry Anderson, Swoosie Kurtz, Jessica Hecht (who appears in the 2012 revival), Leslie Nielsen, and William Schallert.

Elwood P. Dowd is an affable man who claims to have an unseen, and presumably imaginary, friend Harvey whom Elwood describes as a six-foot, one-and-one-half-inch tall Pooka resembling an anthropomorphic rabbit. Elwood introduces Harvey to everyone he meets. His social-climbing sister, Veta, increasingly finds his eccentric behavior embarrassing. She decides to have him committed to a sanitarium to spare her and her daughter Myrtle Mae from future embarrassment. When they arrive at the sanitarium, a comedy of errors ensues and continues throughout the production.

The performance space is well laid out with a thrust-type stage and seating on three sides, offering maximum visibility of the actors. The set is a simple pair of movable structures that rotate during scene changes for the primary locations. Accenting each location are the basics with desks, chairs and side tables. Details on the set and props lacked eye appeal but the presentation does work without flaw as it is. I did enjoy the silhouettes of Harvey, the ?Pooka? around the theatre, the one at the mock ?tech booth? is creative, but the lighting on that area was distracting when there was action onstage (I was sitting a few rows from it and always expected something to happen there.) I do want to offer kudos to the sound designer, not credited in the program, for the hilarious pre-show music. Very well-chosen standards are played and it?s not until after a few songs you realize they have a wonderfully appropriate theme?Crazy!

Harvey tends to be a very ?director interpreted? production and this one, by Director John Tillman, is done very well. Mr. Tillman uses the strengths of his actors in some of the main characters to his advantage and success. His cast is a mixed bag of talent levels but Mr. Tillman highlights his strongest correctly by casting them in the major roles. There are some awkward stage pictures in the blocking, mainly when there are many actors on stage, making it difficult in some scenes to know where the focus is supposed to be. However, during more intimate moments, the scenes look and flow very well. Harvey is written as a three act play; however, this production is done in two. Sometimes this works, sometimes it doesn?t as with this production of Harvey. The patrons need that break in between acts to ?digest? a lot of dialogue, character introductions and back story with this script, and not allowing that causes the audience to try and figure things out while action is moving forward on stage and so miss some key points.

Lighting design by Bryan S. Douglas is appropriate for the space. However, there are a few dark areas on the stage, especially one center stage, that are distracting as the actors walk through them. There is a lot of movement in this production and it gets awkward when you can?t see the facial expressions of the performers. During smaller and more intimate scenes however, the color and focus are well done and accent the show well.

Megan Ruth Nieves? costume design is well executed. The characters are represented appropriately with great accents, like the hat for Elwood, as well as well-fitted and designed dresses for the women. All the performers look comfortable and each costume adds a wonderful feel and accent to the scenes.

The ensemble cast of this production works very well together in presenting a very nice interpretation of the script. Each brings a unique development to the role and never seems off track with their characterization.

Audrey Ahern as Myrtle Mae Simmons brings a delicate intensity to her role throughout the production. Her level of anxiety in her role is palpable and appropriate. She shows the audience the pure distain of the events unfolding around her, yet also the realization there is little she can do about it even though she tries desperately to do so.

Veta Simmons, played by Laura Jones, is a pure delight to watch in her role. She gives the audience a beautiful combination of comedy, intensity and even a bit of insanity with almost every line delivery! You are always drawn to her while she is performing and you?re never disappointed in her character presentations.

Dick Monday as Elwood P. Dowd is nothing less than extraordinary in this role. Mr. Monday is a highly talented and well known performer in the DFW area as well as across the country and is perfectly cast in this role. You are never let down while he is on stage, offering you the most insightful character of Elwood I have ever seen. You feel every emotion he?s delivering without question and laugh at every moment he wants you to. At some moments you may actually believe you are seeing his pal, ?a six foot one rabbit?, with him on stage. Bravo Mr. Monday on a simply wonderful performance!

Dr. Chumley, played by Shawn Patrello, is another stellar performer in this production. His presentation of the sanitarium?s lead doctor is well developed, successfully portrayed and engaging every moment he is on stage. Mr. Patrello?s experience is very evident in this role, giving you every nuance of the character he can at every moment. When he and Mr. Monday are in their main scenes together it is simply live theatre magic!

Robert G. Shores as Dr. Lyman Sanderson delivers a confident performance throughout the show. He gives a great level of ?crazy? to the role and allows his character to engage you as he tells the story. Mr. Shores has great stage presence and defines his character very well with a good interpretation of the scripted role.

Megan Ruth Nieves as Nurse Ruth Kelly is just a pleasure to watch on stage. Her well-timed and natural delivery to the people on stage with her is simply charming. Ms. Nieves may be relatively new to the DFW performing community but you would never know until reading her biography. Her talent will surely shine in many more productions for years to come.

Tiffany Monday, in the roles of Mrs. Chauvenet and Mrs. Chumley, is just wonderful. Ms. Monday gives you two completely different characters, each with their own delightful personality. As another highly seasoned and successful entertainer, she gives you nothing less than pure entertainment while she is on stage. Married to Dick Monday in real life, I can?t even imagine what life at home is like? well I can? outrageously fabulous!

The rest of the ensemble cast present well-rounded versions of their characters. There seemed to be some line issues the evening I attended, but all moved forward and kept the story flowing.

Overall, Level Ground Arts presents a great family show that is entertaining. At some point you may even see ?Harvey? along the way? I even found myself applauding for him at the curtain call (which was a bit disturbing for me) but showed this cast and artistic team did their job!
---
HARVEY

Level Ground Arts
Trinity River Arts Theatre (KD Studio Theatre)
2600 N. Stemmons Freeway, Dallas, TX 75207

Performances run through October 27th

Fridays and Saturdays at 8:15 pm, and Sunday October 21st at 3:00 pm
Tickets are $25.00 for adults and $15.00 for children (under 12)

For detailed information and to purchase tickets, call the box office at 972-302-1801 or visit www.levelgroundarts.com.