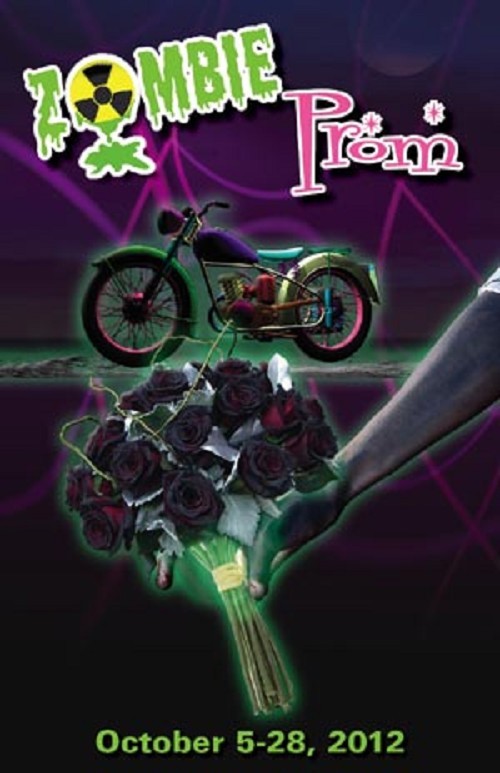 ZOMBIE PROM
Music by Dana P. Rowe, Book and Lyrics by John Dempsey
Based on a story by John Dempsey & Hugh Murphy
Runway Theatre
Direction by Clay White
Musical Direction by Amy Wyatt
Choreography by Jaclyn Butt
"Expose" Choreography by Stephanie Felton
Stage Management by Ryan Dickerson
Set Design by Clay White and Jeremy Ferman
Lighting Design by Elizabeth Lambert
Costume Design by Clay White
Wig Design by Marcus Lopez


MUSICIANS
Amy Wyatt - Conductor/Pianist
Ronnie Cotton - Drummer


CAST

Dani Holway - Toffee
Dustin Simington - Jonny
Stephanie Felton - Delilah Strict
Mikey Abrams - Eddie Flagrante
Jason Villarreal - Josh
Ben Junot - Jake
Rob Pounds - Joey
Faith Ann Jones - Ginger
Emily Kate Hardy - Candy
Lexi Salinas - Coco
Rae Harvill - Mother / Secretary / Kid
Jared Johnson - Father / Copyboy / Kid
---
Reviewed Performance: 10/6/2012
Reviewed by Richard Blake, Associate Critic for John Garcia's THE COLUMN
Runway Theatre opens their 30th season with a "Zombie Prom". This exciting, fun-for-all musical features stellar performances and vocals that make it a "must-see" hit!

Zombie Prom is a 1950's horror comic book brought to life as a musical comedy and also adapted into a short film. It's a campy, rollicking, romp through America's "Atomic Age" and the Golden Age of horror comic books. It was first produced at the Red Barn Theatre, Key West, Florida in 1993. It opened off-Broadway in New York City at the Variety Arts Theatre in 1996, followed by a November 2009 opening in London with a UK Premiere at the off-West End Landor Theatre.

Set in the fabulous '50s, this is the tale of a sweet teenage girl named Toffee (a Gidget-type) and her "rebel without a cause" boyfriend, Jonny. The two meet at Enrico Fermi High School and fall in love, but the principal, Miss Delilah Strict (Stalin in pumps and a dress!) intervenes, persuading the indecisive young Toffee to break up with Jonny. Tortured by the betrayal, Jonny drives his motorcycle to the nearby Francis Gary Powers Nuclear Power Plant and flings himself into a nuclear cooling tower!

Zombie Prom is one of those musicals I've seen many times and I'm always interested in how a theatre mounts it with their "touch". Some have been, shall I say, a bit disappointing but Runway's shot at it is definitely not! It's fresh with a wonderfully youthful, talented and exciting cast that always keeps you smiling. Some theatres choose a campy show, thinking it's easy to produce, and those usually learn the hard way - they are not. Kudos to the Runway artistic team and theatre board for an excellent choice in a season opener!

Runway is a lovely, intimate, proscenium space that puts the audience right in the action. Entering the theatre, Set Designers Clay White and Jeremy Ferman present you with a fun stylized, fixed set primarily representing the high school. Hallway lockers on both sides and a raised band platform upstage featuring nuclear towers on the backdrop let you know this is simply going to be a fun show. The upper platform also serves as a few locations in the show that are perfectly designed and staged for the scenes.

Clay White's direction is executed perfectly in this show. Mr. White has an impressive list of successful directing credits to his name and this show will definitely be on that list. Every scene is blocked stylistically with wonderful groupings and stage pictures. Your attention is always guided to the appropriate character and/or moment and never confuses you. Mr. White has also assembled a wonderful cast, in every role, with excellent results. He creates great style in this production and it carries throughout the entire evening without any flaws.

Musical direction by Amy Wyatt is excellent. She has a talented group of people to work with and obviously applies those talents very well. Singing songs stylized in the 50's genre can be great fun as well as very difficult. Again, this show is written campy but the music and vocals still have to be spot-on. Ms. Wyatt accomplishes the style, execution and fun of this music throughout the show with no falter or disappointment. Also on stage as the Music Teacher/accompanist, she presents wonderfully played music, follows her cast well and supports them perfectly.

Ronnie Cotton, accompanying Ms. Wyatt and the cast on drums, deserves special mention. He never overpowers the performers and accents the music splendidly. I found out later he joined this production late in the process but you would never know it by the talent and professionalism he gives to this show. Job very well done, Mr.Cotton.

Jaclyn Butt's choreography is exciting, fun to watch and uses the stage well. She never imposes dance or movement her cast can't handle, which accents the entire performance. From full cast numbers to duets and vignettes, every sequence is wonderfully presented. Stephanie Felton's choreography for the song, "Expose", is just as impressive to see. This energetic, comedic scene is accented perfectly with her movement and simply wouldn't be the same without it. Both women achieve great success in this show!

Costume design by Clay White, accented by the wig designs of Marcus Lopez, are simply fun, character-driven sights to see. This show allows for some over-the-top costumes/hair and these two take full advantage of it. Each actor looks very comfortable on stage in designs that fit each of them perfectly. From wonderful poodle skirts on the girls to a pure white tux for a green, oozing zombie, never once does this pair disappoint with their designs.

Elizabeth Lambert as Lighting Designer creates a wonderful "world of the nuclear fifties" with great color choices, scene fades and accent lighting. Her designs add a great flavor to this fun show and always fit each scene perfectly. There are a few cues that seemed off, but I attribute that to opening weekend nerves of a board operator. Even with those little flaws however, you're never taken away from the performance.

The entire cast of Zombie Prom is spectacular! This show has featured roles within a large ensemble and every performer in this show simply shines. There is a great cohesiveness in this cast and it definitely shows. Everyone supports each other in whatever scene is going on and never pulls focus or tries to upstage another. Almost half this cast is making their first debut on the Runway stage, which I'm certain made the producers nervous. However, any concern they may have had surely disappeared after seeing this show come to life. Overall this cast genuinely deserved the roaring applause and standing ovation they received at this performance!

Dani Holway as Toffee is a joy to watch perform. She embodies this role with a wonderfully sweet nature and innocence that it requires. Her acting skills are only topped by her vocal ability to pull you into to her every note with anticipation and delight. Ms. Holway is a pleasure to watch on stage every time she's on it.

Jonny, played by Dustin Simington, is truly a "rock-star" in this show. His performance makes it look as if the role was written for him in its style, acting and vocals, with his command of the stage never taking away from any other performer when he's not the focus. Mr. Simington's vocals are top notch in every song, including some of the difficult, soaring high tenor 50's rock and roll notes of the show. This is nothing less than perfect casting of the role and definitely adds to the success of this production.

Delilah Strict is executed stunningly by Stephanie Felton. There is never a moment she doesn't captivate you with her raucous, side-splitting character portrayal. Her stage presence is exciting and her vocals are wonderful. Ms. Felton creates such an excitingly deviant character you simply fall in love with it, even when you feel you should hate the characters actions. It takes a unique actor to pull off such an over-the-top role and in this production she does just that with style and excellence.

Mikey Abrams as Eddie Flagrante is nothing but true excitement on stage! Every moment, every song and every action is presented with such flair and decision you can't take your eyes away. His role has some great moments in the show that Mr. Abrams takes to stunningly new heights. You will be truly impressed with him throughout this show! For example, there is a scene he plays with Stephanie Felton that pits these two outstanding performers against each other in a way you will not believe, but will roar with uninhibited laughter throughout it - a true sign of amazing talent by both actors!

The rest of the ensemble cast makes this show a great success. Every member presents him/herself in a highly professional and talented way throughout the entire show. A perfect example of this is a scene (that I won't reveal) that simply makes you burst out in laughter (and shock!) when you see the way it is presented and supported by the entire cast on stage. Let's just say - I'll be looking at smoking cigarettes in a TOTALLY different way - yikes!

Runway Theatre's presentation of Zombie Prom is nothing less than production perfection by a community theatre. Remember, community theatre is all volunteer with everyone involved giving their time and talent to entertain strictly for the joy of entertaining and nothing more. With this theatre in it's community, Grapevine, Texas should be totally beaming with pride!
---
ZOMBIE PROM
Runway Theatre
215 North Dooley Street, Grapevine, Texas 76051
Performances run through October 28th

Fridays, Saturdays at 8:00 pm and Sundays at 3:00 pm

Tickets are $15.00 regular and $12.00 for seniors/students

For detailed information and to purchase tickets, call the box office at 817-488-4842