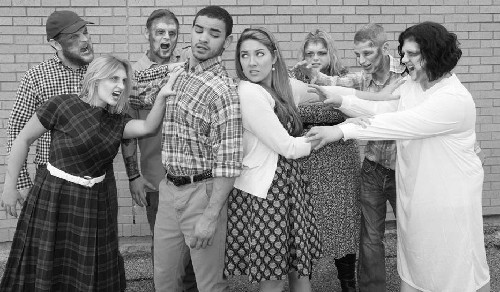 NIGHT OF THE LIVING DEAD
DEAD by George Romero
Adapted for stage by Benjamin Keegan Arnold
Lakeside Community Theatre
Director – Benjamin Keegan Arnold
Set Design – Benjamin Keegan Arnold
Lighting Design – Benjamin Keegan Arnold
Sound Design – Leo Thomasian
Props – Patrick Peachee
Costumes – Irvin A. Moreno
Stage Manager – Cody Schultz
Fight Director – Pat Costa
Assistant Fight Director – Patrick Haughton
Audio Technician – Danica Bergeron
Make-Up and Hair – Daisy Rosas


CAST (from reviewed performance)

Barbara – Cory Carter
Johnny – Kyle Sapienza
Ben – Will Adams
Harry – Dane Hoffman
Helen – Ellen Bell
Tom – Jamison Michael Green
Judy – Sarah Mills
Karen – Abby Schultz
Beth – Melissa Rhea Johnson
Peter – Paul Keyes
Zombies – Rustin Rolen, Brett Faris, Shari Cornelius, Ashley Napoli, Lindy Englander, Aaron Schultz, Lyndi Wade

---
Reviewed Performance: 10/9/2015
Reviewed by Scott W. Davis , Associate Critic for John Garcia's THE COLUMN
I remember when I was a kid in the late !(&)'s sitting around the living room one day bored to death when my brother asked me if I wanted to go to the Route 42 Drive In with him and his girlfriend to see Grease. I jumped at it. Well if you haven't been to a drive in before they would have a movie prior to the main feature. This night the pre movie was Night of the Living Dead!!! Now at that age and that point in time with the movies that were out, Night of the Living Dead was considered a horror flick. I couldn't sleep for weeks, kept having dreams of John Travolta and Olivia Newton John turning into zombies. Needless to say I've had years to get over this and move on but still cringe anytime someone asks me to do Grease.

So you know Lakeside Community Theatre's adaptation of Night of the Living Dead does not have John Travolta or Olivia Newton John, it does however have zombies. Their production does follow the script of the movie quite closely though. The show revolves around Barbara and her dealings with the undead. She meets up with a few others and they hold up in a house until the time comes to skedaddle to a safe zone.

This was my first time ever at Lakeside Community Theatre and I was pleasantly surprised when I walked into the space to find a lot more seating than I thought there would be. From the outside of the building you can't tell how large the space actually is. Now there are definitely some challenges to be had by sound, lighting, and set designers in this space. Extremely low ceilings make lighting a challenge and sound can be just as tedious being that close to the audience.

The lighting and sound prior to the show definitely adds to the eerie feeling while you wait for the show to start. The lighting Designer, Benjamin Keegan Arnold who also directed and designed the set, used traditional old fashioned Edison bulbs as house lights over the audience and made them flicker throughout the preshow while the Sound Designer Leo Thomasian kept the mood going with what sounded like an old radio broadcast which from time to time would be interrupted with news bulletins explaining that there was a disturbance in the area. During the show Mr. Thomasian had a ton of cues throughout. There was underscoring during times to enhance the feelings in that moment. Truly one of the better sound designs I've heard in quite a while. The only down side with sound was the gunshots. All the gunshots were recorded instead of live so the actors had to mimic recoil. Sometimes it worked and sometimes it didn't.

The set that Mr. Arnold designed was really well built, functional, and realistic. It was sectioned off into three distinct areas' which didn't make sense until the show started. The main area was a living room of a two story house while adjacent to it was a kitchen then downstage of both was what looked like a basement. The walls in the main room were painted to look like wallpaper while having a sort of grey chair rail. The set dressings went right along with the realistic theme. From the couch to the old style radio this set looked like it was right out of the sixties. There were ample amount of doors in the set, three in the living room, one in the kitchen and one entering the cellar which in the end made it hard to guess where the next zombie attack was going to happen.

The blocking of the show was really good using different entrances to keep the show from stagnating. What I really loved was the way he blocked the scenes going from the basement to the living room, brilliant use of space and lighting to convey the different spaces. Mr. Arnold had a few other directorial choices that should be discussed. During act 2 he proceeded to have a couple of songs play during the show and he proceeded to create different vignettes popping up during the song which really helped in showing the separation between the characters. The lighting had moments that made sense but then there were many scenes that didn't. I just can't remember the last time I saw a green or purple evening scene before this one but I think I would remember it. During scenes when the zombies make appearances it just seems to be too bright and you can tell they are just in make up losing some of that realism. As far as the rest of the show goes it's sometimes becomes a tough pill to swallow. We all know that there are no such things as zombies and at times it seems as though the director pushed for a lot more realism than there needed to be.

Corey Carter takes on the role of Barbara and pulls off an extremely tough role. The way she is thrown around that set it's a wonder she's not covered in bruises. It's not just the physical aspect of her portrayal that was impressive but the amount of lines that she had was staggering and would have been hard for any seasoned actress. I will say that I had to laugh during the one scene where Barbara and Harry got into a fight in the kitchen! Ms. Carter is about 5'2" and Dane Hoffman has to be 6'3", she totally dominates the fight. It really was hilarious.

The male counterpart to Barbara is Ben portrayed by Will Adams who had another strong performance. Mr. Adams character becomes the leader of the non-zombie group. While he is extremely young looking for that part it works well with him being put up next to Ms. Carter. His energy was so explosive it made you believe that danger was just around the corner.

Harry and Helen, the married couple hiding in the basement, another couple that plays well off of each other. Harry was portrayed by Dane Hoffman and Helen by Ellen Bell. Mr. Hoffman is wonderful at pulling off the role of a concerned parent while still being able to be enough of a jerk to upset the rest of the house. It was fun to watch him do the switch throughout his scenes. Ms. Bell plays right along with him being the nice wife. With that said the age range of Harry and Helen was a little beyond believability but they still convey loving parents.

Tom and Judy are the next couple in the mix. Tom is played by Jamison Michael Green and Judy is Sarah Mills. Mr. Green is extremely energetic in his delivery while Ms. Mills is just as strong with her character. The character that Mr. Green plays gets bit during the show. Mr. Green's transformation from human to zombie was expected but still startling when it happens. What I loved about it was that he never leaves the stage so he has no time to put on makeup but he contorts his face enough during the transformation to not need makeup to be believable. Ms. Mills is absolutely brilliant during her confrontation with Harry and Helen. Her body language just said she was going to beat Harry silly.

The final couple is Beth and Peter. Now Beth and Peter are not married. They are Father and daughter. Beth is a nurse portrayed by Melissa Rhea Johnson and Peter is portrayed by Paul Keyes. This couple doesn't come into the show until the second act so they don't get a lot of time for character development but do a great job of conveying their characters to the audience.

The last two people I need to talk about are Johnny, Barbara's brother and Karen, Harry and Helen's kid. Johnny, portrayed by Kyle Sapienza, literally you see him in the first scene of the show as a real person and after that he was a zombie but you do get to see him several times through the show but his death scene is fun to watch. Now Karen is portrayed by Abby Schultz, a fourth grader in elementary school. You can tell she has been around the stage for a while. For over half the show she rides around on a cart being used as her bed and has to just lie there, she didn't move a bit.

Act 1 ran 33 minutes long and act 2 was 50 minutes long so the show is not that long. It's a tough sell, zombies on stage, especially when the audience is only a few feet away. LCT attempts to pull off a show that has a lot of sleight of hand and quick movements that are extremely hard to do when your audience is that close. I'm personally more of a classic's guy; give me Shakespeare or Tennessee Williams any day instead of zombies. Now that's not to say that this show doesn't have any meat to it. It may not be my cup of tea but it's not the worst show I've ever seen and truly there is some great talent on the stage in this production. So if you've got a couple of hours to spare on a Friday or Saturday night head to The Colony and get your zombie apocalypse on.
---
NIGHT OF THE LIVING DEAD
Lakeside Community Theatre, 6303 Main Street, The Colony, TX 75056
Plays through October 31, 2015

Fridays and Saturdays at 8:00pm. Tickets are $15.00, $12.00 for seniors and students, and $10.00 for Lakeside members. For information and to purchase tickets, visit www.lctthecolony.com or call their box office at 214-801-4869.