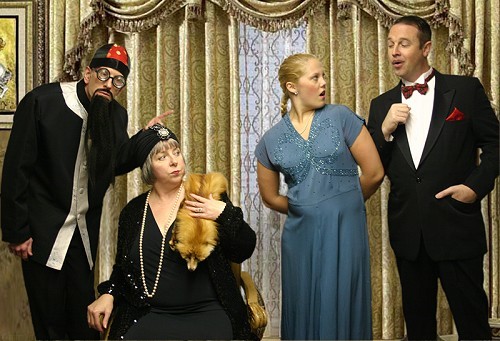 BLOODY MURDER
By Ed Sala
Rover Dramawerks
Director – Lindsey Humphries
Scenic Designer – Jason Rice and Liz Rogers
Lighting Designer – Catherine M. Luster
Sound Designer – Robbi D. Holman
Costume Designer – Stephen Wantland
Properties Designer – Erica Remi Lorca
Stage Manager – Darcy Koss
Dialect Coach – Yvonne Vautier-DeLay

CAST:

Major Paul Quimby – Stan Kelly
Devon Tremaine – Dale G. Gutt
Charles Pomeroy – Walt Threlkeld
Emma Reese – Ashley Markgraf
Lady Somerset – Carol M. Rice
Jane – Danielle Shirar
Mr. Woo – Dale G. Gutt
Countess – Ashley Markgraf
Chief Inspector Frederick Phelps – Walt Threlkeld
Stranded Motorist – Danielle Shirar
El Gato – Dale G Gutt
Nun – Danielle Shirar
---
Reviewed Performance: 10/26/2013
Reviewed by Scott W. Davis , Associate Critic for John Garcia's THE COLUMN
Is it Lady Somerset, Jane the maid, or maybe ever the money hungry nephew Charles? What you don't know is what the question is. Could the question be who the murderer is or maybe who was murdered? Rover Dramawerks is set to answer all those questions and many more for you with their production of Bloody Murder.

Bloody Murder was first produced at the famed Weathervane Playhouse in Akron, Ohio back in 2009. Famed only because it was my first theatre to work in, but I digress. Bloody Murder begins after the war. The country estate of Lady Somerset is the focal point for this mystery. Lady Somerset invites her friends to a weekend at her lavish country estate Sure enough, one of these people meets a mysterious death. Out of the blue, Lady Somerset takes an unusual step and refuses to call the authorities. The bumbling chief inspector eventually arrives to disrupt the weekend. Lady Somerset insists that she and her guests are simply characters in a mystery story that must rebel against their author. The players along with the writer enter into a wild battle of wills and wit that ultimately breaks the fourth wall bringing plenty of laughs, and a surprise ending.

Rover Dramawerks have brought in Lindsey Humphries to direct this production. Her attention to detail can be seen in all aspects of Bloody Murder. Being a Lighting Designer by trade I tend to watch productions waiting for the missed light cue or the sound cue that was too loud. It just never happened in this show. The actors never stop moving which keeps one visually interested in what is going on. As with any show that has actors playing multiple roles, there can be problems in character development. Ms. Humphries built each character so well I didn't realize it until almost half way through. While the characterizations are effective, the actors' dialects are not as much. Several actors and actresses would slip in and out of their English accent or do it so poorly it became distracting. Another problem comes in the writing that becomes repetitive and very mundane after intermission but Ms. Humphries pushes the story along so that it is a little less noticeable.

Stan Kelly does a good job in the role of Major Quimby. He was extremely consistent through the show with his accent. Noticeably he's one of two performers that are not multi cast so he had more time to concentrate on character development. The other single character performer was Carol M. Rice who as well does a good job with her character Lady Somerset, takes command the minute she walks in. Her timing was impeccable and seemed to help the other performers with their timing.

Both Walt Threlkeid and Ashley Markgraf take on two characters apiece. Markgraf plays Emma Reese and the Countess. Both portrayals are fun to watch but her portrayal of the Countess had me laughing hysterically. During the first scene that the Countess enters, she puffs on a cigarette holder that just becomes a Cruella Deville moment that you can't stop laughing at. The serious laughter starts a little before the Countess though. It happens when Charles Pomeroy enters. Walt Threlkeid's overly flamboyant portrayal of Mr. Pomeroy is hilarious. Watching his other character, Chief Inspector Fredrick Phelps is where one gets to see how much depth this actor has. In fact, his characters are so different I had to double check my playbill to see who was playing the inspector.

The last two performers in the show take on the biggest challenge, three characters each. Dale G. Gutt plays Devon Tremaine, Mr. Woo, and El Gato. I related to Devon Tremaine since he is onstage more often and Gutt plays him well. Tremaine is an alcoholic, out of work actor who frequently saunters back to the dry bar for another drink. I give Mr. Gutt a lot of credit as the roles he plays are not just mentally demanding but also physically. Jumping through windows, falling to the ground, then rapidly changing costumes throughout the whole show is tougher than it looks.
Then there's Danielle Shirar playing Jane the maid, the stranded motorist, and the nun. I'm laughing just writing about it. I think Ms. Shirar has the most polished performance of the ensemble. Ms. Shirar's different characterizations with merely a change of facial expression or mannerism s are impressive. Her demeanor as she transforms characters onstage with no costume change is incredible and Ms. Shirar makes it look easy.

The set designed by Jason Rice and Liz Rogers was eye catching to say the least. The set is a beautifully rich purple with nicely done crown molding and chair rail with stark white wainscoting. The contrast colors are extreme but work for the time period. The stage right side arched opening leads to the stairs and front door. To break up the purple on the front walls, Rice and Rogers painted the upstage wall a wonderful teal color, giving the set a little more depth.

Properties Designer Erica Remi Lorca gathered some great period pieces for the production. The little things help to make the performance more believable, including the crystal decanters or the 1940's-style telephone, and Lorca's set dressing choices rounded out the set well.

The moment I walked into the theatre my expectations for the lighting rose substantially. Ms. Luster's preshow look was bathed in a luxurious violet light which makes the wainscoting pop with color. Catherine M. Luster's lighting design already had me intrigued. A minimalistic plot is hung for this show and it works extremely well. The lighting is even all the way across the stage which certainly makes it easier on the eyes. But it's with Ms. Luster's scenes in the dark where her talents really shine through. For a single unit set, Ms. Luster finds a way to make it exciting without being overly obtrusive to the performance.

Designer Stephen Wantland impresses with all the characters' costumes. The Major's uniform is so close to a real British uniform that I found myself trying to figure out what medals he had on his chest. The formal wear for the gentlemen in Act One looks like it cost a fortune. The jewelry is impeccable as well. Wantland has a great eye matching jewelry to the dresses the women wear. The fit of each costume is incredibly well done, making them look as though they are made for just that actor.

Rover Dramawerks has done an impressive job with Bloody Murder. Most of the flaws I found with the show are from the script, but the director, cast and crew have put together a solid performance to do this play justice.
---
BLOODY MURDER
Rover Dramawerks
Cox Building, 1517 H Avenue, Plano, Texas, 75074

Performances go through November 15th.

Thursdays, Fridays and Saturdays at 8:00 pm, plus Saturday November 2nd at 2:00 pm.

Ticket prices are $16.00 Thursday and Saturday matinee, and $20.00 Friday – Saturday. Seniors and students receive a $2.00 discount.

Go to www.roverdramawerks.com for tickets or call their box office at 972-849-0358.