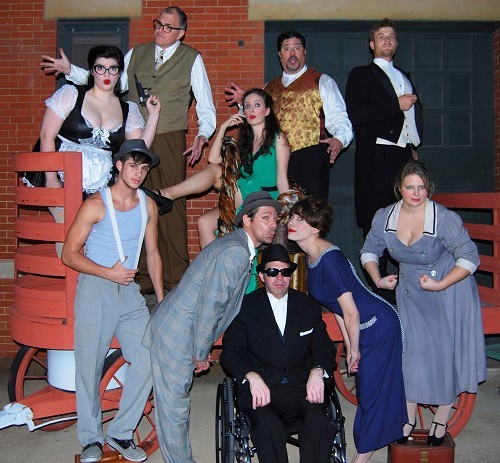 LUCKY STIFF
Book/Lyrics by Lynn Ahrens, Music by Stephen Flaherty
Granbury Theatre Company
Director – Andrew Barrus
Music Director – Jenny Latimer
Choreography – Brooke Wilson
Scenic Design – Courtney Smith
Costume/Hair/Makeup Design – Stephanie Grizzard
Properties – Tammy Phillips
Sound Design – Mike Talmage
Stage Manager – Suzanne Loy


CAST:

Harry Witherspoon – Andrew Barrus
Annabel Glick – Jenny Latimer
Vinnie – Greg Bateson
Rita – Emily Warwick
Luigi – Andrew Looney
Dominique – Kelly Nickell
Emcee – Cooper Dodd
Landlady – Stephanie Grizzard
French Waiter – Aaron Leake
Dead Body – Eric Matsco
---
Reviewed Performance: 10/25/2013
Reviewed by Eric Bird, Associate Critic for John Garcia's THE COLUMN
The musical Lucky Stiff is about a disillusioned shoe seller that receives news that his uncle has recently passed away, leaving behind a six million dollar inheritance. Harry is the sole inheritor on one condition: he has to take his uncle's corpse on an all paid vacation to Monte Carlo. Comedy ensues as Harry takes on this hilarious challenge.

Brooke Wilson was the choreographer, giving the dancers many fun, interactive moves onstage. The dancing kept things lively, enjoyable to watch, and the formations they created were pleasing to the eye, especially during the large group numbers where the actors used the whole stage to create an image. The choreography was also suited to each character's personality. When the flamboyant employees of the hotel and casino did their dance numbers, their steps were flashy and attention-getting. I especially enjoyed the opening number. All cast members were on stage and Wilson utilized this scene to begin the story. Each of the main characters had a solo bit in this number that both introduced their character and provided the background information needed for the opening scene. Throughout the show Wilson's strong choreography served both to further the plot and delight the audience.

Scenic design was done by Courtney Smith. I appreciated how quickly the scene changes went, and how the set was modified for each of the different scenes, especially in a show with as many set changes as this one. The set consisted of several smaller pieces attached to walls that were then used to transition between the stage at the Monte Carlo resort, the room that Harry Witherspoon was staying in and several other scenes, including an airplane seat, a hallway, and a shoe store. The planning was well coordinated and I could see each of the characters in the location that they were portraying onstage. The transitions were smooth and readily moved from one setting to another and back, at times enabling multiple sets, such as a train's passenger car and an airplane, to be on the stage at the same time. It takes a lot of skill to create so many set pieces and even more to enable all of them to work together so fluidly.

Stephanie Grizzard made good choices in her costuming, hair, and makeup design for the musical. I especially appreciated the way that the costumes contrasted between the drab and shabby residents of Harry's apartment to the glamour and bright colors of Monte Carlo. Grizzarrd did especially well in her costuming of Annabel Glick and Rita. Rita's costume helped to provide background on her character, showing that she had wealth but not class. Anabel Glick's hair and attire was the perfect cross between busy professional and socially-awkward single woman.

Properties were cleverly planned and prepared by Tammy Phillips, adding to the realism of the show. Rita's glasses and Tony's wheelchair were two of the props most important to the show, though there were several other props that added to make things more comical, such as the gun, while telling the story. Props were very well selected and made the hotel at Monte Carlo seem much more glamorous.

Sound design was well done by Mike Talmage, though the levels made it hard to hear what they were saying. The sound effects were well done, the gun shots effective and the timing fit perfectly with the flow of the scenes.

Harry Witherspoon, the shy English shoe salesman, was marvelously played by Andrew Barrus. Barrus, especially, was able to excel during "Good to be Alive," "A Woman in My Bathroom" and "Mr. Witherspoon's Friday Night." He was also a lot of fun to see during his duet with Annabel in "Dogs vs. You", especially with his definite personality and talented performance. Barrus was very comfortable on stage which made him very engaging. His acting was also exceptional, with believable, comical interactions with the other characters.

Jenny Latimer was amazing in her portrayal of Annabel Glick, the representative of the Universal Dog Home of Brooklyn. She had a fun personality throughout the play, especially with how she interacted with Harry. Latimer had her character really figured out and spent her time on stage pursuing her character's objective. I also loved how she made the oddities of her character so believable. Latimer also had a strong voice throughout, especially during the numbers "Dogs vs. You" and "Nice." Her acting was also very well done throughout the show, showing a dynamic character that started with one goal and then grew because of the experiences she had in Monte Carlo.

Vinnie, the mild-mannered optometrist, was played by Greg Bateson. Bateson crafted a character that was at first pity-inducing. I felt a lot of empathy for him after the mess his sister Rita got him into. His performance during "The Phone Call" and "Rita's Confession" really helped to illustrate this. His interactions with Rita were comical and showed a very definite sibling relationship. As the show progressed I could clearly see how the events of the show were wearing Vinnie down. Bateson made it very clear through his characters changed mannerisms that things were getting worse and worse.

Emily Warwick played the part of Rita, the high-strung lover of the deceased Tony Hendon. Warwick had an incredible voice and she was able to use it effectively throughout the show. This was especially true during the numbers "Fancy Meeting You Here", "Rita's Confession", and "Him, Them, It, Her". Her interactions with the other characters were also enjoyable, believable, and very appropriate to the character that she played. I really enjoyed how Warwick made her character so loveable and yet so annoying. The atrocious accent and spontaneity that Warwick imparted to Rita made the show truly enjoyable.

Nothing says comedy like an overly grandiose Italian character. Andrew Looney was excellent in his portrayal of Luigi Gaudi. This was very apparent during his interactions with the other characters, his outspoken mannerism and his great vocal skills, which were very notable in "Good to be Alive" and "Fancy Meeting You Here (reprise)". Looney had an easy grace onstage, with a very commanding presence. Though his character was not on stage for a large part of the show Looney made his character impossible to ignore when he did appear.

Kelly Nickell played the part of the seductive, French nightclub singer Dominique. Nickell was almost outrageous in her performance but she made it work for her. I enjoyed seeing her during "Speaking French" as she blatantly hit on Witherspoon. What really impressed me is how easily and smoothly she transitioned from flirting with Witherspoon to singing and interacting with the audience. This enabled her to both move the story forward and bring the audience in.

The Emcee of the Monte Carlo nightclub was played by Cooper Dodd, helping to create a glamorous Monte Carlo night club environment with his characterizations. These were especially visible during "Monte Carlo" as Dodd introduced new acts and guided the audience through what was happening onstage. Harry Witherspoon's landlady was played by Stephanie Grizzard, who wasn't as prominent throughout the show but was enjoyable to see in the roles that she played. Her characterizations as the nosy Landlady were hilarious. Grizzard really illustrated her skill as she nosed through Witherspoon's mail and gossiped with the other apartment-dwellers during the song "Mr. Witherspoon's Friday Night."

Aaron Leake played the part of a French waiter and was also a dancer a dancer during other scenes. He was good in the part, keeping in character throughout. It would have been impossible for this show to be as comical as it was without the dead body of Anthony Hendon, played by Eric Matsco. Of Matsco's acting, I can say he made the best dead person I've ever seen.

I highly recommend Lucky Stiff as a very enjoyable musical that will have you laughing throughout. Don't miss the opportunity to see this comical, highly entertaining show!
---
LUCKY STIFF

Granbury Theatre Company
110 N Crockett Street, Granbury, TX 76048

Performances run through November 16th
Performances are Thursday - Saturday at 7:30 pm; Saturdays at 3:30 pm.

Ticket prices are $20.00, $17.00 for seniors (65+)/students or military (with ID) and $15.00 for children (12 or younger).

For information and to purchase tickets, go to www.granburytheatrecompany.org
or call their box office at 817-579-0952.