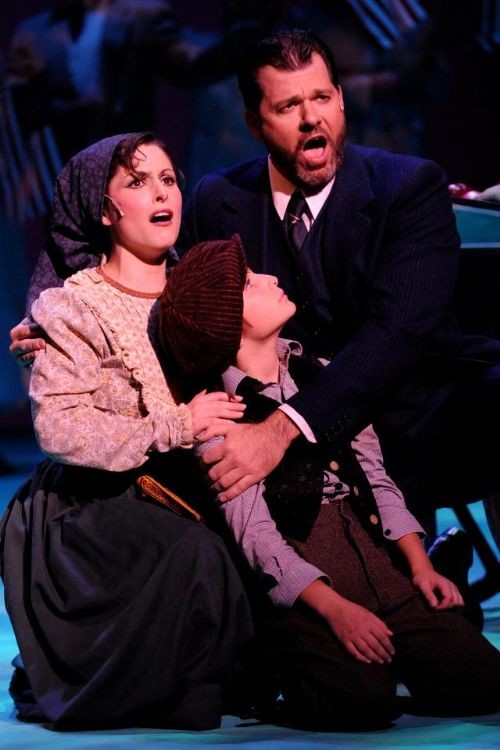 RAGS
Book by Joseph Stein, Music by Charles Strouse
Lyrics by Stephen Schwartz
Lyric Stage
Directed by Cheryl Denson
Music Director/Conductor - Jay Dias
Scenic Design - Mamie Trotter
Costume Design - Drenda Lewis
Lighting Design - Julie N. Simmons
Choreography - Ann Nieman
Stage Manager - Margaret J. Soch


CAST

Amanda Passanante - Rebecca
Brian Hathaway - Saul
Chet Monday - David
Jackie L. Kemp - Avram
Jonathan Bragg - Ben
Kristin Dausch - Bella
Lois Sonnier Hart - Rachel
G. Shane Peterman - Nathan
Martin Antonio Guerra - Jack
Lucia A. Welch - Rosa
Mary-Margaret Pyeatt - Anna
Sahara Glasener-Boles - Esther/Gertrude
Daniel Saroni - Sam
J. Alan Hanna - Big Mike
Joseph Holt, Keith J. Warren - Klezmers
Tom Grugle - Bronstein
Max Swarner - Hamlet
Amber Nicole Guest - Ophelia
Joseph Holt - Rosencrantz
Mikey Abrams - Guildenstern
Stephen Bates - Big Tim Sullivan/Gramophone Tenor

Other Adult Ensemble - Brendan Cyrus, Randy Dobbs, Michelle Foard, Emily Ford,
Carlos Gomez, Maranda Harrison, Morgan Mabry Mason, Preston David Pickett, Diane
Powell, Scott Taylor

Youth Ensemble - Isaac Jarrell, Lily Monday, Ashton Morales



---
Reviewed Performance: 10/28/2011
Reviewed by Mary L. Clark, Associate Critic for John Garcia's THE COLUMN
The story of the musical Rags, concerning Russian immigrants coming to America in 1910, goes back many generations deep; but the history of the musical runs just as many years and is every bit a part of the production performed this week by Lyric Stage. Unless you are a true musical theatre aficionado, most have not heard of Rags or certainly have not seen another production. Knowing some of its past will more accurately support this review.

The book is by the late Joseph Stein (Fiddler on the Roof, The Baker's Wife, Irene, Zorba, Enter Laughing) who had been approached to write a sequel of sorts to Fiddler and what became of Tevye and his family. Originally conceived to be a screenplay, Mr. Stein teamed with the powerhouse composer Charles Strouse (Annie, Bye Bye Birdie, Applause and so much more) and the equally accomplished Stephen Schwartz (Godspell, Pippin, The Baker's Wife, Wicked and the underappreciated Working). Rags certainly had the solid foundation and experience to become a Broadway hit. But in 1986, after 18 previews and only 4 performances, Rags closed though it received several Tony and Drama Desk nominations and one Tony Award.

According to Alvin Klein's 1999 New York Times article, a severely streamlined revision was performed in 1991 with only 9 actors; another reworked production came in 1993, and then two more in 1999, finally set with 15 actors from the original 30. Back then Mr. Strouse said, "We tried to do too much and now it's tightened, more focused. People got lost in it".

Lyric Stage's production was also a stark contrast to the original and some revisions, both in libretto and music as well as in staging. They refilled Rags with 34 performers. And it was the performance I saw (their dress rehearsal I was informed) which led me to question and research Rags and all its many changes.

The script eventually focused on one immigrant, Rebecca, who flees Russia with her young son after a pogrom (a word I was unfamiliar with but that is as relevant today as it was 100 years plus ago ? "A planned campaign of persecution or extermination sanctioned by a government against an ethnic group, especially Jews in Russia in the 19th and early 20th Century"). Rebecca's husband had come to America years before, and when he does not come to meet them at the dock in New York City, another family claims them as their relatives to help avoid immediate deportation. Already feeling ostracized, Rebecca looks for her husband while looking for a job, eventually finding work in a garment sweatshop factory. A union supporter opens her eyes as to all the immigrants' exploitation, teaches her the ways of her new world, and they fall in love.

Rebecca's husband accidentally finds her and his son while on the street and whirlwinds his family into his "new American" life, with a last name change and allegiance to an anti-union (and anti-immigrant) political candidate. Rebecca hesitates but soon falls for the her husband's way of thinking until the death of her friend in a factory fire when her eyes are re-opened and the new Rebecca leads the people against the factories and power mongers. As she forges her and her son's new life ahead, another wave of immigrants arrive.

I had the great good fortune to find myself sitting directly in front of Charles Strouse and his wife who had come to see some rehearsals and opening night. I was honored that he raciously accepted my request to interview him afterwards. Mr. Strouse obviously much preferred Lyric Stage's minimalist version with only a ramped hexagon platform, two sidewalk exits up stage left and right, and full cyclorama as the set.

He said the original had full on, rather gaudy sets for all the many different scenes. He felt it substantially took from the story and, when asked if he believed the ostentatiousness led to the original production's short life, he hesitated to give it full blame but by his facial expression, I could tell he felt it held some of the cause.

I too liked the "no set" look as it certainly uncomplicated things, allowing roll on or carry on pieces to represent different places but there were many chances lost to further enhance and clarify each scene. Scenic Designer Mamie Trotter's large center platform held most all of the action and Julie N. Simmons' lighting design illuminated it 95 percent of the time in an abstract blue/green. While great to represent water while in the boat or at Ellis Island and the dock, it continued through street and park scenes, inside the apartment and others.

A change of gobo template and color such as cobblestones and brick red, or a rug pattern for the rooms, would have given the audience much better location clarification. The cyc also presented a problem as it transitioned from deep red, deep purple, green or black again and again. Trouble was, the immigrants wore mostly dark garments and therefore, with the exception of the white dance costumes, it was difficult to see them and hard on the eyes.

The chairs, benches and street vendor carts helped keep scenes clear and Jane Quetin's properties were quite accurate for the era with knife and scissor grinder, hat seller with his wares stacked on his head, dishes and pots for sale, a beautiful gramophone, and pieces of cloth for the ragman. The sewing machines used in the sweatshop looked identical to one my mother used, foot pedal and all.

Drenda Lewis coordinated a melting pot of costumes for Rags. Most of the immigrants wore the same clothing throughout the show. Featured actors played characters in a Yiddish play, klezmer dancers, and immigration officials in blue uniform, and Lewis designed lovely long white summer dresses and men's suits for the ragtime dance. Both Rebecca's new dress and funeral gown were period accurate with thick shiny fabric and constricted bodice. Older male immigrants wore traditional hats and tsitsis, a poncho with tassels worn as an undergarment.

Stein's book, while following one woman's journey through her new world, held historical significance though a rather hurried one. Social activist Emma Goldman was only mentioned by name and the one event I had come to believe was the basis of the musical, the 1911 factory fire that killed 146 garment workers, becoming the deadliest industrial disaster in NYC's history, was reduced to only a mention of a fire by Rebecca's son, and a spotlight on a father in anguish ? and it was gone. In fact many poignant scenes were so drastically cut, revised or pushed along that the story got lost sometimes, and even the songs couldn't support it.

Mr. Strouse scored melodies that referenced Yiddish, bits of Irish and Scottish folk, new American jazz and ragtime, along with some Broadway pizzazz. Several of the original songs were dropped in the 1999 revision, mainly in Act II, and I suspect here as well. He called it now "more impressionistic" which seemed an astute observation of one's own work.

The hauntingly beautiful "Children of the Wind" barely had enough dialogue around it to know what it was about ? immigrants being blown across the ocean and around the world in search of a better life. Rebecca and Saul's romance was so limited onstage it was hard to recognize "Blame it on the Summer Night" as a love song. And quiet Bella's rebellious title song "Rags" came out of nowhere when there should have been a build to this anthem for all New York City's immigrants.

The worst revision was to move all of Nathan's (Rebecca's husband) exposition scenes to Act II so that he suddenly showed up, found his wife and son, and then started singing about their future together in, what the playbill called, "Finale Act I". That was undoubtedly the worst transition for an actor to make I had ever seen. Lyric Stage's version left many songs out there hanging.

As for staging, Ann Nieman's choreography went straight by the book when it came to the ragtime dance, with long pointed legs, low dips, syncopated steps and head bobbing. The semi-Hava Nagila steps to klezmer tunes were joyful and energetic. If she guided the beating up scene, it was painfully realistic and effective.

Director Cheryl Denson's staging however was one-dimensional and repetitive. When one has a ramped platform, why block most songs down front and center again and again, never taking advantage of the raised upstage? Too many times dialogue stopped and solos and duets were sung either straight forward center or facing each other without cheating out so that we could not see their faces. Large group scenes would start to change and the audience had to wait for everyone to exit single file up the sidewalk exits before the next scene began. When a set was as simple that, blocking variety became key, and this particular set was sorely underutilized.

What made up for all the incongruities was the music and lyrics, and the wealth of talented actors, many of whom I had never heard or seen before. Several of the ensemble had featured roles in which to shine. Both Amber Nicole Guest and Max Swarner made for a vibrant and funny Ophelia and Hamlet in the play's Yiddish version. Tom Grugle was menacingly cruel as the factory foreman, while Stephen Bates portrayed the cunning, scheming political candidate Big Tim Sullivan and asked, "What's Wrong with That".

Both Lois Sonnier Hart as Rachel and Jackie L. Kemp as Avram had songs with others but it was their duet, "Three Sunny Rooms", that told the most about their characters and their new found love after years alone. It was sweet and charming, adding some humor in the midst of hard times. Another sweet song, "For My Mary", sung by Jonathan Bragg as Ben, held the feel of delicate, old-fashioned courting. The scratchy recording of tenor Stephen Bates on the gramophone immediately took us to that simpler era.

As Nathan, G. Shane Peterman had three songs to show his characters' assimilation into America but because there was so little exposition left in the script for development, the songs didn't fully explain him and Peterman's distinctive talent was sadly missing. Brian Hathaway as Saul the union supporter wasn't onstage that much but beautifully sang "Easy for You" about the
difficulty, or ease, of becoming truly American. But just as Peterman's Nathan, Hathaway's romance with Rebecca was so cut out and underplayed that their duet, "Wanting" seemed inconsequential.

Kristin Dausch was wonderful as Bella, a young friend to Rebecca. Her scenes as dutiful daughter to father Avram were endearing. Then she opened her mouth and out came her powerhouse, knock `em down on the back row belting number, "Rags". Bella/Dausch's declaration on being made and kept an outsider was the musical's surprise and highlight. Another surprise was Chet Monday's natural stage presence and vocal talent. As David, Rebecca's son, Monday was in several major scenes and easily held his own alongside the adults. His duet with Rebecca on
"Brand New World" was sublime and lent that optimistic promise all immigrants felt. And Monday did a fabulous job playing the beating up scene for real. He was so confident onstage that he subtly fixed a bent leg on a cart without missing a beat.

Amanda Passanante had a lovely operatic soprano voice, and brought passion to the role of Rebecca. As the story revolved around her, she represented everywoman/man who desired a better life and Passanante exhibited strength but we also saw Rebecca's fears and disappointments. Being onstage for most every scene could be daunting but Passanante helped keep the energy and pace of the musical solid. The other side of so much time onstage, and especially in this
show, was that there should have been some natural character progression and transformation. Rebecca remained the same unsure, bewildered woman far too long and then suddenly awoke to reality only at the end with the demonstration song, "Bread and Freedom".

Jay Dias continued as Lyric Stage's Music Director and Conductor and, while the orchestra did overpower the singers on several occasions, they outdid themselves playing the diverse music styles of Mr. Strouse. A few even became actors onstage as the klezmer band, and Anthony Benitez' slow, jazzy clarinet solo was rich and fairly dripped Billie Holiday. I did question Dias direction to have the actors sing with their accents. The actors' spoken accents of Middle
Europe, Russia and Ireland were all presentable and appropriate but then muddied the words when sung. It would have been an easy musical theatre allowance, singing sans accent, and would certainly have helped the audience understand the plot with so little else to guide the story along.

After seeing Rags, I understood why Mr. Stein did not focus the musical on just the factory tragedy. He did not want that to be the symbol of the lives of these people, and though there was plenty of heartbreak and misery, the resounding theme was new life, the acceptance of different cultures and traditions, all combining and becoming united. Charles Strouse told me that "We are them. We are Jewish and Mexican and all the other cultures that came here
to start again". The story of Rags is the story of us all. And though we saw a great side view of The Statue of Liberty during the Overture, Mr. Strouse missed her at the end - arm held high, defiant and brave as those who first saw her on our shores. Lyric Stage brought that story and the music of what Joseph Stein called "the show that refuses to die" back to life onstage with all the warmth and hope the musical deserves. I was glad to hear Rags will continue on with a production in London, but not many other companies will attempt this fine work, and so makes it an essential piece worthy of being seen here for its all too short a run.
---
RAGS
Lyric Stage
Irving Arts Center, Carpenter Hall, 3333 N. MacArthur Blvd.
Irving, TX 75062

VERY LIMITED RUN through November 6th

Thursday, Friday and Saturday, Nov. 3rd, 4th and 5th at 8:00 pm
Sunday, Nov. 6th at 2:30 pm

Tickets are $25 - $50 and can be purchased online at www.lyricstage.org or by calling 972-252-2787.