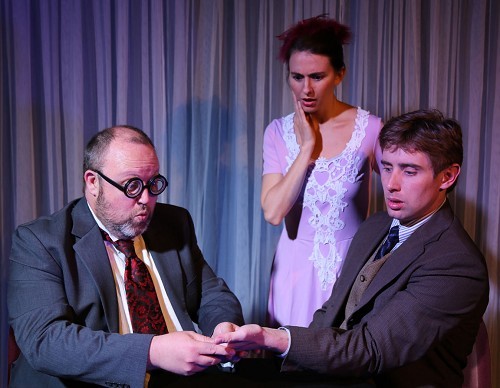 MURDER ON WEST MOON STREET
By Rob Urbinati
Based on the short story by Oscar Wilde
Rover Dramawerks
Directed by Chad Jones
Stage Manager – Ashly Curts Jones
Scenic Designer – Abby Kipp-Roberts
Costume Designer – Sarah Eckberg Hearn
Sound Designer – David Johnston
Lighting Designer – Steve Roberts
Properties Designer – Sara Jones
Backstage Crew – Anya Almand
Light and Sound Board Operator – Kenneth Hall

CAST

Lady Windermere – Carol M. Rice
Lord Arthur Savile – Sam McCalla
Sybil Merton – Emily Grove
Lady Clem – Mildred Austin
Jane Percy – Lara Williams
Mr. Podgers – Pælor Cuihn
Charles – Charles E. Moore
Herr Winkelkopf – Kelton Neals
---
Reviewed Performance: 11/2/2018
Reviewed by Ann Saucer, Associate Critic for John Garcia's THE COLUMN
Murder on West Moon Street is based on the Oscar Wilde short story, Lord Arthur Savile's Crime, which was first published in 1887. This murder mystery is infused with scathing Wilde witticisms and fulfills the Rover Dramawerks' mission of presenting off-the-beaten-path theater treasures.

The hilarious dialogue of the high society characters exemplifies Wilde's indictment of societal hypocrisy, moral double standards, and the veneration of appearances. All of these themes are brought to bear in Murder on West Moon Street, a play about a wealthy, shallow, and over-privileged Lord who deems himself entitled to commit murder -- on West Moon Street, as the title goes.

Lord Arthur Savile (Sam McCalla) complains that he was not well served by his English education, which included Oxford University. The education he received left him unprepared for real life, or more specifically, how to commit murder. Lady Windermere (Carol M. Rice) takes great pride in the receptions that she hosts, and she has invited a palm reader, ostensibly for entertainment. When Lord Arthur's fiancé Sybil (Emily Grove) wisely refuses to render her ungloved hand to Mr. Podgers (Pælor Cuihn) for a reading, Lord Arthur proffers his. Mr. Podgers initially abstains from revealing the shocking news about the Lord's fate, but is persuaded, for a tidy sum, to tell Lord Arthur that his palm dictates that he is to commit murder. The ensuing murder mystery is not a who done it, but rather a when will he do it, and to whom.

A prime diver of the comedy here is Lord Arthur's devotion to his duty as an English gentleman, but without caring or questioning what that duty is or how he came to assume it. When Lord Arthur complains about his English education, he is correct, but not because of the missing tutelage on homicide; rather, he was not instructed on values, independent judgment, or human decency. McCalla does a great job with a character that is morally bankrupt but somehow inoffensive. Lines such as, "there is nothing whatsoever going on in my mind," roll off his tongue with full comic effect.

A funny running joke is the characters' slavish devotion to overwrought wedding plans. (Alas, if only Oscar Wilde had been alive during the reign of hideous bridesmaid dresses. Not that I'm speaking from personal experience; I've heard rumors.) As the shallow fiancé, Grove is appropriately silly with her character's obsession over milliners and other superficialities.

Rice, as Lady Windermere, and Mildred Austin, as a crotchety Lady Clem, both have good delivery of the outrageous and unflattering dialogue of their Wilde characters. Lady Windermere craves scandal, has a "criminal quota" for her receptions, believes the death penalty is an appropriate punishment for snubbing her soirees, and tells the blushing bride-to-be that, "You marry soon; all pleasure will cease." Lady Windermere is not cynical; she's experienced. Lady Clem obnoxiously forbids discourse on a seemingly random array of topics that displease her, suffers from a noxious health condition, and is consistently ignorant (e.g., comically confusing the word circumcised for circumspect).

Lara Williams as shallow cousin Jane Percy is hilarious and delivers some of the biggest laughs in the production. She is a talented physical performer and perfectly embraces the exuberant idiocy of a vapid party girl.

Charles E. Moore is wonderfully comic as Charles, the "proper" English butler. He aptly observes that "a wicked woman's parlor trick has put the London citizenry at risk," and delivers other droll observations with appropriately comic dead pan. While Charles is smarter than the Lord his master, he does not recognize any overriding duty to stop – or even to abstain from aiding -- Lord Arthur from doing whatever he wants, no matter how evil.

Cuihn has a colorful turn as the huckster palm reader, and Kelton Neals has fun as Herr Winkelkopf, a murderous anarchist ironically devoted to Lady Windermere's parties.

The set, props, and lighting all accommodate the play's numerous scene changes. The central action at Lady Windermere's reception and Lady Clem's house takes place on a parquet floor, and well-designed corners of the set provide the accoutrements of Lord Arthur's posh study and a charming London park. The Lord's barware is a nice touch among the period props. The sound effects, particularly Lady Clem's "eruptions," are funny and effective.

The cast enjoys several colorful costume changes, including an impressive array of period dresses. A hilarious hot-pink ensconced gown sported by the silly and shameless cousin Jane is particularly fabulous.

This play is crackling with Oscar Wilde dialogue, and I recommend it for anyone in the mood to enjoy his acerbic wit.
---
MURDER ON WEST MOON STREET
November 1-17, 2018
Rover Dramawerks
221 W. Parker
Suite 580
Plano, Texas 75023
For information and Tickets call 972.849.0358 or go to http://www.roverdramawerks.com/01_CurrentSeason/01_CurrentSeason.html.