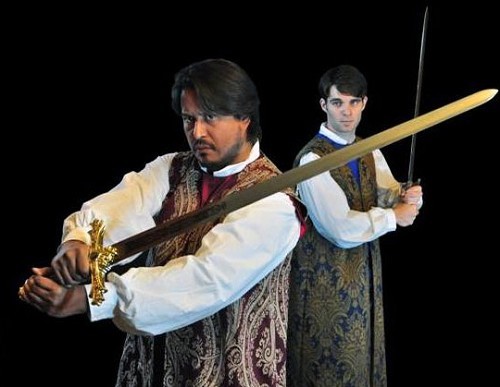 THE BIRTH OF MERLIN
by William Rowley, from the Shakespeare Aprocrypha
Stolen Shakespeare Guild
Directed by Nathan Autrey
Costume Design - Lauren Morgan
Set Design - Jason Morgan
Lighting Design - Logan Ball
Stage Managers - Nicole Bowen and Chelsea Duncan

CAST:

Aurelius, King of Brittain - Alejandro Sandoval II
Vortiger, King of (Welsh) Britain - Jason Morgan
Uter Pendragon, the Prince, Brother to Aurelius - Blake Owen
Donobert, a Nobleman, and Father to Constantia and Modestia - Mike Cravens
Cador, the Earl of Cornwall, and Suitor to Constantia - Spenser Nelson
Edwin, Son to the Earl of Gloster, and Suitor to Modestia - Aaron Sanchez
Oswold, a Nobleman - Zane Allen Whitney Jr.
Toclio, a Nobleman - Mikaela Krantz
Merlin, the Prophet - Delmar Dolbier
Anselme, the Hermit Nun -Jessica Dahl-Colaw
Clown, Brother to Joan, Mother of Merlin - Terry Yates
The Devil, Father of Merlin, portrays Sir Nicodemus & Messenger - Thomas Fletcher
Gentlewoman / a Demon - Libby Hawkins Roming
Artesia, Sister to Ostorius, the Saxon General - Shannon Rasmussen
Constantia, Daughter to Donobert - Candace Davis
Modestia, Daughter to Donobert - Katie Reynolds
Joan Goe-Too't, Mother of Merlin - Sarah Zabinski
Lucina, Queen of the Shades - Kierstin E Curtis
A Little Antick Spirit / a Demon - Ariel Kim
---
Reviewed Performance: 11/3/2012
Reviewed by Laurie Lynn Lindemeier, Associate Critic for John Garcia's THE COLUMN
The Birth of Merlin was published in a quarto edition and first performed at the Curtain Theatre in Shoreditch in London in 1662. "The Childe Hath Found his Father" is an alternate title listed on the cover which also touts the authors as William "Shakespeare" and William Rowley. A Fort Worth audience again enjoyed this "bard-like" play a mere 350 years later. On a fall Saturday afternoon we witnessed the miraculous emergence of Merlin, played by the wizened Delmar Dolbier in Stolen Shakespeare Guild's performance at the Fort Worth Community Arts Center's Sanders Theatre. One has to wonder how many times Merlin has been reborn in this Jacobean comedic drama over hundreds of years of performances. Yet, it never gets old.

In this incredulous story a full grown Merlin is somehow born by a country girl who was impregnated by a sinister character in the forest. She and her buffoon of a brother bumble amongst feuding kings and nobles, attempting to locate a father, not terribly concerned about the true paternity. Sarah Zabinski far outshone all the other players in her creation of this wench, Joan Goe-Too't. Ms. Zabinski raised one side of her lip and lisped words as the thoroughly entertaining not-too-clever girl who doesn't have the sense to say "no" to a shady fellow in the forest. Terry Yates gamboled about as her faithful brother who in all other capacities appeared feckless. Although Yates did shout his lines a bit, he ran a close second in laughs with his very physical slapstick-style humor.

The dense text was fast-paced and, for the most part, delivered well by the players. I had a d?j? vu when I recognized a Southern drawl in Donobert's voice, a nobleman, played by Mike Cravens, who spoke his lines with smooth pacing, albeit dropping his volume to an inaudible level on occasion. A British director once pointed out my drawl to me when I performed Miranda in an international student's production of The Tempest. I didn't actually have one. My poor pronunciation was a result of my Minnesotan exchange student's feeble attempt at producing a British accent. Our players had New York, Irish and German accents but we put on quite a show. I only point this out because Stolen Shakespeare Guild's production The Birth of Merlin was also a very sweet and pleasing concoction of the volunteer actors' accents.

Did the accents matter? Not in the least. They performed with flourish and gusto on the creative multi-level wooden set donned with camouflage net greenery and strong, cylindrical trees designed by Jason Morgan. The part-time thespians delivered a delightful drama that far and above pleased the appreciative audience for a pauper's ticket price. I could hardly believe it when Laura Morgan, during the curtain speech, informed us that season ticket prices boiled down to a bargain of $5.00 per show. A greasy burger costs more than that!

As the play opened, the attentive audience sat in the darkness of the cozy theater, waiting and wondering. Swords clashed, spirits hissed, and a woman with a bulbous stomach waddled about. When would the appearance of the full-grown Merlin occur? What would be revealed to us of this disturbing man birth? Questions. We patiently waited for the thespians to answer. The players of Fort Worth's only year-round Shakespeare and classical acting company certainly provided intriguing answers.

At the beginning, middle, and end of the play, Director Nathan Autrey inserted a collection of brilliantly-posed tableaux. These stop-action scenes depicted events that preceded the story and filled in the blanks. The frozen scenes were well-executed and lit with stark shadows and sinister fade ins and outs. Logan Ball designed the lighting. My two favorite tableaux were the wicked conception in the forest with the wench and the devil, and the birth attended by witches with sprawling crooked fingers. The flash of each scene created eerie and spine-chilling moments that fell right in line with the Halloween mood still hovering in the air like leftover spider web decorations fluttering in the breeze on doorways.

Oh what a tangled web this multi-level plot wove. The comedy contained elements from legendary Arthurian lore, a romance, a nun promoting virginity, a clown searching for a husband for his pregnant sister, and a plethora of sword fights and horseplay. All these ingredients were tossed together on the stage in a theatrical stir-fry with spicy sorcery and spells thrown in for flavor. British kings and English nobles, a wizard, the devil, a shady queen and spirits all vied for our attention. Ariel Kim's spirit/demon caught mine as she menaced about with her gapping jaw and born bright white teeth while hissing away. She nonetheless succumbed to her master, the Devil, darkly played by Thomas Fletcher. The demon disappeared with the stroke the devil's hand, making good use of a murky corner of the set. The devil also slinked his way to a shadowy end with fiendish serpent-like moves. The set, built by master carpenter Keith Glenn, provided multiple nooks and crannies perfect for the appearing and disappearing of creatures.

Even though the plot and text were complex, those new to Shakespearian-style plays will absolutely enjoy the physical humor, lovely costumes and grandeur of the time period on a basic level. Much too depends on how quickly your ear takes in the text and perhaps even how much espresso you consume the hour before curtain time.

Laura Morgan designed very effective costumes on a tight, nonprofit budget. The silky mustard yellow dress worn by Artesia, the seductive sister of the Saxon general, perfectly enhanced the alluring lady Shannon Rasmussen portrayed. Ms. Rasmussen's red hair and naughty glances bamboozled Aurelius, the King of Britain, played by Alejandro Sandoval II. Mr. Sandoval also sported a grand brocaded crimson costume. Although he often glanced down at the floor during some of his opening scenes, his character became stronger as the play progressed and eventually looked his fellow players directly in the eye with great command. The only nobleman who couldn't be fooled by Artesia's seductive ways was the Southern-drawling Donobert. He was unto her.

The wizard Merlin, aptly played by Delmar Dolbier, pooled his mysterious powers and battled his father, the Devil. He commanded the forces of nature with grand gestures. Merlin aided King Uther, played by Blake Owen, whose heartfelt delivery of his rhyming poetic lines was handsomely done. Jessica Dahl-Colaw was convincing as a holier-than-thou, hermit nun who even achieved talking Donobert's two young daughters, Constancia and Modestia, into leading a chaste life. Candace Davis and Katie Reynolds, respectively, played these two impressionable girls well.

This play was actually not quite chaste and one should be aware it's rated PG-13 for adult humor spoken in Shakespearian-speak with adult situations. But in general it's hard to be offended by such tomfoolery, as when the clown referred to the Devil, "He keeps a hot house in the low country."

The Birth of Merlin, rendered by Stolen Shakespeare Guild with its fast-paced entertainment and stunning visual effects, certainly entertains far more than the normal baby shower. But then, the gray-bearded Merlin is not your normal newborn.
---
THE BIRTH OF MERLIN
Stolen Shakespeare Guild
Fort Worth Community Arts Center, Sander's Theater
1300 Gendy Street, Fort Worth, TX 76107
Runs through November 11th

Saturday, Nov. 10th at 8:00pm and Sunday Nov. 11th at 2:00pm

Evening Ticket Prices:
$17.00 for Adults
$16.00 for Seniors 65 and older
$16.00 for Students, must present current student ID
$10.00 for Children 12 and under

Matinee Prices:
$15.00 for Adults, Seniors, Students
$10.00 for Children 12 and under

For info and tickets, go to www.stolenshakespeareguild.org or call Theatre Mania at 1-866-811-4111