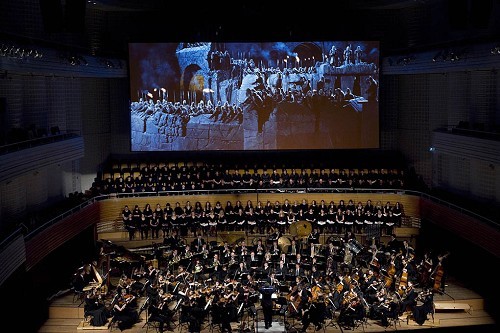 THE LORD OF THE RINGS: THE FELLOWSHIP OF THE RING IN CONCERT WITH THE DALLAS POPS
Original Score by Howard Shore
Performed by the Dallas Pops live to the film directed by Peter Jackson
Based on the book by J.R.R. Tolkien
Dallas Summer Musicals
Conductor - Justin Freer
Assistant Conductor - Shih-Hung Young
Clara Sanabras - Soloist

Photo courtesy of CamiMusic.com
---
Reviewed Performance: 11/8/2013
Reviewed by Richard Blake, Associate Critic for John Garcia's THE COLUMN
A marriage of cinema and live music results in a unique performance and the Dallas Summer Musicals special performance of the epic motion picture "The Lord of the Rings: The Fellowship of the Ring" in Concert with the Dallas Pops is a once in a lifetime experience!

I had never been to an event like this before but the concept intrigued me; to see and hear a full orchestra playing live to an epic motion picture. Well, I'm glad I experienced it as I was completely in awe the entire evening. Music Hall at Fair Park is a gorgeous performance venue and well known around the world. I've seen many performances there but to see over two hundred musicians and vocalists on the stage performing underneath an enormous full-size cinema screen was simply stunning.

Conduction by Justin Freer of the Dallas Pops and the massive chorus, both adult and children, was magnificent! Freer deftly led every one of the performers so that it allowed you to take a magical, musical journey with the epic score played in perfect synchronization to the film. I was close enough to see Mr. Freer very well and watch as he conducted from a huge score and digital monitor directly in front of him. The monitor showed timing leads, tempos and cues a fraction of a second before it was on the massive screen above and in front of him, keeping the entire performance synchronized. I was simply amazed how easy he made it look and truly impressed by his focus and talent in every aspect of this production. Every musical moment of the evening was nothing less than breathtaking.

The Dallas Pops Orchestra shone in this special event and delivered the epic score perfectly. This had to be a massive undertaking for the Dallas Pops and if there were any issues in pulling it all together, you would never know from the live performance!

Solo vocalist Clara Sanabras was breathtaking throughout the evening. Her soaring vocals took you to new dimensions within the score. I know the score very well, as the books and subsequent movies are personal favorites of mine, but Ms. Sanabras' performance brought out moments of poignancy and beauty I had never realized before. Brava on a spectacular job well done!

Joining the Dallas Pops was an enormous chorus of over one hundred twenty-five vocalists. The powerful sound coming from them lifted the score to tremendous heights. The playbill does not credit the chorus or a specific organization which is a shame as they definitely deserved to be recognized. Each and every one of them were spectacular!

Also not credited but definitely deserving mention was a truly exquisite young boy whose solo was enchanting. His lovely soprano voice was inspiring and simply stunning. It was so amazing, I actually saw people sit forward in their seats to catch a glimpse of who was producing the amazing vocals they were hearing!

It was also a credit to each and every person on the stage that performed a three hour concert with only one intermission! I was expecting at least two but they held together, not wavering or missing a note all evening long. For anyone who is a musician/vocalist or knows one, that was an amazing feat and definitely showed the caliber of talent comprising this event.

It was a lengthy evening but definitely did not feel like it. Time flew by as the audience was engulfed with grand visual and auditory sensations and completely engaged in everything happening on stage. I found myself going from watching the movie to the orchestra quite often and thoroughly enjoying both. Actually, I enjoyed the live music much more than I ever had before in listening to the score.

If you have any chance at all to see this limited engagement event, I strongly urge you to make the time with family and friends and prepare yourself for an experience you will be talking about for a long time to come. Dallas Summer Musicals has hit it out of the park with this amazing special event and it's definitely a performance you do not want to miss!!
---
THE LORD OF THE RINGS: THE FELLOWSHIP OF THE RING
IN CONCERT WITH THE DALLAS POPS

Dallas Summer Musicals
Music Hall at Fair Park
1925 Elm St, Dallas, TX 75201

** LIMITED ENGAGEMENT - ONE WEEKEND ONLY **

Saturday November 9th at 7:30 pm and Sunday November 10th at 1:30 pm

Tickets range in price from $20.00 - $85.00, depending on seating location.

For more information and/or to purchase tickets, please visit www.dallassummermusicals.org or call 800-982-ARTS(2787).