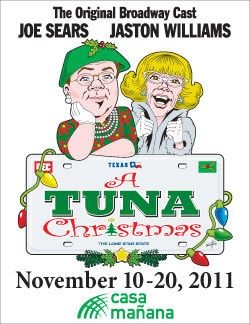 A TUNA CHRISTMAS
by Joe Sears, Jaston Williams, & Ed Howard
Casa Manana
Director - Ed Howard
Scenic Design - Christopher McCollum
Lighting Design - Root Choyce
Costume Design - Linda Fisher
Sound Design - Ken Huncovsky
Production Stage Manager - Chris Warren Murphy
Company Manager - John Craig Popkess



CAST

Joe Sears - Thurston Wheelis, Elmer Watkins, Bertha Bumiller, Leonard Childers,
R.R. Snavely, Pearl Burras, Sheriff Givens, Ike Thompson, Inita Goodwin, Phoebe
Burkhalter, Joe Bob Lipsey

Jaston Williams - Arles Struvie, Didi Snavely, Petey Fisk, Jody Bumiller,
Charlene Bumiller, Stanley Bumiller, Vera Carp, Dixie Deberry, Farley
Burkhalter, Helen Bedd, Garland Poteet
---
Reviewed Performance: 11/11/2011
Reviewed by David Hanna, Associate Critic for John Garcia's THE COLUMN
Texas. It's the largest landmass in the continental US, one of the most diverse populations in the country, and constantly growing as its major cities continue to spread over vast plains. Texas is a growing center of culture, arts and business while retaining the small-town tradition that's existed since it was settled in the mid 1800's. Texas culture has been influenced by places as diverse as Mexico, Spain, France, and Germany. At one point, the state of Texas was considering becoming its own nation; in many ways it still is.

Of the numerous artistic attempts to understand the nature of Texas, the Tuna plays written and performed by Jaston Williams and Joe Sears for 30 years now are both the funniest and perhaps most true representation of small-town Texas.

Since the holidays are at hand, Casa Ma?ana is hosting this year's tour of A Tuna Christmas which continues the saga of little Tuna, Texas into the holiday season. Once again, Williams and Sears are both undeniably hilarious and incredibly true to the feeling of small-town Texas.

It would be impossible to explain the full plot of A Tuna Christmas in a review here, and in many ways the plot is incidental to the experience. The only thing anyone needs to know is that the show is set in tiny Tuna, Texas, and Christmas is fast approaching. No further explanation is needed because first and foremost Tuna is about its characters. There's Didi Snavely, the chain-smoking owner of "Didi's Used Weapons" who begins a Christmas carol, takes a drag of her cigarette, and then picks up right where she left off.

There's Vera Carp, leader of the local Smut-Snatchers and 14-time winner of the local Christmas yard display, going for broke with live sheep in this year's nativity. There's Joe Bob Lipsey, director of the local Tuna Theater who is having trouble with the electricity at the theatre, and who exclaims that "[he's] a professional! [He's] been to Waco!" All 22 characters in the show are their own little slice of Texas life and culture, each with their own unique perspective on the way the town works.

In some ways A Tuna Christmas is more like a vaudeville act or a revue than a normal performance. Characters drift in and out of the show, and each scene is its own new plot. There's never a real beginning or end so that from a distance the play seems like a series of vignettes. There are though moments of utter sincerity among the laughs that ground the show firmly in reality. There's a beautiful scene in the second act where Petey Fisk, the local animal activist, sitting with his iguana and a half-coyote, looks up to the stars. When he does, he delivers a beautiful telling of the story of Jesus in the manger, lightened with references to Vera Carp's angry sheep. It's a moment that shows reflection and introspection, a moment that encapsulates the humanity of the people onstage. No matter how crazy A Tuna Christmas gets it always does so with a complete sincerity and devotion to its characters' lives.

There's a reason then why Williams and Sears have been performing this show for 30 years, with few regional productions cropping up. The two are impeccable performers, each with 11 different characters and personalities to remember onstage, each with minimal time to make drastic costume changes. Both make the transition seamless, and never drop character for a second. Even in their mistakes, the two can be incredibly funny. At one point, Sears was playing Aunt Pearl Burras, the matriarch of Tuna opposite Williams' crabby Dixie Deberry. Sears accidentally called "Dixie' by `Didi', confusing Williams' characters, and without missing a beat, Williams jumped in, saying, "The mind, Pearl, it's the first thing to go". Both performers are still on top of their game, and make every Tuna performance memorable.

There's incredible detail given to the design as well. The stage is essentially one wall shaped like the fa?ade of the Alamo, and painted with blue skies and wispy clouds. There's a wooden floor painted to look like the Texas state flag. The radio alternates between Christmas carols and country music, while various Christmas trees slide in and out of stage on tracks for each new setting, each tree decorated according to the character. For example, Didi Snavely's tree is decorated with unexploded grenades and caution tape while Vera Carp's tree is a gigantic, brilliantly decorated monstrosity. The design is just as refined, detailed and invested in the concept as the performers, and there are no extraneous elements. A Tuna Christmas is a refreshing reminder that, for good design, sometimes less is more.

What makes A Tuna Christmas most enjoyable though, is just how true it feels.

There's a character played by Jaston Williams named "Garland Poteet" who is in the show for maybe two minutes. His lines are mainly laughing at innuendo and saying, "You crack me up". I was born and raised in Garland, and I know for a fact I've seen that man walking around Wal-Mart with his family. Aunt Pearl reminds me of my grandmother, Dixie Deberry of a great-aunt. I honestly feel like I know these characters, even if it was in passing at a store or restaurant.

That's what impresses me most about A Tuna Christmas, and what Williams and Sears have been able to do for so long ? they've tapped in to the true nature of Texas and Texans, and distilled it into a poignant and hilarious show.

Last night in the front row of Casa Ma?ana sat Nolan Ryan, president of the Texas Rangers. There is probably no other person in sports that identifies so closely with the state of Texas than Nolan Ryan. As people went to go shake his hand and ask for an autograph, I thought instead just how fitting it was that a man who represents the standard of a small-town Texan was attending a show that so carefully and completely holds up Texas' culture, custom, and personality. A Tuna Christmas is more than a raucous comedy, more than two great performers and great characters. A Tuna Christmas is?well, it's Texas.
---
TUNA CHRISTMAS
Casa Ma?ana, 3101 W. Lancaster Avenue, Fort Worth, TX 76107
Runs through November 20th

Tuesday ? Thursday at 7:30pm, Friday/Saturday at 8:00pm with Saturday and Sunday matinees at 2:00 pm

For tickets go to www.casamanana.org or call their box office at 817-332-2272