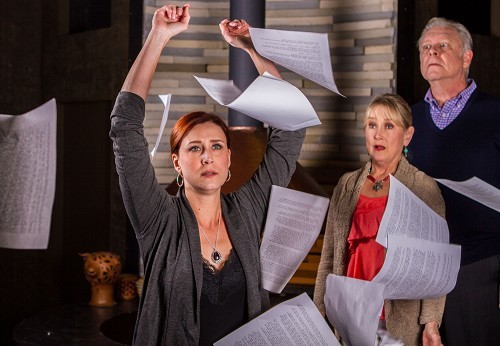 OTHER DESERT CITIES
by Jon Robin Baitz
Theatre Three
Director – Jac Alder
Scenic Designer – Jac Alder
Lighting Designer – Jonathon Felt
Costume Designer – Bruce Richard Coleman
Stage Manager – Henry Stewart


CAST:

Trip Wyeth – Jeff Burleson
Polly Wyeth – Connie Coit
Lyman Wyeth – John S. Davies
Brooke Wyeth – Lydia Mackay
Silda Gauman – Cindee Mayfield

Photo Credit: Jeffrey Schmidt
---
Reviewed Performance: 11/25/2013
Reviewed by Scott W. Davis , Associate Critic for John Garcia's THE COLUMN
There are trees to be put up and turkey to be eaten this week. The holidays are upon us and we all need something to do. There's the typical Nutcracker and Christmas Carol in every city, open and available to all, but for some reason, the traditional fluff is not hitting you. Every year you look and look but there's nothing with depth. Look no further as Theatre Three has brought depth and drama this holiday season with their Southwest premiere of Other Desert Cities.

The show takes place in the Palm Springs retirement home of Polly and Lyman Wyeth. Brooke, their daughter has finally come to the desert for Christmas after being absent for years due to work and family issues. Brooke's little brother Trip, a television producer, and Silda, their pill popping aunt, are along for the ride. Lyman has retired after a tremendously good career as a politician. The rift between the Republican parents and their Democratic children grows even larger after the death of another child in the family. Brooke announces that she's writing a memoir about her childhood which brings up tons of bad memories for everyone in the family. Scandals and lies rock this family into turmoil from the beginning of the show to the end.

If you haven't been to Theatre Three's Norma Young Arena Stage, it's a theatre in the round which creates several problems for all. Blocking for sightlines, lighting for all four sides, and actors awareness of entrances can all be hard task to deal with in the round. Jac Alder does an incredible job making sure all aspects are covered. I was impressed that no matter where I was sitting I had something to look at. Starting with the set, that Mr. Alder designed, I had a great view of the 1960's style funnel fireplace and could also see the sixteen foot tall Christmas tree in the opposite corner. It was a great use of space. The entire center section of the theatre was the living room of the house which was entirely couches and chairs. Alder's direction kept the actors moving during long bits of dialogue so every vantage point had the chance to see action.

The casting was extremely well thought out. All the actors were believable in their characters. All in all this was one of the better directing jobs I've seen in a while.

Lydia Mackay brought life to the character Brooke Wyeth. Brooke is a strong-willed writer who basically comes home for the holidays for the first time in several years. Ms. Mackay takes charge in this role. One of the strongest performances I've seen in a long time. She portrayed Brooke with strong independence through most of the play, but her ability to show a softer side while not breaking was priceless. She added a lot of depth to the character which made the conflicts all the more emotional. This was an extremely tough role and Mackay played it like a veteran.

Brooke's brother, Trip, is portrayed by Jeff Burleson. His ability to easily work with Ms. Mackay was noticed about five minutes into the play. Mr. Burleson played off of Mackay's character so well I had a lot of trouble not believing that they weren't related. His ability to bring some comedic value into certain places in the play actually became crucial to the show. He did a great job with it.

John S. Davies took on one of the toughest roles in the production, that of the father. From the moment he walked on stage you knew he was the leader of the family. Mr. Davies' no nonsense, take charge attitude made Lyman Wyeth come to life. I really became intrigued in the second act when his character emotionally fell apart. He did a wonderful job being the tough guy but also showed deep emotion when he had to.

Lyman's wife, Polly is portrayed by Connie Coit. From start to finish I found myself saying "That's my Grandma, That's my Grandma." There are several points in the show where the mother must come to terms with what her daughter has written and Coit became larger than life during those moments. During a huge portion in Act II she explains her feelings about the book, and through its entirety I couldn't take my eyes off of her. Coit's ability to show the pain she was going through just ripped right through me.

Finally there's Cindee Mayfield playing Silda Gauman. What a brilliant character to play and she did it perfectly. Her character is suffering withdraw from alcohol abuse but has some of the best lines in the show. Ms. Mayfield was incredible in the role. While delivering some of the wildest comments in the entire show, Ms. Mayfield kept a straight face through it all. The entire audience could be laughing uproariously but she never broke character. It was a guaranteed laughs every time she entered.

It wasn't until the end of the show that I noticed the costumes. What a testament to Bruce R. Coleman's design. All of the pieces looked like something my family members would wear. There was nothing outlandish that stood out which was a good thing.

Jonathon Felt's lighting design was extremely well done. While there weren't a lot of light cues in the show, his light plot was extremely well thought out. No matter where the actors stood they were well lit from all sides so no one ever lost view of the actors. Mr. Felt did have some templates in the show but it wasn't until the end of Act I that I figured out that they were windows. With all the front light they got drowned out and became indistinct.

While this is not your normal holiday show, it was a top level production of a Pulitzer Prize-nominated play. Theatre Three does the show justice presenting a dramatic piece and that shouldn't be missed this season.
---
OTHER DESERT CITIES
Theatre Three, 2800 Routh Street, Dallas, Texas 75201
Runs through December 15th

Performances are at 7:30 pm Thursday and Sunday, 8:00 pm Friday and Saturday, and 2:30 pm on Sunday. The Hooky Matinee performance is on Wednesday, December 4th at 2:00 pm.

Tickets are $22.00 - $35.00, with discounts for seniors and students. Hooky Matinee prices are $12.00 - $15.00. Tickets may be purchased by calling the box office at
214-871-3300 or online at www.theatre3dallas.com.